29 Aug 2017

A road movie from Georgia to Palestine and home again: Interview with James M. Wall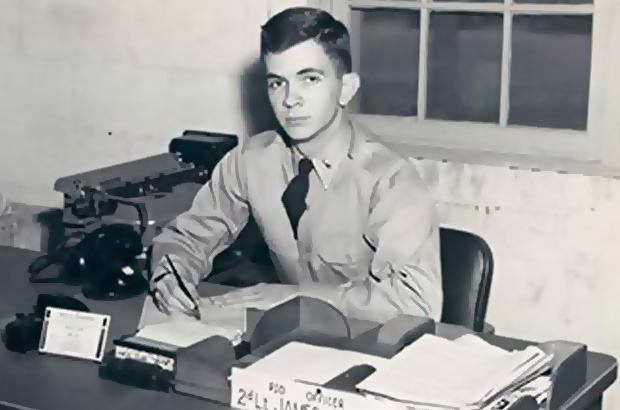 The young Jim Wall as a second lieutentant in the U.S. Air Force at the time of the Korean War (1950-53).
---
Dedicated to opposing Israeli oppression of the Palestinians and to awakening a passion for film in others, James M. Wall lives in tranquil yet busy retirement in a small town west of Chicago. In April 2017, Media Development's editor, Philip Lee, went to visit with him.
Ordained as a United Methodist minister, James M. Wall was a member of the North Georgia and the Northern Illinois Annual Conferences. Before entering religious journalism, he served as pastor of local churches in Illinois and Georgia, was a sports writer with two Atlanta, Georgia, newspapers, and during the Korean War served as a lieutenant in the U.S. Air Force.
Editor of The Christian Century from 1972 to 1999, he was also Publisher of the magazine, and President of the Christian Century Foundation, the non-profit organization that publishes it. On his retirement, Wall became Senior Contributing Editor with a broad remit to cover social and religious issues.
Wall has taught as Adjunct Professor of Religion and Culture at the Claremont School of Theology in Claremont, California and has been a long-standing representative of the National Council of Churches advising the Motion Picture Association of America (MPAA) as a consultant to the industry's ratings appeals board.
PL: It strikes me that there are strong parallels between growing up in the "Jim Crow" south with its segregation and discrimination and with the ongoing situation in the Middle East. How much of that background contributed to your awareness and understanding of the plight of Palestinians? And where did your passion for advocacy journalism originate?
I grew up in the American south. I was born in 1928 in a town of around 5,000, in Monroe, in the state of Georgia. My maternal grandfather, James McKendree Day, was born in the same county in 1860, one year before the start of the American Civil War. I share his full name here because it is the source of my name, James McKendree Wall. The name McKendree is from a great uncle, William McKendree, several generations removed, who was elected as the first native-born American Methodist bishop. My roots are deep in the church's history.1
My maternal grandfather, known as Jim Day, was five years old when the war ended in 1865. I knew him only in his final decade as an elderly, dignified man who suffered economically from the depression. He lost much of what he had owned, including a large clothing store. He married twice, first, to my grandmother who died young, leaving to him and six older sisters the task of caring for one another. Jim's second wife was a younger woman who moved to town to work in a millenary shop. She had little to do with raising the seven children.
I point to the years 1860 and 1928, because they indicate that just as my childhood was spent in the Depression of 1929 through the start of World Wall II, Jim Day's childhood was spent in the years of the civil war and in the post war era. His early childhood unfolded in a time of slavery, while mine was spent in what I call "enforced formalized bigotry", the term I prefer to the more bland "segregation". Words matter. Races were indeed legally, and by enforced custom, segregated, forced to live apart and separated by a disparity of economic opportunity.
An "enforced formalized bigotry" was utilized by a societal organizing structure which relied on a poor working white class, and an even poorer working black class, to labour in an economy which began as agricultural and morphed slowly into industrialized. It was not until many years later that I found a term from Edward Said, that provides structure for the economically powerful to enforce this separation. The term is the "other". The "other" is different only according to norms the powerful choose to build and sustain its "way of life".
Childhood influences
The formalized bigotry that shaped my childhood grew from slavery into segregation. It was segregation, enforced separation, which formed the environment and the culture of my life. I do remember, however, moments that arrived which made me aware that bigotry was evil and unjust. These were small, and sometimes, large moments which I know now, of course, led me to see that "others" are not different from "us". "Others" are a construct built to benefit the few rather than the many.
The "others" for me, were what we now call African-Americans. In my childhood the n-word, was unacceptable to my family. Negro was acceptable, while coloured people was the more acceptable term. Now, in this telling, I find "black" as shorter and more descriptive than pejorative.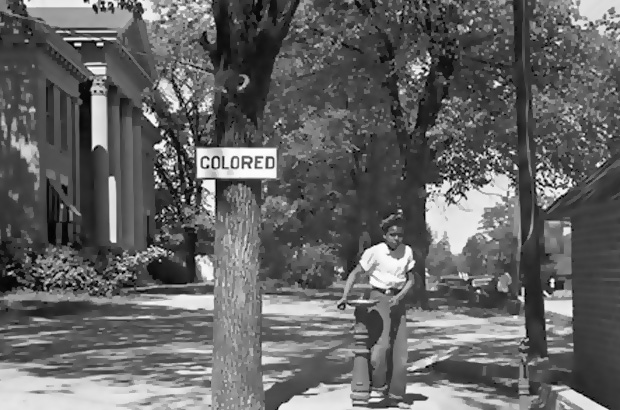 Drinking fountain at the Halifax County Courthouse, North Carolina, in April 1938.
---
My mother, a huge influence on shaping my emotional life and intellectual curiosity, leaned heavily on black support to raise me. First, there was the constant presence of a black "cook", who did indeed cook our meals, but who also cleaned the house and washed the clothes. Our "cooks" also watched over me, reprimanding me when needed.
My mother was not interested in any of the household duties. Her life was centred in our local Methodist church where she played the piano for worship services. She also was a faithful visitor to those she called "shut-ins", a half-dozen or so elderly women she would visit regularly. She also visited the local jail, prayer booklets in hand.
The earliest moment I can recall that opened me to the evil and unjust impact of formalized bigotry was my first day of school. I was still five at the time, but turned six after two months in the first grade. On that first day of school, in 1933, I assumed that the older black child, probably ten or so, whom my mother relied on to look after me and play with me, would go with me to school. My mother had to tell me he could not do that because he went to a different school.
Who can say what impact that news had on me, but I remember it vividly. I believe, in retrospect, it was the start of an unsettling awareness that something was unfair about these two separate schools based on race. It was not long before I realized that "their" schools were clearly inferior.
I recall also my first job as a young teenager, where I was a ticket-taker for the local movie theater, the Cherokee, a nod to an American Indian tribe who once lived in the area. One of my tasks was to climb the outside stairs that led to the theatre's balcony and collect money for tickets for blacks to enter the balcony. I did this, no doubt, without debating it, but the fact that this is what I remember indicates to me I had an awareness that separate seating was wrong. I would also study the movie listings in the Atlanta Journal and Atlanta Constitution − two newspapers which, incidentally, I later wrote for − and check to see which films the theatres in the black areas were scheduling. I wanted them to see the better films, but I doubt that they did.
The most traumatic event that pushed me into activist journalism came when I was a freshman at Georgia Tech, while working part-time as a copy boy for the Atlanta Constitution. I was 17 at the time. We received news that two couples, both black, had been "lynched", in my own home county, Walton, 45 miles from Atlanta.
Lynching, the murder of black people, had long been one way of enforcing citizen "justice", mobs of white people taking the law "into their own hands" with virtually no response from local law officials. By the time of the Walton County lynchings, the practice had declined, which is one reason those particular lynchings were so horrific and attracted such outside anger.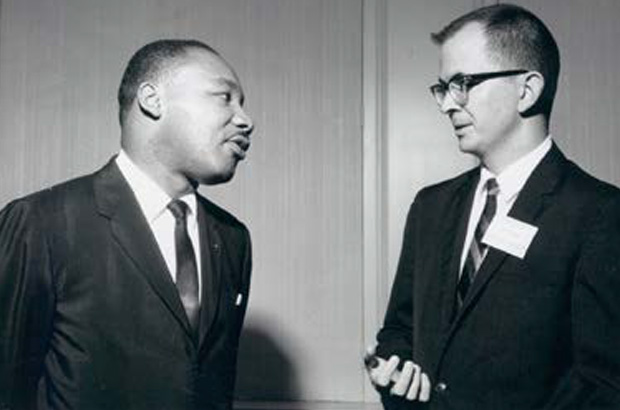 Interviewing civil rights leader Dr Martin Luther King Jr. in Chicago in 1967.
---
I immediately wrote a scathing editorial attack on the lynching. I had been editor of my junior high and high school newspapers and was already the sports editor of the Georgia Tech Technique, my college paper. So I was known in my home town of Monroe as a writer. I sent the editorial to the editor of a small paper in Monroe, a weekly owned and edited by "Pal" Caldwell, a local Methodist preacher. It was a heated and angry piece which concluded that the murderers should be arrested and punished by the death penalty, the only and last time I endorsed that penalty. The killers were never identified.
I don't really know why "Pal" Caldwell ran my piece. I recall it was intemperate and hastily written. It was also hugely embarrassing to my parents, especially to my father who was, at the time, the city clerk of Monroe. I do not, however, recall a single word from them about the editorial. Nor was there much response from townspeople.
The horror of that lynching was a turning point for me, a moment which then built slowly on a foundation of my parents' insistence on fairness and justice. Those were not words they would use, but they are words that describe them. I can't formulate any memory on how I proceeded next, but I did soon realize that the engineering degree at Georgia Tech was not for me.
After two years of struggling with classes I hated, and working for the Constitution, which I loved, I transferred to nearby Emory University's journalism school and also to a job at the Atlanta Journal sports department.
From sports to theology
My writing and my enthusiasm in my college years were focused on sports. After graduation in 1949, I spent an additional full year at the Journal. When the Korean War began in 1950, I joined the Air Force rather than be drafted. I received an officer's commission because the armed services needed trained professionals, doctors, dentists, and fortunately for me journalists.
After two years of active duty, one year of which was spent at the Alaskan Command Headquarters, I returned to Emory University to enter the School of Theology. The sports editor who had given me so much encouragement as a writer, Ed Danforth, was disappointed I did not return to the Journal. He blamed my decision on my having "too many forced landings" on the tundra.
Theology School added to my understanding of religion and ministry. It also earned me an MA degree. A few years as a parish minister and I knew I needed something different. Offered a chance for graduate work in pastoral care at the University of Chicago, my wife Mary Eleanor and I moved to Chicago with our two sons, David and Robert. A third son, Richard, was born in Chicago.
Two years into a PhD program, my advisor told me I should settle for an MA and get busy with journalism. He told me, "you are a writer, now write". I did just that and worked first on the staff and then as editor of a Methodist magazine, The Christian Advocate, and then, in 1972, as editor of The Christian Century, for a total of 19 years.
The Advocate was run by the Methodist Publishing House so my desire to pursue advocacy journalism was muted there, though I did seize the opportunity to write about and teach courses in religion and film. At the Century, my board gave me great latitude to run both the business and the editing of that magazine.
PL: What should be the role of public journalism today? Is it facts and nothing but the facts, or should a moral voice hold sway in the form of "opinion journalism"?
The 1960s and 1970s were decades of church upheaval and societal unrest. My editorial responsibilities were balanced between building understanding and attacking injustice. My focus on Palestine and Israel may be pinpointed to a moment when I travelled to the region for the first time under the sponsorship of the American Jewish Committee, which targeted me for Zionism as the editor and publisher of a magazine on the forefront of justice issues since 1884.
I insisted my magazine pay for my trip, though I allowed the AJC to arrange my travel and accommodations. I arrived in Tel Aviv in early November 1973, just after the Yom Kippur war. I have written several long reports on that visit for Link magazine and elsewhere. But to answer your question about the connection between my segregation childhood and my journalistic activism, I will say that it was on this trip that I saw the evil of the occupation coupled with the Zionist hasbara (propaganda) that allowed and continues to allow Israel to occupy and oppress the Palestinian people.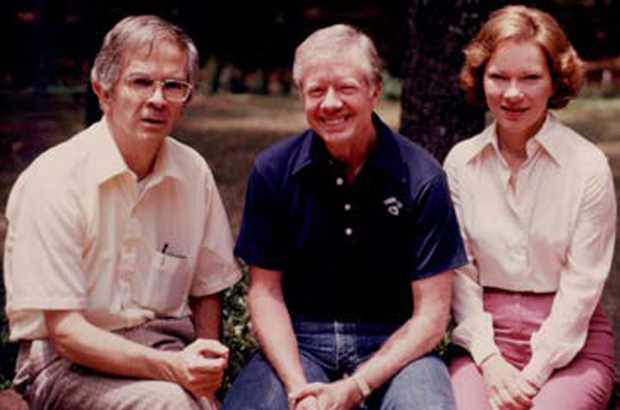 Jim Wall served as director of the 1976 and 1980 Carter/Mondale campaigns in Illinois. Photo with Jimmy and Rosalyn Carter in the backyard of their home in Plains, Georgia, after the election defeat of 1980.
---
One day, a missionary from the US took me away from my AJC minders and we spent a day traveling the Jericho Road from Jerusalem to Ramallah. I had a long visit with a Palestinian farmer whose source of water had been stolen by nearby Jewish farmers. I also met Palestinian leaders at Bir Zeit College. It was a life-changing day.
After that, public blindness to the evil and unjust occupation became a consuming passion for me. How can a society demand separate doors for two different races in a movie theatre in Monroe, Georgia? How can Israel imprison an entire Palestinian population while claiming to be a faith-based democracy?
The connection slowly became clear to me, though I confess that five years after that first trip I was criticized by a Palestinian writer who told me I was still hung up on giving "equal time" to Israelis (and their claim to need "security") and Palestinians. Starting with my first 1973 trip, I made a total of 20 trips to the region of western Asia, studying the situation and reporting my findings. My feelings of despair and anger have grown as Israel justifies its conduct, and repeats its lies to the world to justify its oppressive behaviour.
By the time I finished writing for the Century and started my own blog, I found myself racing against the clock of time to focus on the difference between the occupiers and the occupied and the abyss that separates justice from injustice.
As we talk, (April 13) the United States has just dropped its largest non-nuclear bomb, called the GBU-43, on an Islamic State hideout in eastern Afghanistan, a violent act that killed as many as 36 people. This was a massive lynching designed to "send a message" of power to "others". It was evil and it was immoral.
Speaking out against such actions remains a driving force for me, wherever and whenever that evil raises its ugly head. I am the grateful recipient of a passion for openness to others, a passion bequeathed to me by my parents, even as they remained locked into the patterns of a society mired in the absence of justice.
PL: My last question has to do with your passion for cinema. If you were to pick one film that has born the test of repeated viewing and still has "something to say", what would the film be and why?
Emily Dickinson left us a quote that I have always cherished. She was something of a recluse, surrounded, as she put it, by her "Kinsmen of the Shelf", the books that were crucial to her. Our topic here is films, and since DVDs perch on shelves around me, I consider them my kinsmen on the shelf.
If I must select one film to be my companion on a desert island, after considerable pondering, with apologies to John Ford and the Coen brothers, I choose The Straight Story. I have a personal history with that film's director, David Lynch. I was in Hollywood for a meeting when a religious Los Angeles Film Critics group gave an award to Lynch for The Straight Story in 1999. I ended up sitting next to Lynch at lunch, and told him how much I liked the film. I also told him something I assumed he did not know.
I had written a film column in The Christian Century, in which I praised Blue Velvet, an earlier 1986 Lynch film. I called the film outstanding for its unvarnished portrait of sheer evil rooted in a small Middle Western community, a vision that was the polar opposite of The Straight Story. A Chicago columnist had one comment for that reading from a religious writer, "O Lordy". Lynch told me he had heard the strange news that a religious publication had praised Blue Velvet. He was glad to meet me.
I believe Lynch and I agree on one point: Evil and good coexist in human existence. In these two contrasting works of film art, Blue Velvet and The Straight Story, Lynch covered the extremes. It is The Straight Story side of Lynch that I choose for my single movie companion. Here is why.
The Straight Story is based on a true story which first surfaced in a news report about a 73-year-old man, Alvin Straight (Richard Farnsworth), who attempts to drive a motorized lawn mower from Iowa to the Wisconsin home of his brother Lyle (Harry Dean Stanton). As the film opens, Alvin lives quietly with his adult daughter Rose (Sissy Spacek) in Laurens, Iowa. Life is slow there. One night a telephone caller tells Rose that Alvin's brother has had a stroke. As a storm rages outside, the look on Alvin's face as he hears Rose in the next room, announces that his life will no longer be quiet. There is a past to confront.
Lynch's close-up shot of Alvin, his face lit by lightning, captured my admiration early in the film. So also did the performance of Richard Farnsworth, as he interacted with his small-town retired buddies. Or when his daughter Rose takes Alvin to see a doctor. Alvin is a stubborn man, rejecting the doctor's advice at every turn.

---
After the visit to the doctor, where Alvin refuses to change his habits, Alvin tells his daughter he will travel to see his brother. Rose reminds him that his obstacles are great. He does not own a car and Rose does not drive. Still, Alvin prepares to begin his journey. This is a trip he must make alone. He and his brother are estranged. Now is the time to address that estrangement.
Lynch's script-writers withhold details. The nature of the brothers' disagreement has deep consequences, but nothing earth-shattering, just some vague conflict which led to ugly words within the family.
Alvin builds a trailer and attaches it to his motorized lawn mower. The smile that crosses his face as he leaves town on what he hopes will be a successful 370-mile trip, is the quiet smile of a man making up for lost time. He sleeps in his trailer and cooks simple meals close to the highway. One stop requires Alvin to camp for a few days while his mower is repaired by two bickering brothers. He sees them as mirror images of his own younger self and his brother.
Director Lynch filmed Alvin's journey along the same route the real Alvin Straight travelled in 1994. The Chicago Tribune said of The Straight Story, "this is the most compassionate movie Lynch has ever made". It is also that rare film, a serious adult story with touches of humour, rated G. Imagine that, a G-rated film in 1999 which is not just for children. That is one reason I want this side of Lynch and his mower-driving Alvin to stay with me.
As Blue Velvet attests, Lynch does have a sure grip on portraying evil. In contrast, with his cinematic palette, Lynch gives us Alvin Straight in a story which celebrates family, perseverance and love. The farmland and small town scenes, shot on location, undergirded by a solemn musical score, plus the love Alvin demonstrates for his daughter and, in a moment of reconciliation, for his journey to see his brother, all contribute to one of the finest works of cinematic art from the 20th century.
This is a film that is as steady as a rain storm in an Iowa night, or as uplifting as an early morning sunrise in Wisconsin. It sustains the viewer as it calls for whatever steps are needed to make amends for decisions made, or not made.
This is a film with moments that are to be cherished and embraced, like, for example, Alvin talking his way to buying a "grabber" device he likes in a store, or the scene where Alvin's neighbour lady rushes into his kitchen to find he has fallen to the floor. She grabs the telephone and shouts, "What's the number for 911?" That is a line I reach for when I need a lift.
I hereby officially take Rose and Alvin as my companions on my desert island. We will, together, enjoy the sunset and long for the rain. For companions, I prefer those friends who speak a G-rated language, while we converse together on a stage of middle-American farmland.
Note
1. William McKendree (July 6, 1757 – March 5, 1835) was the fourth Bishop of the Methodist Episcopal Church, and the first Methodist bishop born in the United States. He was elected in 1808. Bishop McKendree never married. He died 5 March 1835 at the home of his brother, Dr. James McKendree, in Sumner County near Nashville. One of his last expressions was said to have been, "All is well."