02 Nov 2018

ACT Alliance reaffirms commitment to gender justice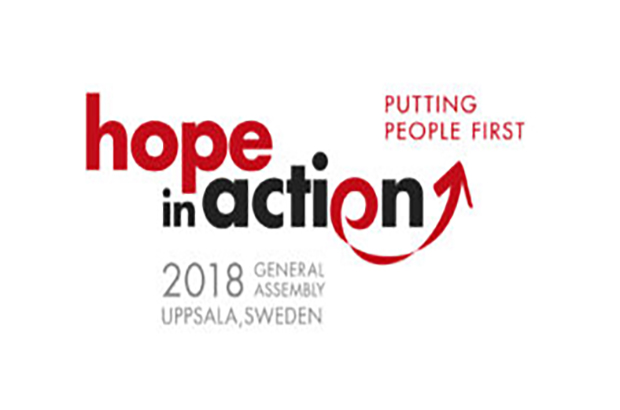 The ACT (Action by Churches Together) Alliance celebrated its 3rd General Assembly between October 29 and November 1 in Uppsala, Sweden. Hosted by the Church of Sweden, this gathering provided an opportunity for representatives of the 140 ACT Alliance members around the world to engage in dialogue about joint priorities in the areas of sustainable development, humanitarian assistance, and human rights advocacy. WACC joined the ACT Alliance in 2014.
The event opened with a series of conversations involving Deputy Secretary General of the United Nations Amina Mohammed, Executive Director of UN Women Phumzile Mlambo-Ngcuka, Director-General of the Swedish International Development Agency-SIDA Carin Jämtin, and Minister for International Development Cooperation, Government of Sweden, Isabella Lövin. A central theme in these opening sessions was the imperative of advancing gender justice as part of all efforts to achieve the United Nations' Sustainable Development Goals (SDGs). The focus on gender justice is in line with ACT Alliance's new Strategic Plan (2019-2026), which was approved during the assembly.
The ACT Alliance General Assembly also elected a new Governing Board and issued several public statements on issues such as democracy in Brazil, the rights of migrants, and climate justice.
WACC is an active member of the ACT Alliance, particularly in the ACT North America, Europe, and Global Forums, as well as in the Alliance's Development Policy and Practice Advisory Group, Community of Practice on Religion and Development, and Community of Practice on Gender Justice.
WACC was represented at the assembly by programme manager Lorenzo Vargas. Vargas participated as a panelist in a special session on the issue of shrinking space for civil society, during which he shed light on key areas of concern for WACC, such as the growing number of attacks on journalists, the rise of disinformation and misinformation campaigns (aka 'fake news'), and the need to advocate for rights-based digital communication ecosystems.
WACC congratulates the ACT Alliance on the success of its General Assembly, and looks forward to continued collaboration.

Delegates to the ACT Alliance's 3rd General Assembly in Uppsala, Sweden. ByACT Alliance