19 Aug 2015

AMARC11 conference highlights women's role in community radio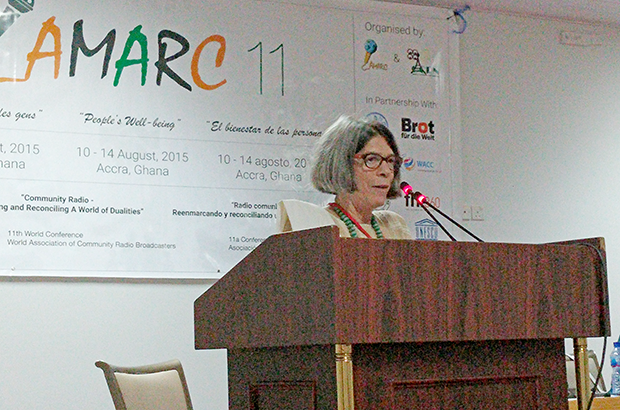 Lavinia Mohr, WACC Director of Programs, addressing participants. Photo: Lorenzo Vargas
---
A special session of AMARC's Women's International Network (WIN) focused on the past, present, and future challenges and opportunities for women in community radio in general and for WIN in particular.
The session took place Aug. 10 during the 11th AMARC Conference in Accra, Ghana, Aug. 10-14. WACC is represented in the network by Lavinia Mohr, WACC's Deputy General Secretary and Director of Programs, who has been actively involved in WIN since it was founded in the early 1990's.
The session was moderated by Mary Chavez, WIN president. The first speaker, Dr. Akosua Darkwah from the University of Ghana, spoke about challenges in organizing women for change in Ghana.
Birgitte Jallov, founding director of Empowerhouse, highlighted the ways in which women around the world use community media for resistance, liberation, and celebration.
Perla Wilson, the WIN Latin America representative, focused her presentation on the need to reframe the role of women in community radio in such a way that goes past traditional dichotomies between men and women.
Oihana Extebarrieta, from Anxteta Irratia in the Basque Country and also a member of WIN Europe, reflected on current trends in the area of media and gender.
Zara Yacoub, WIN Africa Member, highlighted current structural challenges for women to become involved in community radio at the local level and also within community radio networks.
Nimi Chauhan, WIN Asia-Pacific representative, and Bianca Miglioretto from Isis-International- Manila, shared key findings from a research project that examined the role of women in community radio in the Asia Pacific region in 2006 and again in 2013. The main takeaway from their presentation was that women's influence in the community media sector in the region is getting stronger, even if men still have louder voices.
For instance, there are far more women leadership positions in the community radio sector than in the commercial radio sector. Another example is the fact that women are gaining new spaces to create content on topics such as politics and the environment, as opposed to traditional "women's topics" such as maternity, and family issues. However, Nimi and Chauhan pointed out that there are still many structural barriers, such as discrimination and lack of time as a result of housework, that still need to be addressed. They also called for more spaces for knowledge and content exchange among women working in community radio.
Mohr had the honor of closing the session. She began by highlighting the origins of WIN when it was first conceived in Managua during an early AMARC conference. She then argued that the true impact of community media cannot be fully realized without the system and the genuine participation of women.
Mohr pointed out that community media can serve as a mirror that allows communities to see themselves and identify ways to bring about positive change. However, this mirror effect cannot be fully achieved unless disadvantaged groups, including women, are able to fully participate.
Mohr encouraged all community radio stations and networks need to adopt and implement cross-cutting gender policies. This will provide community media with new tools to work towards the democratization of communication and sustainable development. She ended her presentation by emphasizing the need to collect data to be able to measure change, particularly as measurable evidence can be very useful for advocacy work hoping to achieve changes at the government policy level.
The AMARC 11 Conference theme, "people's well-being," reflects the current concern within the community media movement with issues of sustainable development and tangible social change. To learn more about the AMARC11 Conference, please click here.