20 Apr 2015

Awards recognize excellence in communication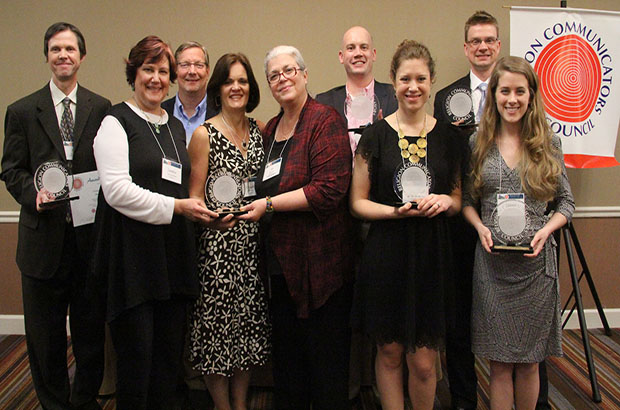 DeRose-Hinkhouse Award Best of Class Winners. Photo: RCC2015.
---
The Religion Communicators Council (RCC) handed out awards recognizing excellence in more than 50 categories of communications and public relations on April 10 at its annual conference near Washington, D.C., reported Jeff Huett, APR, for the RCC.
The annual DeRose-Hinkhouse Memorial Awards, given to active members of RCC, are named in honor of the late Victor DeRose and the late Paul M. Hinkhouse, lithographers in New York City and longtime friends of the RCC. Both men shared a strong interest in, and concern for, excellence in communications.
The top prizes – Best of Class 2015 – went to these communicators:
Periodicals: Tara Barnes and Yvette Moore of United Methodist Women, Response magazine.

Periodicals Single Issue: Mary Andreolli of the North Carolina Conference of the United Methodist Church, Every Day Grace magazine.

Public Relations Materials: Philip Poole and Janica York Carter of Samford University, Samford 2013-2014 Annual Report.

Writing for Publication: Linda Simmons Hight and Thomas G Whittle of Freedom Magazine, Church of Scientology International, "Human Trafficking series: Out of the Shadows – 21st Century Slavery in America & the Price of Human Life."

Specialized Writing: Todd Post, Derek Schwabe, Michele Learner and Doug Puller of Bread for the World, 2015 Hunger Report: When Women Flourish … We Can End Hunger.

Graphic Design, Art & Photography: Quentin Michel, Freedom Magazine, Church of Scientology International, "The Expansion Issue" cover, Freedom Special Edition, December 2014.

Audio & Video, Broadcast, Non-broadcast & Cable: Kari Carlson and Dr. Mary Nelson of the Bahá'í National Center & Parliament of the World's Religions, Heart of Faith.

Public Relations/Advertising Campaign: Margaret Boone and Sam Locke of the Presbyterian Church (U.S.A.), 2014 Special Offerings Campaign.

Digital Communications: Poonam Patodia, Kay Panovec, Danny Mai, Fran Walsh, Sheila Mayfield, Lane Denson, Cindy Caldwell and Laurens Glass of United Methodist Communications, the denominational website for The United Methodist Church.

Social Media: Myca Alford and Poonam Patodia of United Methodist Communications, Imagine No Malaria – Advent 2015 Campaign.
This year RCC received 214 entries. Each entry was judged on overall quality, including concept, writing, design, creativity, style, use of color, appropriateness of material for intended audience, creative use of resources, and effectiveness in achieving its purpose.
For the second year in a row, faculty members from the Journalism and Mass Communications Department at Marshall University in Huntington, W.V., provided the judges. The RCC received a total of 214 entries.
A full list of recipients is posted on the DeRose-Hinkhouse Memorial Awards page.
The Religion Communicators Council (RCC), founded in 1929, is an international interfaith association of religion communicators who work in print and electronic communication, media, marketing and public relations.