23 Sep 2015

Between fear and hope: MECC seeks a new media concept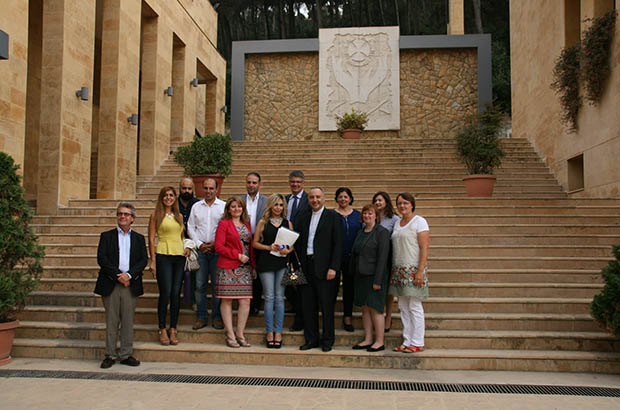 Participants in the MECC consultation. Photo: Katja Buck.
---
After years of troubles the Middle East Council of Churches (MECC) is working on a new media concept. Before asking all 27 member churches how their umbrella organization should communicate, the General Secretary, Father Michel Jalakh, first invited journalists and media experts to Beirut to get their professional advice. A big question had to be tackled: How can a frightened and oppressed community present itself to a wider public?
Father Michel Jalakh is a man of clear words. "We are in a difficult situation", he said at the beginning of the workshop on the new MECC media concept, held 16-18 September in the conference centre of the General Secretariat of the Catholic Schools in Beyt Meri near Beirut. "We need to communicate and to say for what MECC stands for, but we do not know how to do it."
To discuss this question, he invited some 20 journalists and media experts, mostly from Lebanon but also from the USA, the United Arab Emirates and Germany. As experts in ecumenical communication two staff members of the World Council of Churches (WCC) were present, including Marianne Ejdersten, WCC Communications Director and Vice-President of WACC Europe.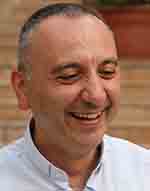 "Communication is a very crucial issue for us and we have to start now", Jalakh (photo left) stated. He didn't hide the fact that during the last five years MECC had gone through a time of internal troubles and had to reorganize the whole organisation. But since beginning of 2015, MECC is functioning again and has regained the trust of ecumenical partners and supporters all over the world. And due to the political and humanitarian crisis in the region since the beginning of the so called Arab Spring in 2011, Christians in the Middle East more than ever need to speak with one voice which is heard all over the world. But how?
Before discussing a concrete strategy and the necessary communication tools, Nasri Sayegh, a well-known journalist of the Lebanese newspaper As-Safir, asked the most important question: "What kind of media is commensurate with this continuously bloodstained narrative? Would it be a media of the frightened?" he asked.
"Of course, this would intensify the awareness about the dangers facing Christians in the Middle East today. But fear is a prelude to the strategy of escape", stated Sayegh. "But what kind of media is able to dispel fear when options range from bad to worse and catastrophic?" He made clear, that the media of the frightened only inspires and justifies desperation.
In response, Sayegh proposed talking about the media of believers. "The faithful do not lose hope. These wars will one day come to an end." But how can Christians in the Middle East convey this? What countries will they reach? Their homeland or estrangement? "We are betting on faith, and people of faith are people of hope, hope that we dearly need", he said.
But can hope be the basis for a new media concept? For media messages to be convincing, they should suggest a meaning and not only refer to the Good News, especially when one wants to reach a wider public and not only faithful church members.
Sayegh answered, "As the present is hopeless, let's dream of the future. The People of Hope believe that they have the responsibility to contribute to the protection of the existence of their home countries in the future on the basis of citizenship and strict secular principles. True believers expand the horizon of their faith in the human being, any human being, and commit to defend the oppressed and persecuted, regardless of their religion, gender, race, origin or social background."
All participants agreed with Sayegh's analysis, that not only Christians are facing this bloody scenario, but also Muslims, and that Muslims even suffer from it exponentially. "Christians are not separated from Muslims. Christians are a minority but they have a role to play and churches have to support the Christians to stay in their homelands", one participant stated.
And a Lebanese expert in communication continued, that Christians should not think that they are a minority that needs to be protected. "It leads to an attitude of defence. All the intelligent, liberal and balanced people have to cooperate. We as Christians have to ask ourselves whether we are going to fight alone as Christians against extremism or to cooperate with moderate Muslims."
Another participant suggested that the MECC should not only talk about church-related issues but also integrate in its communication the social and economic issues which are affecting the daily life of the people. "We need to focus on refugees and the dialogue with Moslems", one said and another participant added: "The communication of MECC should not be based on fear, but on forgiveness, love, fairness and peace."
New media concept
After this general discussion, participants went back to the original task: a new media concept for MECC. It soon became clear, that the nature of MECC as an umbrella organisation should be wisely considered. The council, founded in 1974, represents today 27 churches, which means 14 million Christians in 12 countries in the Middle East and North Africa. Four ecclesiastical families – the Oriental Orthodox, the Eastern Orthodox, the Catholic and the Evangelical family – are represented.
No other regional church council in the world represents such a big ecclesiastical, theological and dogmatic variety as the MECC. And in the past this diversity has more often been perceived as a hindrance than a richness. Therefore, media work should always take into consideration this diversity, but could also be used as an internal tool for finding common ground.
Another big issue was the question how to reach the youth. "Young people are not interested in the past. They want to know what's going on now", one expert on social media stated. He suggested that MECC should be present in social media like Facebook, Twitter, What's App etc. and that MECC should launch as soon as possible a website which provides a lot of facts on the member churches and the MECC itself.
The staff of MECC will now have the big task of starting to communicate without having a big budget. But Father Michel Jalakh seems to be determined to launch first steps. "It was good to ask first of all these experts. Communication is not my field, my field is ecumenism. But it's very encouraging to see how enthusiastic they are discussing this issue and we got a lot of ideas how to start," the General Secretary stated after the workshop.
One of the most important points will be how to address youth. "There is a big gap between the patriarchs and young people. What we need is interactive communication." To reach this goal, Jalakh must first of all discuss this issue with all leaders of the MECC member churches and convince them to spend much more money in communication.
It's evident that in this time of confusion and desperation the whole Christian world would appreciate an authentically and courageously communicating MECC.
Katja Dorothea Buck is a German freelance journalist and editor working in the field of Middle Eastern Christianity and ecumenism.