17 Dec 2013

Brazilian government presents Human Rights Award to Romi Bencke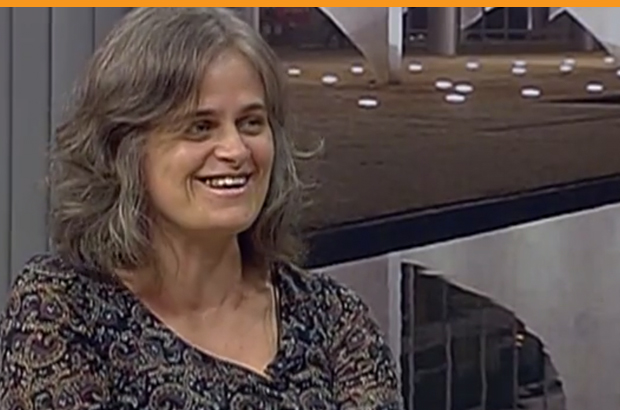 The Rev. Romi Márcia Bencke, general secretary of the National Council of Christian Churches of Brazil
---
Award recognizes support for religious diversity
The Rev. Romi Márcia Bencke, general secretary of the National Council of Christian Churches of Brazil (CONIC), was honoured on Dec. 12 with a Human Rights Award presented to her by the Brazilian federal government, reports the World Council of Churches.
The award recognizes Bencke's efforts in the area of promoting religious diversity. It was given to her in a ceremony led by President Dilma Rousseff in Brasilia, according to a story on the WCC website.
WCC General Secretary Olav Fykse Tveit congratulated Bencke, saying, "We are happy to hear the news of Rev. Romi Bencke receiving the Human Rights Award and we admire her efforts for human rights, justice and peace issues."
"We pray that Brazilian churches under her leadership may be even more inspired to continue their historic struggles for human rights," Tveit added.
Bencke called the award an appreciation of churches' efforts in linking religious diversity with the process of overcoming threats of gender violence and religious intolerance in Brazil, especially against Afro-descendants and indigenous religious expressions.
"The ecumenical movement in Brazil has been challenging the fundamentalist religious rhetoric trying to legitimatize words and acts of violence and intolerance towards Christians, other religious groups and sexual minorities," she said.
The award comes in a context in which Brazil's ecumenically-minded churches are participating in a Truth Commission to investigate the role of religion in the military dictatorship, including the use of religious media to promote support for the military. In recent years, some pastors of large churches in Brazil have developed media programs as a platform for promoting political candidates allied with their public policy agenda, including opposition to same-sex marriage, civil rights for sexual minorities and reproductive rights for women.
Bencke added that relationship between religion and politics is crucial given the increase in number of cases of violence against the indigenous peoples and small farmers in Brazil.
She expressed concern over religion used as an instrument for politics, or vice versa, attempting to legitimize right-wing arguments which she said can "jeopardize historical achievements of the Brazilian civil society".
Bencke added that landlords in different regions of the country build alliances with conservative Christian groups in order to obstruct Agrarian land reform policies and indigenous and Quilombola (descendants of African slaves) land demarcation. "These are practices that hurt God's project of justice and peace," she said.
Bencke is the first woman general secretary to lead CONIC in its 30-year existence. She comes from the Evangelical Church of the Lutheran Confession in Brazil and is a member of the board of the Brazilian Ecumenical Forum, a space for collaboration among the ACT Alliance member organizations and international ecumenical partners.