01 May 2015

Church-related NGOs support World Press Freedom Day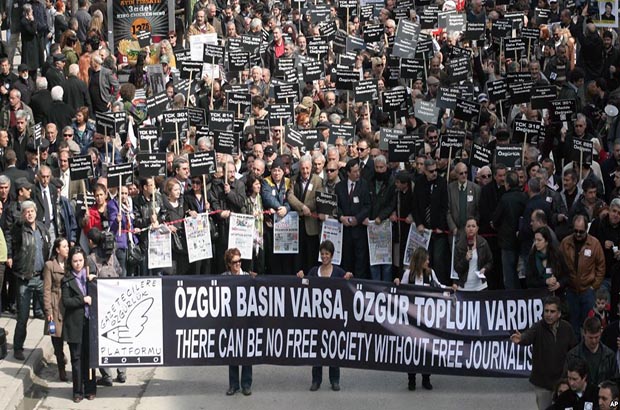 Turkish journalists demand reforms to media laws. Photo: VOA.
---
On the occasion of World Press Freedom Day, May 3, the Conference of European Churches (CEC) and WACC Europe express their commitment to a free press in Europe and beyond.
"Independent media representing a diversity of perspectives is essential for the flourishing of democracy. Transparency and flow of information provided by the press contributes to good governance, just electoral processes, and empowerment of people represented by democratic governments," said WACC Europe and the Brussels-based CEC in a joint statement.
For a generation, of World Press Freedom Day has been marked around the world as an opportunity to honor journalists who have died in the line of work, and also defend and work for press freedom.
The theme of this year's Press Freedom Day is "Let Journalism Thrive! Towards Better Reporting, Gender Equality, & Media Safety in the Digital Age," noted WACC Global General Secretary Karin Achtelstetter in a post on the World Council of Churches' new blog page. "It stresses the need for quality journalism in an age of ever increasing concentration of media ownership, state surveillance and censorship, and the ubiquity of social media and citizen journalism," she wrote.
Press Freedom Day also "calls for gender equality in the form of increased participation and access of women to expression and decision-making in and through the media and new technologies of communication," Achtelstetter wrote. Press freedom also means encouraging gender balance in news reporting, which the WACC-supported Global Media Monitoring Project has advocated for more than 20 years.
WACC Europe and the Conference of European Churches said that journalism also encourages essential debate across an increasing number of platforms. "Social media and citizen journalism now join traditional outlets in investigating and analysing all facets of life. Many issues undertaken by journalists serve the upholding of human rights in both local and global contexts," they said.
"The churches of Europe have a vital role to play in creating and sustaining democratic societies," remarked CEC General Secretary Guy Liagre, adding that "this includes promoting and protecting a free, independent, and pluralistic press."
Stephen Brown, president of WACC Europe, said, "Media pluralism and diversity are essential elements of press freedom and of democratic and representative societies, and we look to the European institutions to uphold and preserve such pluralism and diversity.
Achtelstetter referred to pilgrimages of faith, saying that "no pilgrimage of justice and peace can afford to ignore the urgent call to strengthen press freedoms issued by the World Forum on Free Media at its meeting in Tunis in March 2015. Participants affirmed that democratic information and communication are fundamental to the exercise of democracy and essential tools in the struggle to ensure respect for human rights."
CEC and WACC Europe said they will continue to hold in prayer journalists in prison and facing challenges to their personal safety wherever they are for their commitment to the free exercise of their profession.