01 Apr 2015

Communication challenges in the aftermath of Cyclone Pam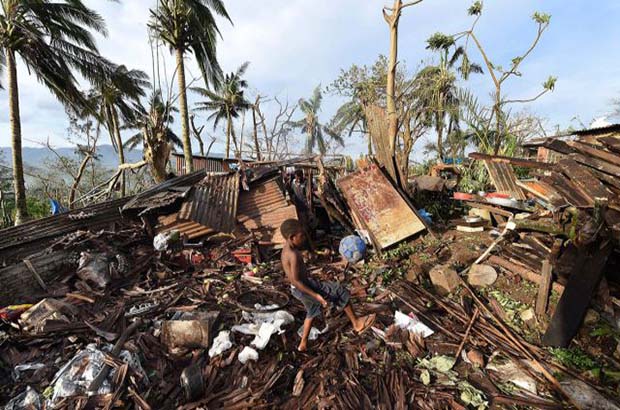 Vanuatu after Cyclone Pam. Photo: Cyber-Actu.
---
In the aftermath of Cyclone Pam's devastation of the Pacific island of Vanuatu, grassroots communication groups are broadcasting news and serving as contact points for those in urgent need.
When the mass media move on following a natural disaster, there are still voices to be heard. Local communicators play a vital role in relaying stories and identifying urgent needs.
Pam was graded to a "severe tropical cyclone" when it made landfall March 13 as a category 5 storm with peak winds of 250 km (155 miles) per hour, killing at least 17 (according to the U.N.) and causing widespread destruction. Some 65,000 people were left homeless and another 166,000 people were estimated to be in urgent need of life-saving assistance, the U.N. said. Vanuatu is located between Fiji and mainland Australia.
The non-governmental organization Women Against Crime and Corruption set up a hotline "for people to call if they want to raise their concerns or if [they have] other issues after the cyclone," wrote chair Jenny Ligo in an e-mail a week after the disaster addressed to WACC . "They need clothes, food, cooking utensils and tents … RIGHT AWAY!" she wrote.
Ligo told Radio New Zealand International on March 27 that the government was not sticking to the typical U.N. food ratio of half a kilogramme (one pound) of food per person per day. She said she saw one woman with a family of 11 only given enough to feed four.
Ligo also says people on the island of Efate were given half the rations of those on the outer islands when the need can be similar.
Another communications organization, WACC's Global Media Monitoring Project partner Vanuatu Education Policy Advocacy Coalition (VEPAC), launched an urgent appeal for aid, saying that 80% of its 200 members had lost their homes.
"People have been devastated and need urgent help. Donated funds would be used for food shelter, clean drinking water, clothing, household items, seeds for replanting farms for food sustenance, helping re-commence education and rebuilding self-reliance. Every island of the Vanuatu group has been affected," said VEPAC National Coordinator Anne Pakoa in a message disaster addressed to the General Secretary of WACC
As another example of communications at work in times of disaster, Pakoa also participated in a post-storm assessment of the community of Erakor Bridge. The report, dated March 21, was carried out by the eight-person Erakor Bridge Committee, which works toward the welfare of the community and participates in disaster aid.
Among the findings of the report: evacuation centers took in more than 200 people, a school was heavily damaged, health risks were running high because outdoor toilets were destroyed and all 122 households sustained some form of damage.
Pakoa's organization, VEPAC, also heard stories of food shortages after the cyclone as relief supplies were slow to reach many communities.
"On [the island of] Ambrym, a young father collapsed of hunger and died instantly because there was not enough food. All food crops have been destroyed from the volcano and Cyclone Pam. The man had to give up his food (the few remaining yams) so that the wife and the two children could survive every day, and thinking that seafood could sustain them for another few days … And so after diving on an empty stomach to try and get some extra food, he tried to warm himself up, he then collapsed and died instantly," wrote a person named Bev, as related by Pakoa in an e-mail to WACC in Toronto.
According to Pakoa, another woman wrote, "We are living in the same area, Bladinieres Estate, and to date no relief supplies have reached us. There are hundreds of bags of rice sitting at the Anglican Church and people close to [it] are dying of hunger after the disaster. A woman argued with the municipality staff yesterday … because she asked to get a bag of rice and was not allowed as she needed an ID … People are dying and food is sitting just meters away from them."
The shock of the disaster has muted communications. In another message relayed by Pakoa, a medical clinic worker wrote this on March 18:
"People are not talking [in] their normal loud voices; everyone seems to be whispering. I know everyone is still in shock over the devastating destruction caused by Pam. The air is smelling [like] dead debris. You don't even hear dogs barking. No birds singing. It is so silent. All the shops are closed except some Chinese shops. Two of them that I went to buy some foods and drinks have a portable generator inside the shop which allows them to run some electrical appliances such as a deep freezer or a cooler. There is only one out of a few fuel stations that is working but only works on generator as well and it only opens in the morning to mid -afternoon. Until today, we have not had any fresh bread nor frozen foods.
"We have not heard from our families in the islands. I can't reach my brother in the island, nor the chiefs. One of our local women group is on Tongoa Island for work purpose and I have not heard from them. I am very worried but a small voice within me is saying they are okay. I want to believe that they are okay.
"There is no radio, no television, no electricity. Our national radio station building roof is torn apart. I am not sure when we will listen to the radio nor watch TV again. I saw a 12 ft container on the middle of the road turned almost upside down in one of our main streets of Port Vila. Roofs curled around bended trees. Most people aren't able to charge their phones just yet therefore it is very hard for us to communicate with our friends and families especially those in the islands to see if they are okay. It is even harder for us to take pictures as most phones needed to be charged.
"If roofs are not blown off nor torn apart, at least there is water in every houses. It is terrible! A chicken farm located on Teoma was also destroyed."
On March 30, the U.N. wrote that emergency conditions continue in Vanuatu and that continuing aid is desperately needed.