13 Jan 2014

Communication rights at risk in Central African Republic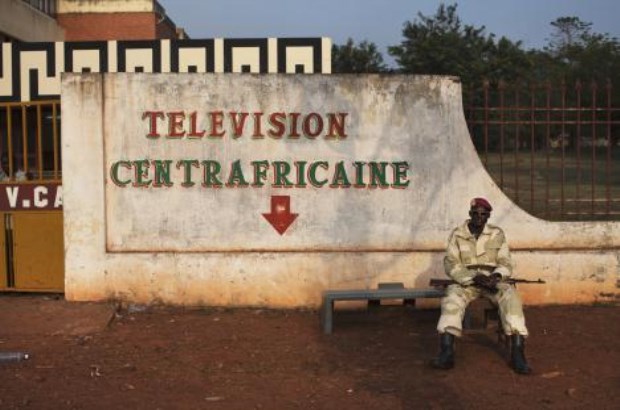 Soldier guards television station in the Central African Republic. Photo: REUTERS/Joe Penney.
---
The Central African Republic (CAR) is facing severe restrictions on freedom of expression as well as a potential humanitarian disaster.
One of the least-developed countries in the world, the country has been unstable since its independence from France in 1960. The CAR has suffered several coups following a notorious period under the brutal regime of its self-declared emperor Jean-Bedel Bokassa.
As a result, iIllegal weapons proliferate throughout the CAR – the legacy of years of unrest that displaced tens of thousands of men, women and children. Many of them have fled across the border into Chad.
A cycle of attacks and counter-attacks by Christian and Muslim militias has left more than 1,000 people dead and forced a million from their homes. Aid groups are warning of a humanitarian disaster in the capital Bangui, where an estimated 500,000 people are in camps without sufficient running water and sanitation.
Fighting, attacks on mosques and the looting of Muslim-owned shops have persisted in Bangui since last week's resignation of rebel-leader-turned-president Michel Djotodia under intense international pressure.
Over the past decade, the media landscape had gradually normalized. A law on media freedom was passed in 2005, media offences decriminalized and a regulatory body called the High Council for Communication created. Even so, financial insecurity, lack of equipment and training, and harassment by government officials threatened media independence.
According to a report published by IFEX (3 January 2014), during 2013 "The headquarters of many media were completely ransacked and equipment was even taken from Radio Ndeke Luka despite its privileged location within the compound used by the United Nations Development Programme (UNDP)."
Community radio stations in the centre of the country had to close and resistence met with violent retribution. Those that tried to resist were silenced or ransacked.
The report says that, "The three leading Bangui-based radio stations – Radio Ndeke Luka, Radio Centrafrique and Radio Notre Dame – resumed broadcasting on 8 December at the behest of [former] President Djotodia, who summoned journalists to his office to record and broadcast his appeal for calm."
"Some newspapers, including Le Citoyen, Le Confident and Le Quotidien de Bangui, began publishing again on 16 December but Le Citoyen had to move to a safer location. In the rest of the country, a few community radio stations have resumed broadcasting, mainly carrying appeals for calm. Local media are continually threatened."
In the current context, WACC expresses concern for its members and other media practitioners in the Central African Republic. It also firmly supports the recent call by Reporters Without Borders for:
Central African Republic media to refrain from using a violent or polarizing discourse, to report the facts without distortion and to try to defuse tension and promote dialogue in order to prevent further escalation in the violence.
Armed groups to stop threatening journalists and respect their status as non-combatants and their role as neutral witnesses of events.
The transitional authorities to continue to encourage the media's activities so that they can inform the population about political and security developments.
International forces deployed in the CAR to protect journalist in line with UN Security Council Resolution 1738 on the protection of journalists in conflict zones.
Source. IFEX.
---