26 Aug 2011

Communication rights leverage access to social services in Bolivia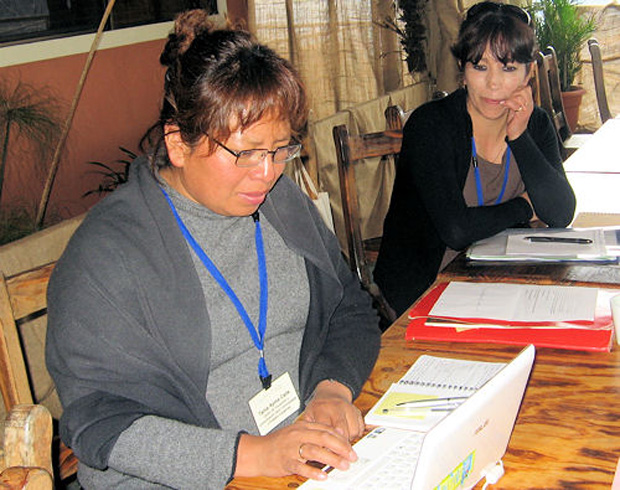 Tanya Ayma of CECOPI and Roxana Roca of SECRAD planning implementation of the project.
---

With the financial support of the Canadian International Development Agency (CIDA), WACC and two of its long-time partners in Bolivia, SECRAD (Servicio de Capacitación en Radio y TV para el Desarrollo of the School of Communication of the Bolivian Catholic University San Pablo), and CECOPI, (Centro de Educación y Comunicación para Comunidades y Pueblos Indígenas), are about to launch a project working with Indigenous Aymara and disability groups to develop a communication rights index.
The two-year project 'Communication Rights Index: a tool for measuring human rights and entitlements' will take place in the Bolivian capital of La Paz and the City of El Alto, on the outskirts of La Paz. The project will seek to develop jointly with Indigenous Aymara and disabled people an index to be used to measure and monitor access to rights and entitlements in the area of health, education, housing and employment.
Bolivian society has witness many advances during last five years. However, inequality and marginalization are still present. It is, therefore, important to ensure that knowledge and information about rights and entitlements are widespread among the most disadvantaged groups in the country, particularly among indigenous and disabled women and men. Bolivian women with disabilities face even greater challenges than usual since their disabilities add yet another layer of marginalization.
WACC has previously partnered with both SECRAD and CECOPI and this work has laid the foundations to engage in a longer project in which past learnings and experiences inform the way it is carried out. CECOPI runs a radio station directed by an Aymara woman. It has developed strong and well recognized communication work with and has high levels of acceptance and credibility among Aymara people.
SECRAD, on the other hand, has worked with disability groups for a number of years and has developed unique expertise in Bolivia in terms of communication and disability. In 2007 SECRAD worked to develop and distribute a manual on communicating disability. In 2010 it provided skills training to a group of blind people who went on to produce and broadcast their own radio show.
2011 saw the launch of the first diploma at the School of Communication of the Bolivian Catholic University San Pablo on Communication and Disability.
For more information on this project which has been made possible thanks to the Government of Canada which provides funding for it, please contact: pl@waccglobal.org