13 Aug 2014

Communication to Fight against Stigmatisation
HIV and AIDS Communication and Stigma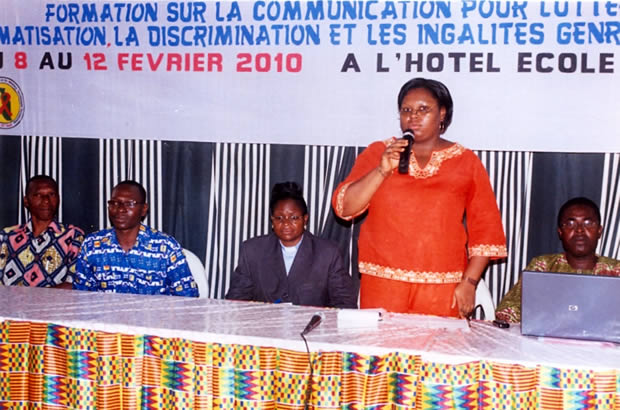 Togo
The applicant will implement this project in collaboration with the Council of Ministers and Charismatic Churches of Togo (COMECTO) and the Ecumenical HIV/AIDS Initiative in Africa (EHAIA). Le projet a permis de toucher au moins 1/20 de la population de Lomé et ses environs (estimées à plus de 2 000 000 habitants), soit 100 000 personnes contre 30 000 prévus. En plus les 56 participants à la formation ont répercuté les effets bénéfiques de la formation dans leurs milieux respectifs à travers soit des restitutions, soit la constitution et l'animation des cellules anti- VIH, soit la projection de film sur la stigmatisation et la discrimination, soit les prêches et les homélies, ou encore soit le plaidoyer pour le renforcement du cadre juridique de protection des personnes en matière de lutte contre le VIH et sida. Sur 108 participants entretenus lors de l'évaluation finale, 79 affirment avoir suivi au moins une émission radiophonique ou télévisuelle et l'avoir trouvée très intéressante et pertinente. Ils affirment par ailleurs que le fait que les émissions soient faites en langues nationales (vernaculaires) a contribué à son accès par un auditoire plus large.
En sommes grâce aux activités du projet:
– Un débat national est suscité davantage grâce aux émissions et aux sensibilisations en matière de lutte contre la stigmatisation et la discrimination associées au sida
– Les capacités de 56 personnes dont : 06 responsables religieux, 12 leaders de groupes de jeunes, 2 Députés à l'Assemblée Nationale, 24 membres des Eglises, 12 responsables d'associations en compétences de communication et dans le développement et l'utilisation des outils de communication pour réduire le stigmatisation, la discrimination, la négation et les inégalités genre en matière de VIH/sida
– La qualité de vie de près de 400 PVVIH est améliorée à travers la prise en charge psychosociale (animation des groupes de paroles)
– La stigmatisation et la discrimination des PVVIH sont réduites grâce aux groupes de paroles, aux émissions et aux sensibilisations en matière de sida.
– Les clubs anti-VIH sont mise en place au niveau de 05 paroisses des Eglises et contribuent à réduire la stigmatisation et la discrimination.
Project 1014