12 Jul 2015

Community media practitioners call for multilingual broadcasting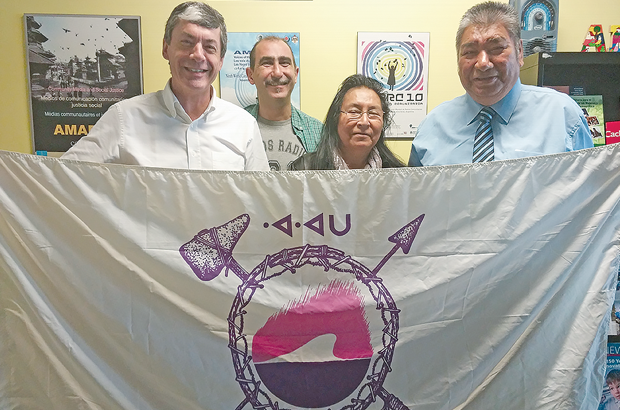 L to R: Philip Lee (WACC), Francesco Diasio (AMARC), Kenina Kakekayash (WRN) and Bill Morris (WRN). Photo: Lorenzo Vargas
---
Language rights were the theme of a one-day seminar organized by the World Association for Community Radio Broadcasters (AMARC) that took place 12 July 2015 in Montreal, Canada.
Focusing on the need for multilingual community media, participants explored the challenges facing "Third and Indigenous Language Communities on Air".
The World Association for Christian Communication (WACC) partnered with AMARC to facilitate a presentation by Northern Ontario Wawatay Radio Network (WRN).
Two of its broadcasters, Kenina Kakekayash and Bill Morris, described the context in which they work, and spoke of WRN's successes and challenges.
WRN provides radio programming to more than 300,000 Aboriginal people in the Nishnawbe Aski Nation (NAN) and Treaty 3 area of northern Ontario.
Philip Lee, WACC Deputy-Director of Programs, situated the workshop in the framework of the right to communicate of marginalized communities throughout the world.
"We need to hear a diversity of voices and to ensure that Aboriginal people in Canada have access to independent media that adequately represent their views," he said.
Kakekayash, WRN producer, has been with the network for 36 years and is a recipient of the NAN Woman award. NAN is a political organization representing 49 First Nation communities across Treaty 9 and Treaty 5 areas of northern Ontario.
Bill Morris regularly broadcasts for Wawatay and is known throughout the region as the "Voice of the North".
In his mother tongue, Morris recounted that as a child no English was spoken in his home. He emphasised the need to respect and honour the languages of first Nations peoples, which are rooted in land and customs.
Kakekayash emphasised the need for continuity within the community, to maintain traditional identities and preserve Aboriginal culture.
She also identified problems of funding and staffing, as well as the difficulty of interesting young people in continuing the work of the radio station.
WRN broadcasts in the languages of northern Ontario – Ojibway, Oji-Cree, and Cree. It also provides an English version of its news broadcast to that portion of the aboriginal population who do not speak their ancestral languages.
Programmes consist of national and international news, local events, community announcements, spots for elders, youth and women, interactive call-in shows such as question and answer panels, and dedications and greetings.
In keeping with the UN Declaration on the Rights of Indigenous Peoples, participants noted that Indigenous people have the right to establish their own media in their own languages and to have access to all forms of non-indigenous media.
The seminar included presentations by Independent Community Television (ICTV) Montreal and took part in a participatory workshop called "Crossing Linguistic Borders".
The day concluded with a "state of the nation" discussion of community media in Canada, emphasising significant work being done with Canadian government agencies to establish new community-access digital media at the grassroots level.