06 Oct 2015

Conflict reporting fails women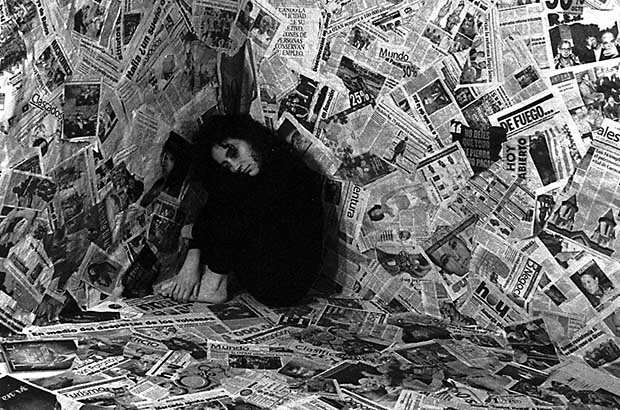 The present-day whirlwind of media images traps us all in empty meanings. Photo: Juan Pablo Barragán/Acción Creativa.
---
Women are virtually invisible in news reporting on peace and security issues in nations experiencing conflict.
Seminal research carried out by WACC and monitoring media in 15 transitional and conflict countries found that overall women constitute only 13% of persons interviewed or spoken about.
This astonishing statistic flies in the face of the fact that women make up at least 50% of the countries' population and ignores the disproportionate impact of conflict on women and girls.
The research results will be presented October 7, 2015 at a conference on Gender, War and Conflict reporting being held at the Oslo and Akershus University College of Applied Sciences in Norway.
Rev. Dr Karin Achtelstetter, WACC General Secretary, highlighted the contribution such research can make to ecumenical peacemaking efforts. "Having taken part in the World Council of Churches' 10th Assembly in Busan, South Korea, WACC is fully committed to the Pilgrimage of Justice and Peace. The women, peace and security study is a vital contribution from WACC's worldwide network of members and partners reflecting its promotion of gender equality and communication rights for all."
Dr Sarah Macharia, WACC's Program Manager for Gender and Communication, who coordinated the study, noted that the reporting "Falls considerably short on the measures of respect for the right to freedom of expression for all, particularly women, as well as the professional and ethical obligation of news organizations and journalists towards their publics."
The research covered 876 stories relevant to peace and security published in 83 major newspapers in 15 countries over a three-day period in April 2015. The monitoring methodology identifies six types of roles in which people may appear as news: as the subject of the story, spokesperson for a group, expert or commentator, eyewitness, or person providing popular opinion.
Macharia noted that only "39% of the already meager number of women are directly quoted, compared to 60% of men." In addition to the "insignificant presence of women" in the news reporting overall, "the striking gender difference begs the question whether women's views, in their own words, are considered not worth citing."
Factors identified as contributing to the imbalance included inherent gender inequalities in society, control of media output by those with money and power, and lack of training and support to understand and overcome how journalists' personal values and interests constrain their reporting.
Funding for the study was provided by UN Women – New York, in the context of research for the Global Study on Women Peace and Security to be presented for the 15th anniversary of the UN Security Council Resolution 1325 at the end of October 2015.
The media research on women, peace and security follows the methodology of WACC's Global Media Monitoring Project (GMMP), which has tracked coverage of gender portrayal and representation in the news every five years since 1995.
The report on the fifth, and largest, GMMP, will be released on 23 November. The GMMP report will include global, regional and national data and analysis from at least 114 countries.