07 Jan

E-waste rising dramatically says report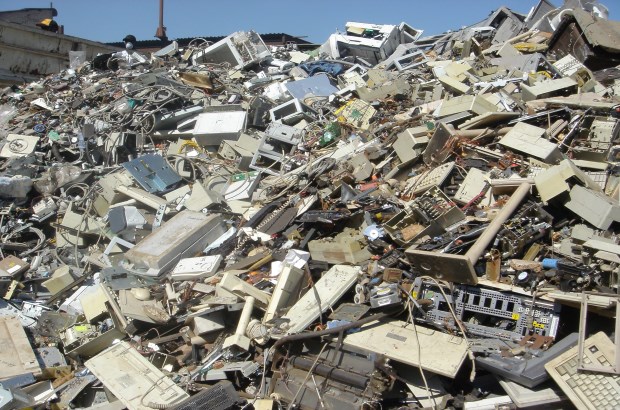 Electronic waste mountain. Photo: ewasteguide.info
---
In a forecast made by experts in a global partnership created to tackle e-waste, The amount of electronic waste produced globally is set to grow by a third between 2012 and 2017.
According to SciDevNet, the forecast was made as the Solving the E-Waste Problem (StEP) Initiative launched an interactive, online world map depicting the amount of electronic waste produced in different countries across the globe. It also published a report written by experts from the Massachusetts Institute of Technology (MIT) showing the amount of e-waste shipped from the USA to developing countries.
On average, each person on the planet produced seven kilograms of e-waste in 2012, that is 48.9 million tonnes in total, and StEP estimates that this will rise to 65.4 million tonnes in 2017. E-waste comprises all those discarded electrical or electronic devices, from cell phones and TVs to computers, laptops and tablets.
Most e-waste is disposed of in landfills, but some is recycled in an effort to recover valuable materials. Exposure to e-waste might occur directly via recycling or indirectly via ecological exposure and a large proportion of potentially hazardous e-waste is shipped to less developed countries for dumping or recycling.
According to Ruediger Kuehr, executive secretary of the Solving the E-Waste Problem (StEP) Initiative, the aim of the online map and the report, launched on 16 Decembger 2014, is to persuade governments, industry and other organisations to plan e-waste management and recycling.
The online world map map is based on 2012 data from 184 nations. As well as the amount of e-waste generated in each country, it shows how much electrical and electronic equipment was put on the market and contains national regulations regarding e-waste's management.
Kuehr says he hopes the map will raise awareness of the scale of the problem of poor e-waste management, particularly in developing countries that lack regulations about the dismantling of these products.
The United States produced the largest total amount of e-waste in 2012 — nearly 9.4 million tonnes — followed by China, which generated almost 7.3 million tonnes.
In 2010 in honour of America Recycles Day, President Obama signed a proclamation creating an e-waste task force. He said, "While we can celebrate the breadth of our successes on America Recycles Day, we must also recommit to building upon this progress and to drawing attention to further developments, including the recycling of electronic products. The increased use of electronics and technology in our homes and society brings the challenge of protecting human health and the environment from potentially harmful effects of the improper handling and disposal of these products."
However, two years later the e-waste policy in the U.S.'s National Strategy for Electronics Stewardship was criticised for failing to close a loophole in US law that allows toxic e-waste to be exported to developing countries where it is often disassembled by unprotected workers for valuable components such as gold, copper, and steel.
Source SciDev.Net.
---