20 Mar 2017

Faith groups can help female survivors of violence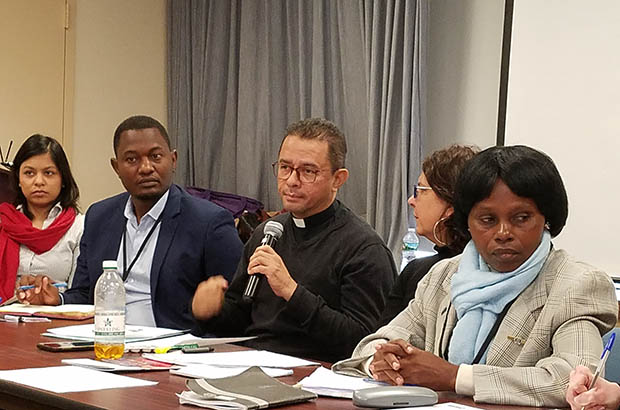 Religious organizations and faith leaders have key roles to play in helping women who are survivors of violence – including sexual assault committed in conflict situations, according to a panel of social activists at the U.N. Commission on the Status of Women meeting in New York.
The discussion was hosted on March 18 by We Will Speak Out, a movement of faith groups dedicated to ending silence and stigma concerning sexual and gender-based violence, and Side by Side, a network of people of faith committed to removing barriers to gender justice. It was a side event at the UNCSW's 61st meeting, held March 13-24.
The theme – "Leaving no one behind" — linked women's social and economic empowerment to recovery from gender-based violence.
Kikala Isobel Thomas, who is from Angola, talked about her work with the Savings with Education program – small local savings and lending groups supported by Episcopal Relief and Development.
"Women are behind men in access to credit. Survivors of violence are unemployed. They care for children and sick people and don't have time to look for economic opportunities," said Thomas, who is a community development coordinator in the Anglican Diocese of Angola with the Mothers' Union, a worldwide organization that developed within the Anglican Communion and supports families.
Savings with Education groups pool funds, then make loans to small businesses, often women-run. Giving assault survivors the means to support themselves and their families helps "break the silence" around sexual violence, Thomas said.
Angola experienced a 27-year civil war that ended in 2002. Thomas said she is a survivor of violence who has found new hope. "My life was difficult. I was not able to have a house. I had a personal goal. I wanted to reach my children higher. From a violence survivor, I am now a provider," she said.
The panel's moderator, the Rev. Amy Gopp, vice president of external relations with IMAWorldHealth, noted that We Will Speak Out was launched in 2011 as a response to a report from Tearfund and that the launch was hosted by then-Archbishop of Canterbury Rowan Williams.
Panelist Maggie Sandilands, who works with Tearfund in the area of humanitarian response to sexual and gender-based violence, said faith groups can help minimize the social stigma surrounding sexual assault. Survivors are often rejected by husbands and families, which drives them into poverty, she noted.
In the Democratic Republic of Congo, a 16-year-old survivor was rejected by her family. "Volunteers took Mary into their home, but the pastor of the local church is also a volunteer. He is influential. He talked to the family and they are reconciled," Sandilands related.
"Faith groups need to be part of the response. That is what survivors are asking for … they want [faith groups] to be a safe place. They want to turn to faith leaders for help," she said, also noting that for many survivors, religious leaders have contributed to the stigma.
Another panelist, Fr. Javier Marquez Acosta, noted that his country, Colombia, has seen armed conflict for 60 years, with eight million survivors of violence. "We don't talk about it that much, so one of the key roles of the Catholic church is to point out it is a huge problem and we need to do something about it."
The church can help make the issue visible, help women regain their dignity, even provide physical protection, said Acosta, who is director of the Social Pastoral Secretariat of the Colombian Bishops Conference in the Roman Catholic Diocese of Montelibano, Córdoba. "An important role for the church is to be a bridge for survivors with other organizations that could support them, where the government does not have much credibility due to corruption," he said.
Men in faith-based organizations need to be part of the solution, said panelist Walter Vengesai, acting director of Padare, a men's gender forum based in Zimbabwe.
One example he gave was "engaging faith leaders on the law," he said. On the issue of child marriage, some apostolic churches say their men can only marry a virgin, "which pushes men to look for younger and younger girls," he said. However, Padare has educated men on civil law, which bans marriage before the age of 18.
Rabia Waqar, an institutional funding advisor with Norwegian Church Aid, said that faith leaders have been engaged on the issue of inheritance, which is often denied to women. Women's rights have now been part of Friday prayer sermons in mosques. "We can quote the Koran: 'if someone raises his daughter well and educates her, he will be close to the prophet at the day of judgment,'" Waqar noted.
UNCSW is the principal global intergovernmental body exclusively dedicated to the promotion of gender equality and the empowerment of women.
Photo above:  Rabia Waqar, Walter Vengesai, Fr. Javier Marquez Acosta, translator Tanya Haque and Kikala Isobel Thomas discuss helping women who are survivors of violence. By Solange De Santis.