12 May 2014

Faith groups in Africa address HIV/AIDS stigma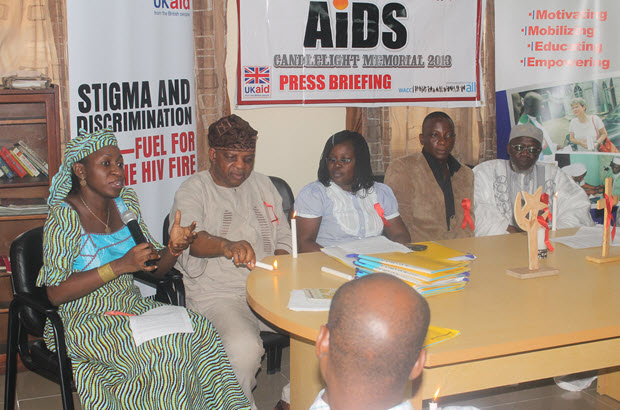 Stakeholders in the project "Empowering Faith Leaders to Reduce HIV-Related Stigma and Discrimination" at a press briefing in Lagos for the International AIDS Candlelight Memorial in May 2013." Photo: Hope for HIV/AIDS International
---
Religious organizations in Africa are at the front line of caring for those with HIV infection and AIDS, but they are also seeking to combat the social stigma associated with the disease, according to a new report.
Survey responses from seven Christian, one Muslim and one interfaith organization indicate that there are three strategies for addressing stigma: knowledge sharing, uplifting and supporting individuals, and advocating for and on behalf of stigmatized groups.
"Eliminating stigma and discrimination against people both living with and vulnerable to HIV must be a core priority. And as faith communities we have a crucial role to play," wrote Ruth Foley, HIV Campaign Coordinator, Ecumenical Advocacy Alliance, in the report's foreword.
The report, "Faith Leaders and HIV Stigma Reduction in Africa: Good Practices Collection," is a collection of case studies of faith-based initiatives aimed at reducing HIV-related discrimination.
WACC and project partner Hope for HIV/AIDS International (HFA), based in Lagos, Nigeria, commissioned the Christian AIDS Bureau for Southern Africa (CABSA) to research and put together the case studies.
WACC and HFA are involved in an initiative titled "Empowering Faith Leaders to Reduce HIV-Related Stigma and Discrimination in Lagos, Nigeria." It is funded largely by UKaid of the Department for International Development (DFID) in the United Kingdom.
The project objective is "to empower religious leaders in 10 local government areas in Lagos to undertake advocacy and community strategies that recognize and strengthen the rights and dignity of people living with HIV." It began in July 2011 and is scheduled to end in December.
Faith leaders and institutions "wield tremendous influence at the ground level and have at the core of their ethos the mandate to tackle injustice and demonstrate compassion. But we must not shy away from the fact that some faith communities and religious leaders have fostered, and continue to foster, HIV-related stigma and discrimination," Foley wrote.
"We must ask ourselves the hard questions about why stigma and discrimination persist to date in so many societies and at so many levels today. We must be clearer and more visible in our efforts to disseminate evidence-based information about HIV and AIDS, to foster dialogue to tackle the 'difficult' issues and to harness the positive power of faith communities to include and support people living with HIV," she said.
Fighting discrimination is important, the report says, because stigma can discourage individuals from being tested for HIV, accessing care and treatment, learning about and using effective means of prevention such as condoms, disclosing their HIV status to intimate partners and talking or living openly with their status to enable support.
Stigma and discrimination also can cause individuals living with HIV to be alienated from their families and friends, threatens their livelihood and thus their ability to provide for themselves and their families, and adds psychological and spiritual stress in addition to medical concerns, the report says.
Faith communities have often been judged for the role some have played in creating and entrenching stigma due to moral judgments, but faith communities have also been leaders in providing care and support – and in addressing the pervasive stigma present within religious communities and in the wider society, it adds.
According to the responses from the nine religious groups, the three significant ways to address stigma include:
– Knowledge sharing — all forms of education, from one-on-one discussions to formal classroom presentations. Stigma is often based in fear and lack of knowledge. Training can involve one-day awareness workshops or seven-day residential "facilitator" training. Workshops also include modules on the need for advocacy.
– "Upliftment"– all processes of physical and mental care or support given to individuals or groups, from clothing and food to employment, hospices and care centers, to organizations supplying psycho-social support. The upliftment of individuals leads to increased self-worth and reduction of self-stigma. In addition, "modeling" behavior of a faith-based organization towards a person living with HIV shows others that their fears and the stigma are unfounded.
– Advocacy approaches can range from lobbying governments and large organizations to presenting workshops on stigma, printing and distributing posters, or arranging group gatherings or marches addressing a specific issue. Advocacy builds a groundswell against stigma or unfair practices with a view to corrective action and social change, and makes people living with HIV and experiencing stigma aware that stigmatizing behavior is not acceptable and there are organizations they can approach for support.