25 Sep 2015

Faith leaders commit to tackle and poverty and sustainable development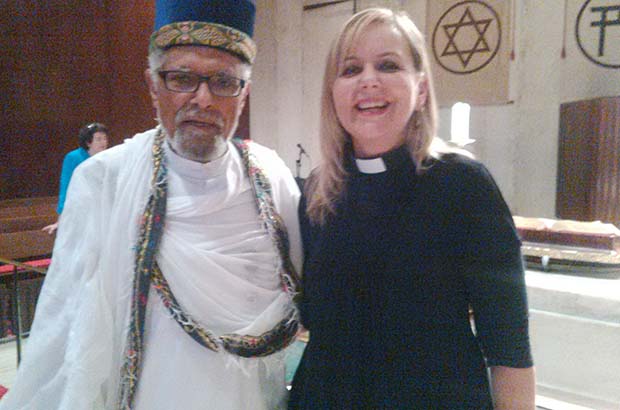 Prof. Ephraim Isaac (left), of the Tanenbaum Center for Interreligious Understanding, New York, with WACC General Secretary Rev. Dr. Karin Achtelstetter (right).
---
Faith leaders and development partners met September 24, 2015 at a High Level Event to discuss a framework for actions to end extreme poverty.
"Meeting the Moral Imperative to End Extreme Poverty and Realise the Sustainable Development Goals" brought together endorsers and supporters of the Moral and Spiritual Imperative statement alongside government, United Nations, and World Bank Group officials.
They gathered in a unique and seminal event to celebrate the progress that has been made as the Millennium Development Goals come to a close. They committed to working together to realize the unfinished work of ending extreme poverty and to advance the broader post-2015 development agenda.
WACC General Secretary, Rev. Dr. Karin Achtelstetter participated in the gathering, which took place at the Church Center, United Nations Plaza, New York. She is a member of the ACT delegation to the United Nations General Assembly.
"This was an extremely important meeting for religious leaders to plan how to be part of the processes coming out of the long debate around the post-2015 Sustainable Development Goals," Achtelstetter said.
"It is vital that communication is recognized as an integral component of any action plan, especially in regard to peace and security, poverty alleviation, and gender equality. WACC will keep these issues in mind as it revises its Strategic Plan," she added.
The Faith-based Action Framework to End Extreme Poverty and Realize the SDGs outlines a series of strategies that faith leaders and communities are committed to in order to help end the scourge of extreme poverty.
It is also intended to advance and advance sustainable development by restoring right relationships among people, affirming human dignity, and opening the door to the holistic development of all people.
The Framework builds on the "Ending Extreme Poverty: A Spiritual and Moral Imperative" statement and initiative, launched in April 2015 by over 40 global religious and faith-based organization leaders.
The Framework is organized around three core commitments that emanate from the moral imperative statement. First, the commitment to generate and be guided by evidence. Second, the commitment to advocate by engaging the moral authority of religious leaders and their substantial constituencies.
Third, the commitment to foster more effective collaboration between religious and other development actors, including governments, the World Bank Group, the United Nations and the private sector.
The Framework promotes a comprehensive approach to tackle the underlying causes of poverty – including the abuse of power, preventable illness, a lack of access to quality education, joblessness, corruption, violent conflicts, and discrimination against women, ethnic minorities and other groups.
Participants agreed that it will be vital for everyone involved to move from statements of intent to concrete plans of action and practice.