19 Apr 2016

Faith leaders urge action on climate justice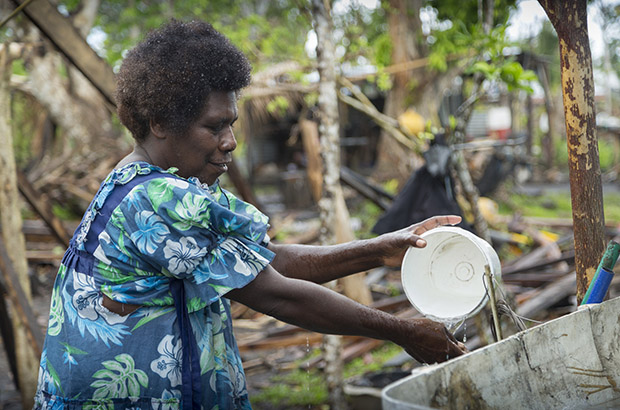 On Friday 13 March 2015, Tropical Cyclone Pam lashed the islands of Vanuatu bringing with it destructive winds surpassing 300kph, heavy rainfall, storm surges and flooding. Large parts of the country were severely affected. Photo: Julia Loersch/Act for Peace.
---
On April 18, four days before the signing ceremony for the Paris Agreement on climate change adopted by UN negotiators in December 2015, a Statement from 250 religious leaders supporting this pact was handed to UN General Assembly President, Ambassador Mogens Lykketoft.
The Interfaith Climate Change Statement to world leaders supports the full and ambitious implementation of the Paris Agreement and all other decisions adopted at the 21st Conference of Parties to the United Nations Framework Convention on Climate Change (COP 21) which met in Paris in December 2015.
The Statement also reaffirms the faith community's support for more ambitious climate action, such as the swift phase out of fossil fuel subsidies, accelerating the transition to 100 percent renewable energy, and the commitment to keeping the global temperature rise below 1.5C.
"The planet has already passed safe levels of greenhouse gases in the atmosphere," the Statement warns. "Unless these levels are rapidly reduced, we risk creating irreversible impacts putting hundreds of millions of lives, of all species, at severe risk."
Both the Statement and the 18 April event serve to renew the strong commitment of the faith community to remain active in defining humanity´s moral responsibility to care for the earth.
WACC General Secretary, Rev. Dr. Karin Achtelstetter, addressed letters to the prime ministers of both countries where WACC is incorporated, Canada and the United Kingdom, expressing support for the Statement and urging concerted and sustained action by both governments.
ACT Alliance General Secretary John Nduna said: "As a faith based alliance, we have hope. Climate change is a tremendous global challenge, but we are convinced that we can do something about it. ACT alliance has followed the UN climate talks for many years, and together with members in 140 countries, there has been a strong push for climate justice."
"The Paris agreement should not be judged by the ink on the paper, but by the concrete results on the ground. It is time to turn words into action," he added.
Eminent signatories include Bishop Marcelo Sánchez Sorondo, Chancellor of the Pontifical Academies of Sciences and Social Sciences of the Holy See, The Very Rev. Thabo Magkoba, Primate of the Anglican Church of Southern Africa, Archbishop Zakeos Mesrob, 84th Armenian Patriarch of Istanbul & All Turkey, Rev. Dr Olav Fykse Tveit, General Secretary, World Council of Churches, the Most Rev. Desmond Tutu and Chief Rabbi Shear Yashuv Choen.
In addition to the high level signatures, the Statement is supported by 4,639 individuals and 86 groups from around the world.
WACC has a page of resources on its web site dedicated to climate justice. News source: ACT Alliance