23 Apr 2014

Festival to examine religion's place in society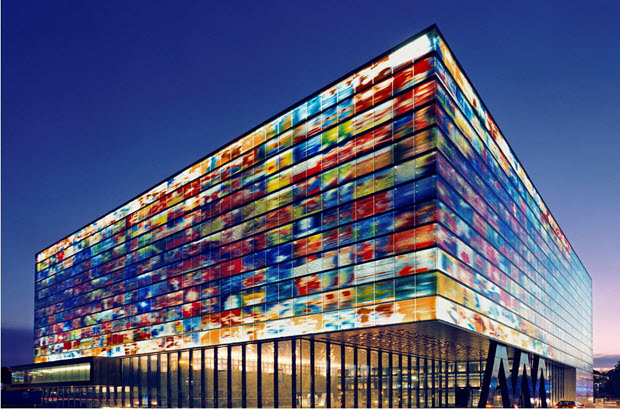 The archive of the National Broadcasting Company in Hilversum, the Netherlands.
---
The 18th European Television Festival of Religious Programmes, to take place June 11-14 in Hilversum, the Netherlands, will examine whether religious expression is taking place primarily in private or in the public arena, according to organizers.
"It is a unique festival; there is none other like it in Europe," said Praxedis Bouwman, president of WACC Europe and chair of the festival organizing committee, in an interview. WACC and SIGNIS (World Catholic Association for Communication) are presenting the 2014 gathering, which carries the theme: "Behind the front door or in plain sight: religion in a pluralist society." It is being co-organised by the Dutch public broadcasters IKON (Protestant) and RKK (Roman Catholic) and hosted by the Dutch evangelical broadcaster, Evangelische Omrep.
The festival has been held two to four years apart; the first edition took place 45 years ago, she noted. "It is organized in cooperation with local or national broadcast companies and shifts locations," Bouwman said. The first festival in 1969 was held in Monte Carlo; the most recent, in 2010, in Berlin.
The current edition received 62 entries from 12 countries, some "cutting the edge between religion and society," in keeping with the theme, said Bouwman. "People are still looking for spirituality in any form, in the public sphere or the private realm. However, in private it is your own search; in public, within the context of larger groups," she said.
The three-member pre-selection jury chose 29 finalists. Entries came from traditions including Christian, Jewish and Buddhist, said Bouwman. "There is an enormous variety in religious programmes throughout Europe," she noted. "An attractive, challenging and inspiring mixture of documentaries around societal themes, new forms of visualizing worships or biblical themes and innovative children´s programmes will be offered to participants in the festival."
The competition awards prizes for innovation, expression of the festival theme and best overall. The jury may also give a maximum of three commendations.
According to the festival's website, "in today's Europe, religion is acknowledged to be a powerful and influential shaper of social and cultural attitudes and behaviour. At the same time, however, the place of religion in the public square is under challenge. Questions of pluralism, cultural diversity and identity are increasingly central to public debate."
Therefore, it asks, "what contribution could religious programmes offer in this climate of opinion? How can religious broadcasting help to build bridges of understanding in pluralist societies in which religion is often presented as a polarising and divisive force?"
The festival's mission is to provide "a unique opportunity to present and reward the very best of European television programmes that express, explore and examine values in relation to religion, faith and ethics," according to the site.
It "also aims to encourage networking and co-production, particularly between European producers and broadcasters and promote the development of innovative and popular religious broadcasting."