09 Nov 2015

Film focuses on crimes against Mexican journalists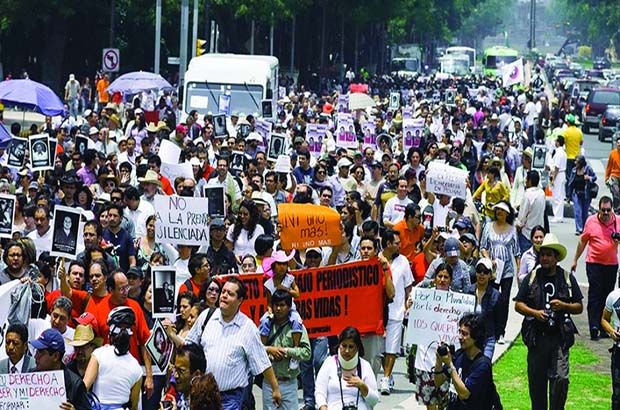 Mexican journalists silently march in downtown Mexico City in protest against the kidnappings, murder and violence against journalists perpetrated by drug cartels. Credit: Knight Foundation.
---
Article 19, the London-based organization that promotes freedom of information worldwide, has launched a Web documentary called Estado de Censura (State of Censorship) to show how fear, impunity and violence are commonplace when Mexican journalists exercise the right to freedom of expression.
The campaign was announced to mark the International Day to End Impunity for Crimes Against Journalists, Nov. 2.
"Mexico is suffering an undeniable human rights crisis. Given the situation, there are many actions that must be taken. First and foremost: continue informing the public," said Article 19 in a statement on its website.
In Estado de Censura, Article 19 presents the cases of five Mexican journalists, all of whom have been victimized by different acts of violence in an attempt to silence their journalistic voices. Article 19 documents 326 attacks on journalists and the media. Physical assaults on people and material assaults on the media accounted for the highest proportion (43%) of total cases; following on from these are intimidation (16%), arbitrary detentions (14%) and threats (13%).
Out of the 326 documented attacks against journalists, ARTICLE 19 highlights the case of five media workers: Gustavo Ruiz – photojournalist; Anabel Hernández – investigative journalist; Gregorio Jiménez – journalist; Edwin Canché – journalist; Adrián Lopez – director of newspaper.