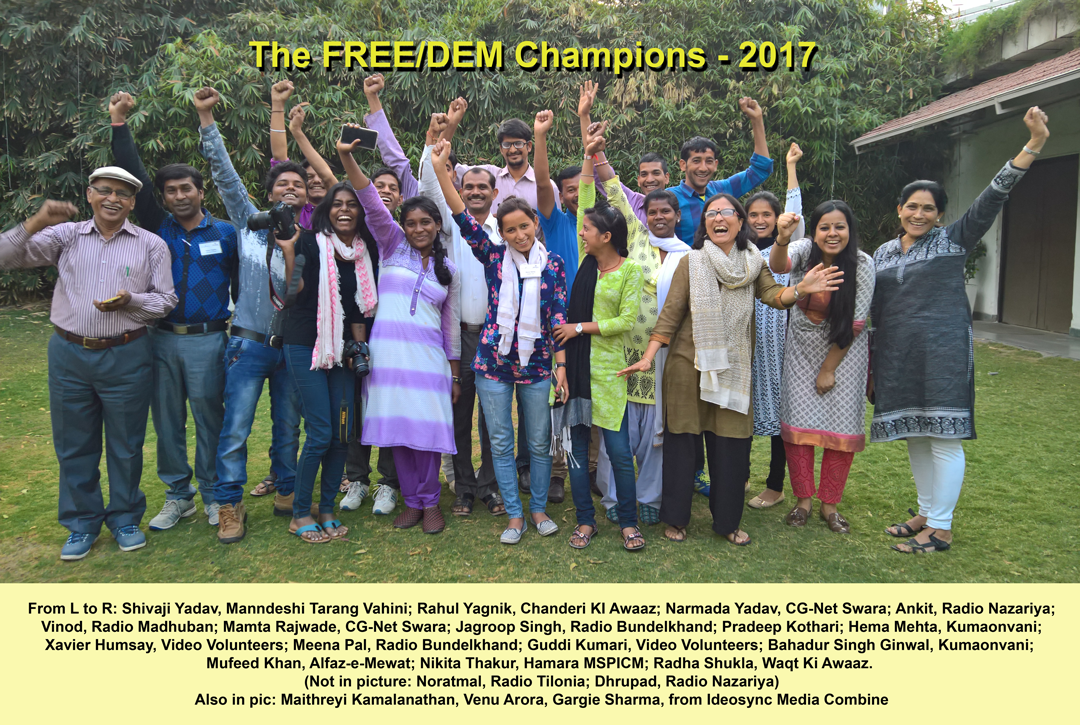 17 Aug 2017

Freedom and democracy from the grassroots: Stories told by those living them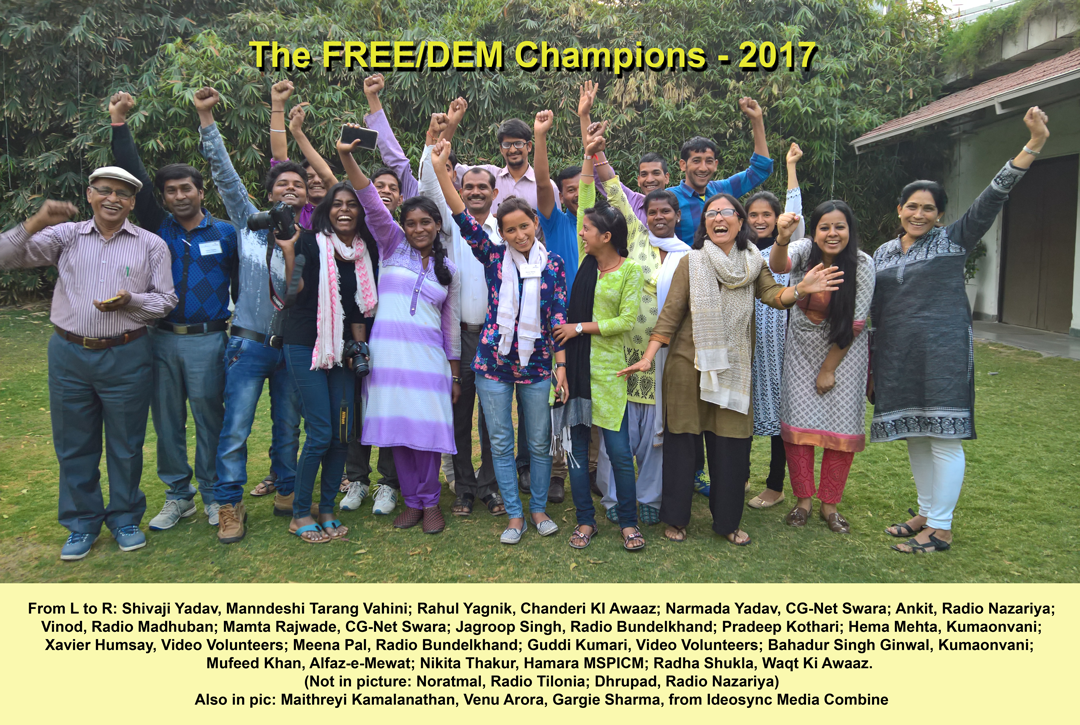 Photo Credit: Ideosync Media Combine
New Delhi
A woman surviving domestic violence.
A crumbling heritage monument being safeguarded by local citizens.
Migrants claiming their rightful space in a bustling metropolis.
An abandoned stone quarry and the slum that grew around it.
Of a people at the outskirts of a capital city and their daily struggle for water.
These are stories that need to resonate beyond the "hyperlocal" because they are stories of the changing world we live in – stories of people who remain unseen and unheard in the din of what we see as progress and development.
Born from its roots in community radio, the www.freedem.in platform is an online space for community reporters and citizen journalists from across India to tell stories from their communities. These are the stories of people's lives told by people as they live them. Beyond the local medium – be it community radio or community video, community newspaper or mobile technology based local networks the Freedem platform is an attempt to bring these multiplicities of grassroot media movements together.
Initiated by Ideosync Media Combine, a not for profit organization based in Delhi, India, that has worked for over a decade on building capacities of local organizations to establish and run low cost sustainable community radio stations, and supported by WACC, the Freedem Initiative builds on existing work in media development.
As part of the initiative, two stakeholder workshops – one with grassroots reporters and the other with mainstream media channels were held, to bring hyper local grassroots stories into the mainstream.
The workshop with the first group brought together a group of community journalists and other interested community reporters from marginalized communities for a training workshop to enhance their skills on reporting, using audio-visual media. The use of mobile smartphones and free and open source editing software was encouraged. The training included enhancing their understanding around consent, ethics and fact-checking, as well as deepening their aesthetics of photography, video-making and storytelling. The training also included discussions on rights based social transformation, an understanding of the universal declaration of human rights, the Indian constitution and the right to freedom of expression enshrined therein, and broader ideas around democracy and publics. Through the course of the programme participants received mentorship from Ideosync's team and worked on their reporting skills.
As one participant puts it: "Our constitutional article 19 refers to freedom of expression and I knew so little about it. I have never before witnessed a discussion on this; but now I realize it is an important aspect of our lives and we must focus on it."
This first workshop inspired many participants to report on issues of caste-based discrimination, gender-based violence, culture and heritage preservation, articulating marginalized perspectives around development, especially those related to effects of large dams, implementation of various state sponsored policies and entitlements for those below the poverty line, etc. The stories are hyper local in nature, but tell of the larger system under which several injustices go unnoticed. These narratives are being published on the Freedem online platform and are becoming accessible to a larger audience.
The Freedem Initiative also built new bridges between mainstream media and community media through a roundtable organized in collaboration with UNESCO. Representatives from mainstream media, including senior editors and reporters, met with grassroots reporters from community media to discuss the crisis that media finds itself in today, especially with regard to " the phenomena of "post truth" and "fake news", as well as the issue of the lack of reporting from the ground. Ethical issues facing mainstream media in India were also discussed, including the lack of resources and motivation to report on issues that affect of the marginalised population. The meeting was an opportunity to discuss possible collaborations that would enable the "mainstreaming" of grassroots stories as well as contribute towards building a sense of solidarity.
All in all, the initiative makes a unique contribution to media development and communication Rights in India by bringing marginalized narratives into the broader mainstream media sphere. The stories are breaking stereotypes and redefining the narrative by letting the communities speak for themselves. It has opened a space for the community reporters to cover the issues that they personally feel passionate about.
To listen to voices from the ground, to read their stories and share their realities, visit www.freedem.in. If you come from a marginalized, low income, or minority community and are passionate about an issue you want to report on from a remote area in India, write to info@freedem.in
_______________________
*Venu Arora is Executive Director of Ideosync Media Combine
This project was supported under WACC's Communication for Social Change capacity building programme. For more information WACC's programme, please contact Lorenzo Vargas at LV@waccglobal.org
To support WACC's work advancing communication rights worldwide, please click here.