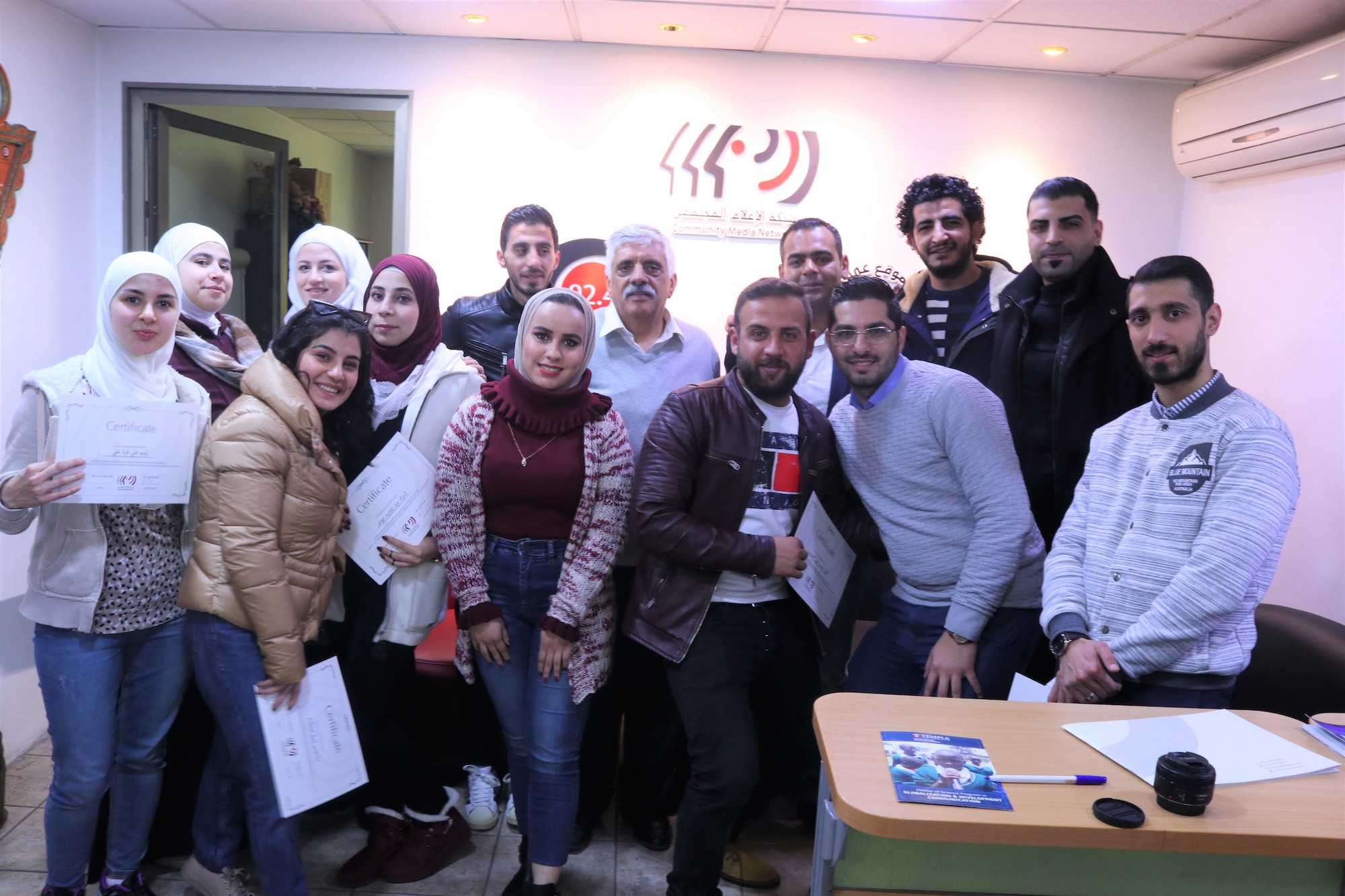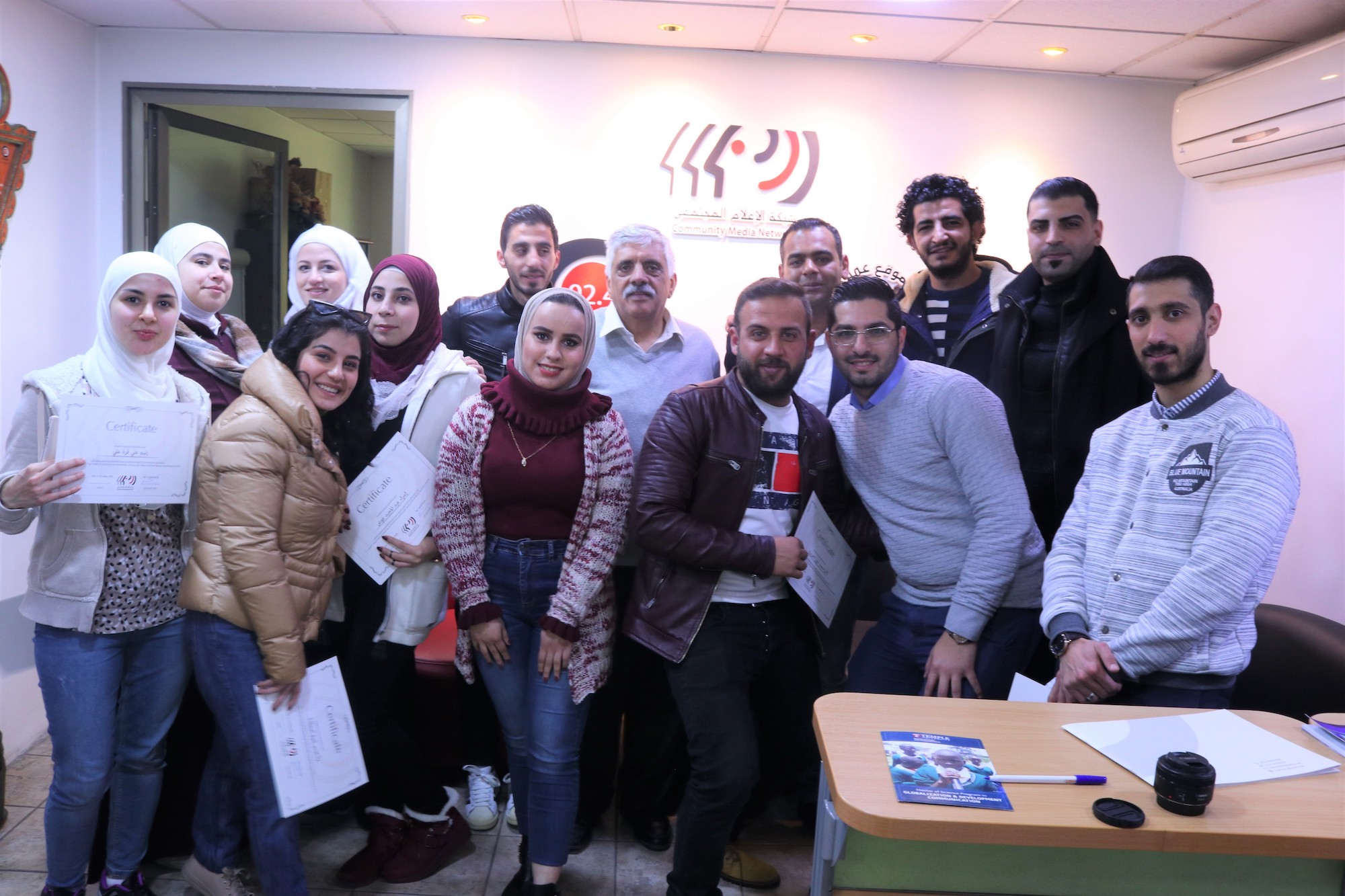 17 Jul 2020

From Covid-19's burden on Syrian refugees to a Zaatari camp robot that disinfects, Radio Al-Balad delivers the news

When the coronavirus pandemic is over, and researchers look back on how Syrian refugees not only struggled under its weight, but also demonstrated resilience, a good source of information would be "Syrians Among Us," a radio program developed by Community Media Network (CMN) in Amman, Jordan. 

CMN has expanded on the radio program with a WACC-supported project, Empowering Syrians Among Us, that recently trained 15 citizen journalists (including refugees from Zaatari camp).  

The participants have produced 30 stories so far about Covid-19's economic, social and psychological impact on Syrian refugees living in and outside camps, according to an interim report submitted by CMN.  The stories – which range from loss of jobs, to the plight of Syrian women refugees, to Marwan Zoabi, a camp-made "robot that can disinfect automatically" — have been aired on Radio Al-Balad, Jordan's main community radio station. They have also been broadcast through partner radio stations (Yarmouk FM, Voice of Karak, New Voice of Maan, Farah al Nas Radio) and online channels, including WhatsApp chats used by Syrians in Jordan.  

The project "seeks to empower the Syrian community living in Jordan by providing them with skills and resources to share their community's stories with other community members and with the broader Jordanian society," said Daoub Kuttab, CMN director general.  "Ultimately, the project seeks to create an alternative narrative of migration in Jordan by raising awareness about the plight of Syrian refugees and by enabling key members of that community to develop a public voice." 

There are about 1.2 million Syrian refugees who reside in Jordan, and most "have little say about policy decisions that affect them and have next to no vehicles to participate in the public conversation on migration and integration in Jordan," said Lorenzo Vargas, program manager of WACC's Communication for Social Change. "There is general disregard and ignorance in mainstream Jordanian society about the rights of and challenges faced by Syrian refugees living in Jordan, which is leading to growing xenophobic discourse, accentuated by a general sense that Jordan does not have the resources to absorb the Syrian population."  

On February 9,  project participants (eight of them female) began their basic journalism, including audio reporting and editing training; they aired their first report on February 26.  

A sampling of their coverage captures many facets of Syrian refugee life in Jordan. On April 15, the program interviewed Linda Kalash, a member of the Migrant Forum in the Arab World, who called on the need to include migrants and refugees in Covid-19 responses. It also featured a story about how about 300 Syrian refugees have lost their jobs due to the pandemic. Another story focused on how Rukban camp residents are facing difficult health situations. There was also a human interest story about a Syrian woman who gave birth to a child in an army vehicle, and named her Jordan. 
On April 19, the program called for emergency help for refugees, as it reported that the UN High Commissioner for Refugees (UNHCR) was still waiting for funds to help them. It also interviewed World Lutheran Foundation coordinator Alaa Husseini, who talked about support for refugees during the pandemic. He cited the need for cash support for rent and basic goods, as well as pyschological support.  

The program has also conducted several interviews with UNHCR and UNICEF officials about the services they provide to refugees and host communities. It has also highlighted community initiatives such as training and entrepreneurship programs to help those who have lost jobs. 

 

Photo above: Participants at the citizen journalism training conducted by Community Media Network.