17 Mar 2017

GAMAG members will spotlight women and gender at CSW 2018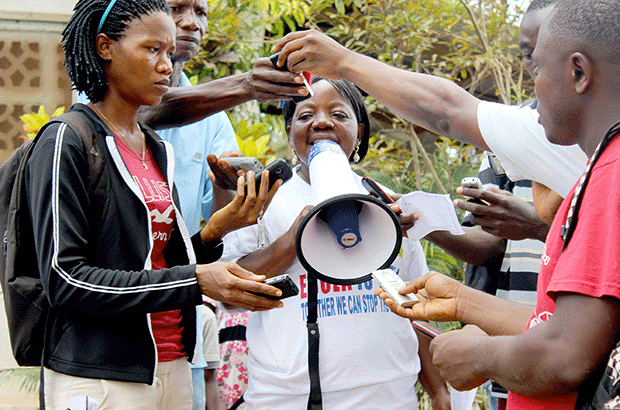 Finn Church Aid's response to Ebola in Liberia in 2014 included the distribution of hygiene materials to targeted communities. In Kakata district, Ma Bea, Executive Director of Project New Outlook, is recorded and broadcast live by four local radio stations. Photo: ACT Alliance.
---
With only a year to go before the 62nd annual Commission on the Status of Women (CSW) convenes at the United Nations in New York, it's not too early to start planning how to ensure the theme of gender and the media is reflected on its agenda, says Tim Francis, Associate Programme Specialist, UNESCO Communication and Information, Paris.
Francis was addressing a gathering convened Wednesday to discuss the Global Alliance on Media and Gender (GAMAG) ahead of CSW 2018. "The last time that gender and media was the focus of a resolution at CSW was in 2007," said Sarah Macharia, coordinator of WACC's programmes on gender and communications and of the organization's Global Media Monitoring Project (GMMP).
Speaking to the more than two dozen attendees who filled a conference room to listen to an update on GAMAG and to participate in the ensuing discussion, she said, "We feel that at GAMAG we have the knowledge, the expertise, the organization and the depth and breadth that is necessary for deep critical discussion" of these topics at next year's CSW.
Over the last decade, in spite of data suggesting that women have made little progress either in obtaining senior positions in decision-making roles within media organizations or in how they are portrayed (either in frequency or in nature) by those media entities, there has been some good news, participants suggested.
"More and more people are talking about gender, and are talking about gender mainstreaming in the media," said Alison Meston, who works in UNESCO's Communication and Information Sector. "Ten years ago, if you talked about that, you were an outsider or you were one of 'those women'. Now you have champions willing to sponsor and encourage further discussion of these topics", she added.
Aimée Vega Montiel, a communications researcher at the National Autonomous University of Mexico, reviewed GAMAG's mandate, and its two-decade-long history in promoting gender equality in and through the media, noting that UNESCO's support has been "crucial".
A strong legal framework exists supporting GAMAG's mission, she noted, starting with Article 19 of the United Nations Universal Declaration of Human Rights, which codifies the right to freedom of ideas and expression, including the right to a free media.
Nevertheless, while there have been many charters and declarations over the years, supporting both the right to a free press, and to women's rights, Vega Montiel noted that it remains relatively rare to find events on an international stage where the two issues meet.
While "GAMAG is becoming a key actor for influencing international debates and for putting gender and media at the centre of those debates, we came to CSW for the first time only in 2015," she said. Last year, in addition to CSW, GAMAG also took part in World Press Freedom Day and began working on creating standards for women working in the media globally.
"We can make GAMAG meaningful if we work together to build a common agenda," urged Vega Montiel. "In 2018, participation in, and access of women to the media and (information communication technology systems) and their impact on and use as instruments for the advancement and empowerment of women" will be key issues, she added.
The key, participants agreed, is to start early to determine what items they would like to see placed on next year's CSW agenda. UNESCO's Francis, in response to questions, noted that only delegations of United Nations member states can add events or otherwise shape the formal agenda.
WACC's Macharia responded by suggesting that participants approach those delegations and perhaps even seek to join them to ensure that GAMAG's ideas and agenda can influence the shape that CSW takes.
"The key thing is starting early, and starting to talk to the right people," said Francis, who suggested that attendees begin now to narrow down their wish lists and create a list of their top priorities. "It's such a big opportunity, we can't afford to miss out on it."
Some of the participants also suggested broadening the range of participants in those discussions to include practitioners: broadcasters, print journalists and others who are active in media on a daily basis and who can contribute their thoughts about how those issues affect them routinely.
Lois Herman, attending the gathering to represent GAMAG Europe, reminded the seminar that women working within a single region can differ tremendously in their working conditions and concerns, noting that European media range from the open media of the United Kingdom and other parts of Western Europe, to parts of central and eastern Europe whose governments have cracked down on media rights. "Many women are silenced," she notes.
The most important conclusion the group reached was the need to begin formulating ways for GAMAG to make its presence felt more robustly that ever before at next year's CSW, and to not squander the momentum that has already begun to take shape. "We can become more vocal and active in the debate," said WACC General Secretary, Rev. Dr Karin Achtelstetter.