11 Aug 2015

Gender equality and peace-building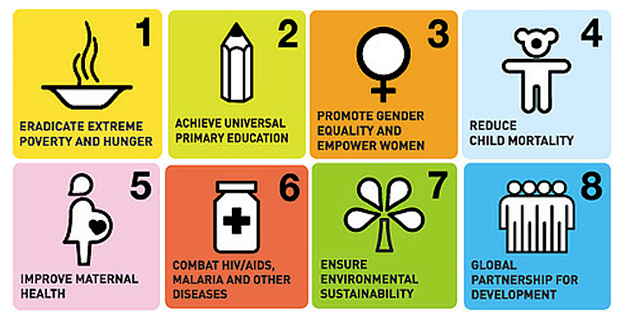 2015 Time for Global Action for People and Planet: Millennium Development Goals, Image: United Nations
---
One of the shortcomings of the U.N.'s Millennium Development Goals (MDGs) is "no clear reference to gender equality across the spectrum, and to how it should be achieved," an issue that relates to communication rights and becomes especially important in post-conflict situations, notes Valentina Baú in the latest issue of WACC's Media Development quarterly.
Although Goal 3 explicitly refers to gender ("Promote gender equality and empower women") and Goal 5 refers to another women's rights issue ("Improve maternal health"), there is an overall lack of a clear gender dimension, writes Baú, a lecturer and researcher at the University of New South Wales in Sydney. As a practitioner and as a researcher, her work has focused on the use of communication in development.
"The nature of the MDGs is such that progress in one has an impact on progress in all the others. Hence, working towards overcoming gender disparity means working towards the achievement of all goals," she says.
[In April, 2015, WACC collaborated with U.N. Women and partners in 20 countries to undertake a media monitoring initiative to understand the gender dimensions of news content related to peace and security.]
By way of background on post-conflict realities, Baú notes that since 2001, shortly after the launch of the MDGs, the course of conflicts intensified, from the U.S.-led wars in Iraq and Afghanistan to the multitude of civil conflicts in Africa.
"Further social and economic problems have affected the already-poor countries of the world, and brought about unforeseen circumstances in the implementation of the MDGs. One among them is the situation that takes shape for both men and women in countries affected by largescale violence, particularly after the end of the armed fighting. It is in this scenario that the consequences of the absence of a valid gender dimension become more visible," Baú writes.
It is also here where communication rights come into play. "The under-representation of women and their lack of voice in processes of peace-building and reconstruction in the aftermath of conflict is deeply concerning. Not only do women represent a large amount of the population in conflict-affected areas, but they also make up a large share of the potential victims of the conflict. Their exclusion violates their human rights and makes them subject of discrimination," Baú says.
During reconstruction, most government institutions pay little attention to gender as an element of peace-building, and pre-existing structures characterized by male-dominance are perpetuated. Moreover, the significance of women's contribution to peace is seldom understood and nurtured.
To access the rest of the article, including Baú's analysis of gender concepts and how mainstream media can support gender equality in peace-building, subscribe here to Media Development.