31 Oct 2013

Genuine communication underlies peace with justice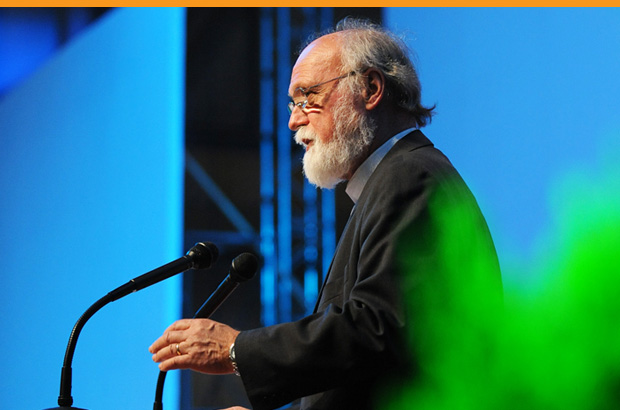 Rev. Dr. Walter Altmann, theologian and president of the Evangelical Church of the Lutheran Confession in Brazil (IECLB) Photo: Joanna Lindén-Montes/WCC
---
At the opening of the 10th Assembly of the World Council of Churches (WCC) on 29 October 2013, the moderator of the WCC's Central Committee identified "peace with justice" as central to the work of the churches.
Rev. Dr. Walter Altmann, theologian and president of the Evangelical Church of the Lutheran Confession in Brazil (IECLB), said, "One of the central themes of this assembly is expressed in the word 'peace'. The commitment to just peace, a peace allied to justice, has been part of the life of the WCC since its creation."
Referring to the International Ecumenical Peace Convocation, held in Kingston, Jamaica, in May 2011, Altmann said, "The call to peace with justice issued by that conference, in a world so troubled by violence and war, is of great value and will also take a central part in this assembly."
In 2012, the World Association for Christian Communication (WACC) reviewed the basis of its beliefs and work to issue the document "Communication for All: Sharing WACC's Principles." It says that "WACC believes that communication plays a crucial role in building peace, security and a sense of identity as well as in promoting justice, mutual accountability and transparency. Communication, WACC believes, contributes to the common good."
While affirming that there can be "no peace without justice," WACC's members and partners would add that that there can be "no peace without communication."
With the help of today's information and communication technologies (ICTs), mass, community and social media play a fundamental role in countries throughout the world. ICTs are the nervous system that keeps people informed about ongoing events and issues in their communities, societies and nations. Indeed, genuinely participatory societies depend on a vast range of information and knowledge to enable them to function democratically.
In times of global conflict or local violence, when huge resources are shifted from peaceful activities to military agendas and many lives are at risk of being lost, people also need a diversity of reliable sources of information and communication to make informed and responsible decisions.
Peace with justice means peace with communication: Communication based on genuine dialogue. Communication that is truth-oriented, people-oriented and solution-oriented. Communication that is open to an inclusive range of people, ideas, and visions aimed at bringing about peace with justice.
News from the WCC Assembly can be found here.
Philip Lee is the Deputy Director of Programmes at WACC.