21 Dec 2015

GMMP garners worldwide coverage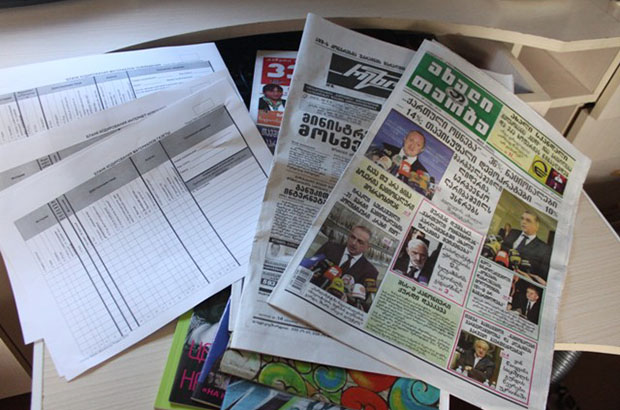 Media monitoring in the Republic of Georgia. Photo: GenderMediaCaucasus.
---
Gender equality is high on the UN agenda following the recent review, December 10-12, of the Implementation of World Summit on the Information Society (WSIS Outcomes).
The final document recognizes "that ending the gender digital divide and achievement of SDG 5 on gender are mutually reinforcing efforts, and we commit to mainstream gender in the WSIS process, including through a new emphasis on gender in the implementation and monitoring of WSIS Action Lines, with the support of relevant United Nations entities, including UN Women."
The report of WACC's Global Media Monitoring Project (GMMP) 2015, released on November 23, underlined this policy decision. Its global launch generated a record number of stories in print, broadcast and online media around the world, compared to previous surveys.
On the day of the release, Toronto-based GMMP Global Coordinator Sarah Macharia participated in a debate in London organized by BBC World Service on the topic "Is the news failing women?"
Editors from five countries debated implications of the GMMP finding that women appear in 24% of the global news media, while representing 50% of the general population.
Kate O'Brien, President of Al Jazeera America, reframed the issue by saying, "By failing women, [news] is actually failing men and women" by limiting opportunity and not creating awareness.
In New York, media including the Associated Press covered a news conference at the U.N. led by WACC General Secretary the Rev. Dr. Karin Achtelstetter, together with Dr. Glory Dharmaraj of United Methodist Women and Nanette Braun of UN Women, the United Nations organization dedicated to gender equality and the empowerment of women.
"The GMMP identifies gender imbalance by documenting patterns locally, regionally and globally. It is up to civil societies to keep the media accountable and restore women to their rightful place in the media," said Dharmaraj.
Achtelstetter said organizers are calling for action. "We have to end media sexism by 2020. At this rate, it will take three-quarters of a century to reach equality in numbers," she said.
Achtelstetter noted that one target is for newsrooms to support gender equality in 100% of national public media and 40% of private media in each country.
The UN briefing generated worldwide coverage, including in Pakistan and South Africa. Journalists were able to watch the briefing online live or at a later time.
An AP story, based on WACC's original news release about the GMMP results, was picked up by print, broadcast and online news organizations throughout North America and the world, including the New York Times and Washington Post.
More about GMMP 2015 here.