01 Oct 2014

Hans Hodel receives honorary life membership award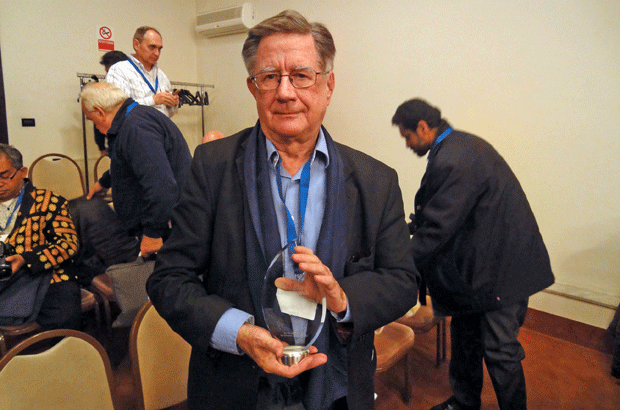 Hans Hodel has been presented with a trophy in recognition of the Honorary Life Membership conferred on him by WACC's Board of Directors late last year. (Click here for related story.)
The presentation took place during a workshop on "Cinema and Spirituality" at the SIGNIS Congress currently taking place in Rome.
Honorary Life Membership is awarded to individuals who have made a significant contribution to Christian communication and have been active in the promotion and growth of WACC.
Swiss theologian and President of INTERFILM from 2004 to 2013, Hodel began his career in a teacher training school for religion, ethics and media in Bern. From 1987 to 2003 he was film commissioner of the Swiss Protestant Churches.
As Jury coordinator of INTERFILM from 1989, and later as its President, he inspired and oversaw the ecumenical presence at many film festivals including Berlin, Cannes, Locarno, and Montreal.
Founded in 1955, INTERFILM is an international network for dialogue between church and film, promoting appreciation of cinema's artistic, spiritual and social significance and calling attention to the relevance of theology and religion for cinema.
Hans Hodel continued that tradition, establishing and guiding a series of annual seminars on the theme "Faces of Europe – Europe's Face" exploring social and theological dimensions of film. He also worked to encourage greater rapport with the Orthodox Church in Eastern Europe.
Over many years WACC has maintained close ties with INTERFILM, particularly supporting its work with international ecumenical juries at the world's leading film festivals.
WACC is immensely grateful to Hans Hodel for his dedication and commitment and warmly welcomes him to the ranks of Honorary Life Members.