11 Dec 2013

Highlighting media and good governance on Human Rights Day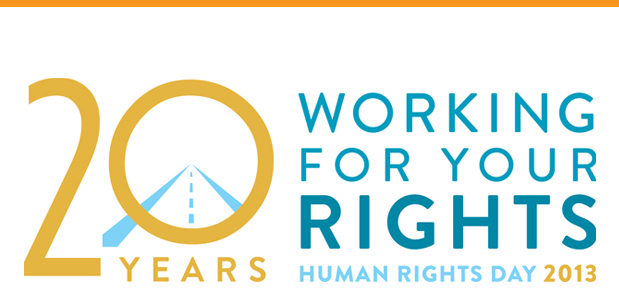 ---
Ottawa—"The Media, Human Rights and Good Governance" was the theme of a panel discussion organized by Canada's Department of Foreign Affairs, Trade and Development (DFATD) and held on December 10, 2013, to mark Human Rights Day.
The panel discussion was coordinated by Mr Yunus Lubega, International Development Project Advisor, Governance Section. It included the World Association for Christian Communication (WACC), Journalists for Human Rights (JHR) http://www.jhr.ca/en/ and AMARC, the World Association of Community Radio Broadcasters. http://www2.amarc.org/
WACC was represented by its General Secretary, Rev. Dr Karin Achtelstetter, whose presentation focused on "Sustainable development meets communication rights." She spoke of WACC's recent project partnership with DFATD in Bolivia in which Indigenous Aymara women and people living with disabilities were trained in communication rights as a means of helping claim to rights and entitlements.
Achtelstetter reviewed WACC's programmatic support aimed at strengthening the public voices and participation of poor, marginalized, excluded and dispossessed people and communities, as well as its Global Media Monitoring Project. "Communication lies at the heart of good governance, where governments are responsive, accountable and capable of fulfilling their functions with the active engagement of civil society," she said.
Representing Journalists for Human Rights (JHR), Executive Director Rachel Pulfer spoke on "Mobilizing media, changing lives" and JHR's work in Ghana and Sierra Leone. "Working with media in countries in transition is one of the most powerful ways of holding governments to account," she commented. JHR seeks local solutions to local problems, emphasizing training in high quality, professional, independent journalism.
Speaking on behalf of AMARC, Ricardo Costa said that human rights are an integral part of the organization's mission and strategic plan. Climate change and food security are a current focus because community radio stations can bring information to the local people.
"AMARC offers a mentoring programme that provides information and skills that local people can pass on to others in their communities. And since 2012 it has been working in Tunisia where there are now ten radio stations broadcasting on FM, including one station for women," he noted.
The theme of Human Rights Day 2013 is "20 Years Working for Your Rights", commemorating the Declaration and Plan of Action adopted at the World Conference on Human Rights in Vienna in 1993. In the words of Navi Pillay, UN High Commissioner for Human Rights, "The Declaration, which led to historic advances in the promotion and protection of human rights, is the most significant overarching human rights document produced in the past 40 years."