21 Jul 2017

I can see God and justice because of the open internet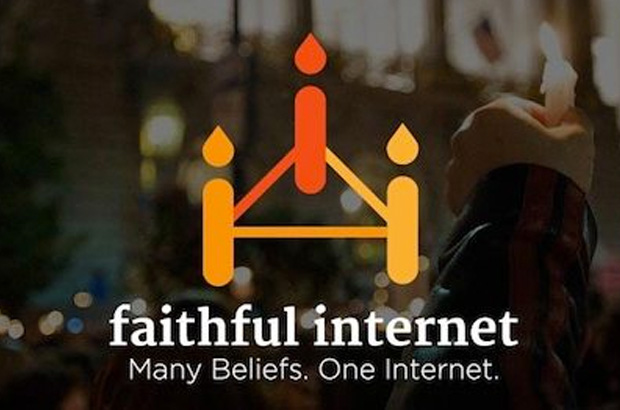 "I can't stand with you and join you in your struggle if I haven't heard your story. "
— Rabbi Sharon Brous
Some of the most influential people in my life are people I've never met—or met only once. I'm a white, cis-gendered, middle class, almost-50, married mother of two with a passion for justice and an ever-expanding appreciation of the beauty of God in the world and of the amazing people who have walked before me on a path of faith-inspired justice. I can do this work, in part, because I've listened, over and over again, to narratives and videos that bring tears to my face from folks who I visit on the Internet but whose stories I otherwise would have missed.
I can learn about justice every day because people who would not be given the time of day by a media conglomerate can bear their souls, share their gifts, and invent new and more creative ways to speak to my heart on the Internet.
I remember listening to Cayden Mak, now Executive Director of 18 Million rising, speaking in 2014 about how the Internet literally saved his life. "Have you ever been young and queer and brown in the great American suburb?" I haven't. But I can share, just a little bit, his story and bring it into my understanding of the world.
Evan Dolive, father and pastor in Texas, who wrote a book stemming from his outrage thinking about Victoria's Secret marketing sexy underwear to middle schoolers. We spoke once, a few years back, but I get his blogs every week online and while he lives so far away, the perspectives we share are clear to me over the Internet.
Rev. Ashely Harness and Rev. Lawrence Richardson, both who publish at the Salt Collective—maybe we crossed paths once in person in Cleveland at the United Church of Christ headquarters. But from then on, I've been such a fan, following on Twitter and Facebook, taking in everything from tips on how to write an op-ed rooted in justice and faith, to cheering on Lawrence's efforts to help care for his precious nephews. A glimpse of the divine in each of them—on the Internet.
And my great Faithful Internet co-founder Valarie Kaur, who, drawing on her journey as a Sikh activist, made the most beautiful speech in New York this New Year's, alongside Rev. William Barber.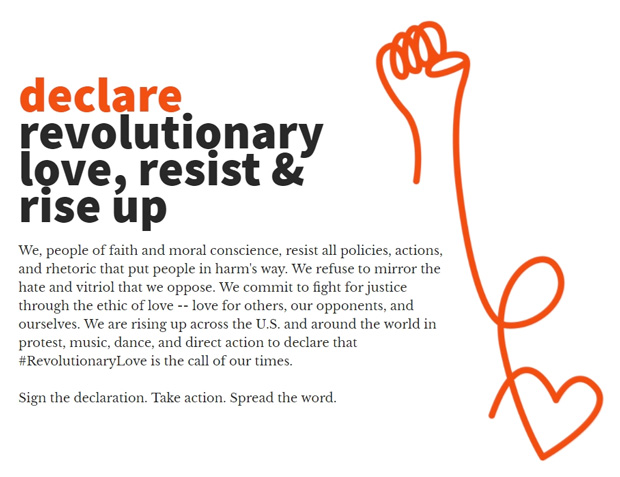 She told me and a few million others—over the Internet—that the darkness of right now is the darkness of the womb, not the darkness of the tomb. When times seem darkest, replaying that video can get you through. She'll tell you that her new Revolutionary Love project would not be possible without the open Internet.
All these stories are part of the work we do to build a more just world. The Internet is part of the basic building blocks of our work—just like the road outside the front door which takes us to a community meeting, spirit-lifting worship, or to our neighbor's house to bring chicken soup in the dead of winter.
I've been working in media justice for more than 20 years, and critical analysis of media has always come down to this (to mangle Marshall McLuhan): whoever owns the medium controls the message. Open Internet policies, protected by net neutrality, mean that whoever owns the medium cannot control the message. An ISP cannot charge more for video to flow without buffering—if it's good enough for NBC, it's good enough for all of us.
Today, July 12, 2017, miraculously, not only a range of non-profits around the country are joining together to speak out for real Net Neutrality, but also huge corporations that probably could afford to pay for access. We're all proclaiming the need to protect the fundamental structure of the Internet—which has been with us from the beginning, but is under threat today.
The faith community understands the power of story.
The Faithful Internet campaign is working to bring that voice to the policy-makers at the Federal Communications Commission who are threatening to turn the Internet over to network owners.


You can join us on July 12 via our Thunderclap campaign, sign and share our petition, and visit FaithfulInternet.org where you can learn more and see testimonials from Rev. Otis Moss III, Linda Sarsour, Sister Simone Campbell and Rev. William Barber to name just a few.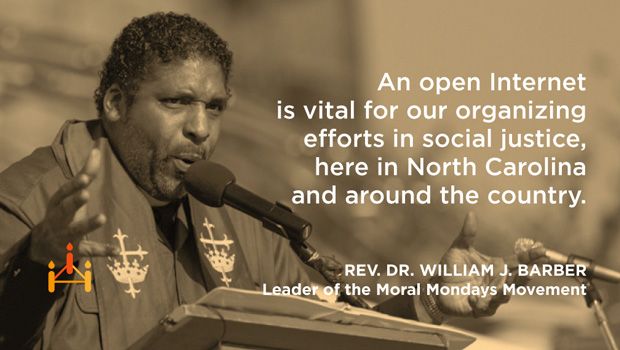 The work of healing the world is taking place on the Internet. And that work should not have to bear an additional burden of languishing in an Internet slow lane, waiting until someone pays an additional toll to release it, full force, into the world.