22 Feb 2017

In memoriam Murri Selle (1936-2017)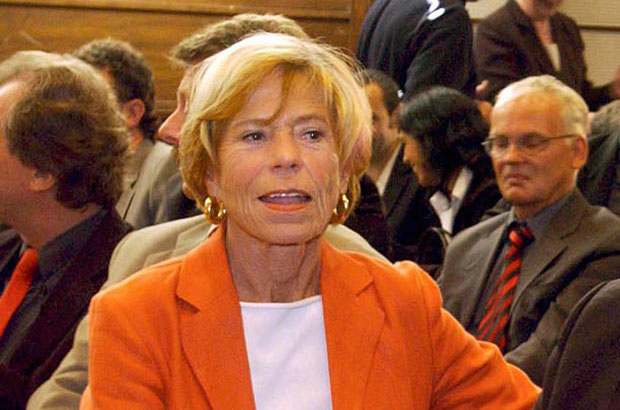 Murri Selle. Photo: epd-bild/Andreas Schölzel.
---
Murri Selle, WACC Secretary from 1990 to 1993, has died at her home in Munich, Germany.
Paying tribute, WACC General Secretary Rev. Dr Karin Achtelstetter said, "Murri stood by her belief that Christian principles underlie all aspects of communication for social justice. Throughout her long life, she worked tirelessly to build alliances and networks both in Europe and North America. WACC owes her a considerable debt of gratitude."
Murri Selle was born and educated in Bavaria, Southern Germany, and studied languages in Rio de Janeiro, Brazil, (1958-61). Further training included journalism and political science studies in Munich (1962-67).
Upon completing her studies, Murri became Director and Editor of the International Information Service "Vereinigung für christliche Publizistik" (Association for Christian Communication) and her career in Christian communication was launched.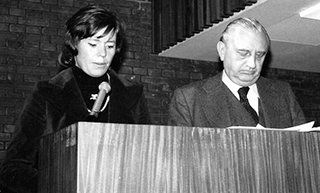 During this time, Murri (L in photo) became Assistant to Robert Geisendörfer (R in photo), Commissioner for Radio and Television of the Protestant Churches of the Federal Republic of Germany, and WACC Treasurer.
Murri's long-standing association with WACC continued, during which she travelled worldwide as a member of WACC's board of directors, advocating Christian broadcasting and greater equality for women.
Murri was Secretary of the WACC Europe Region for nearly three decades. Dr Stephen Brown, current President of WACC Europe, paid tribute to Murri Selle as "an indefatigable supporter of WACC's mission."
"As an assistant to WACC co-founder Robert Geisendörfer, she helped to organize the first European Christian Television Week in Monte Carlo in 1969 as well as later European television festivals. Even after her retirement, Murri still felt very much part of WACC and looked back on her involvement with great affection," said Brown.
She worked closely with the Lutheran World Federation, the European Group for Television Programmes, and many other secular and religious media institutions.
Gianna Urizio, former president of WACC Europe, said, "For me Murri was WACC Europe and WACC Europe was Murri! I met her for the first time in Turku, Finland, 1988, and I was instantly impressed by her ability to organise things in an authoritative but fair-minded way."
Recalling a later encounter during WACC's 1995 Congress in Mexico, sharing breakfast on the balcony of a hotel overlooking a city square, Urizio wrote, "She was as happy as a young girl-scout on her first excursion to the forest. But immediately afterwards, she was the one pressing me to write reports, to meet my responsibilities and to work to strengthen WACC's visibility and intervention in media. I loved her for those two sides: the hidden young girl and the really trustful professional woman. Farewell, Murri!"
For 19 years, until her retirement in 2002, Murri Selle helped organize the prestigious "Robert Geisendörfer Prize" for radio and television given by the Protestant Churches in Germany.
In 2003 she was made an Honorary Life Member of WACC.
WACC offers its deepest sympathy and condolences to family and friends, while celebrating a life distinguished by immense steadfastness of purpose and dedication to WACC's values.