11 Jan 2016

In Myanmar community radio can enhance democracy and development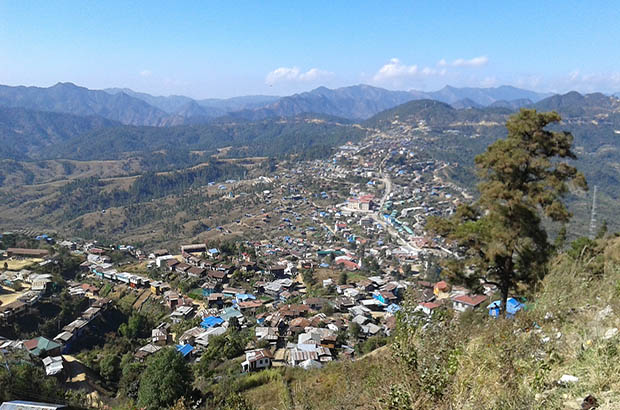 View from the Hakha hilltop in Myanmar where a communication tower is planned to be built. Photo: Areej Rashid.
---
Myanmar's general elections in November 2015 have set the stage for more open and transparent media and communication.
According to PEN America, "After decades of military rule that repressed dissent and kept an iron grip on public discourse, education and communication, establishing and protecting the free expression rights are fundamental to democratic society is a critical step in Myanmar's transition."1
Myanmar's democratic development has reached a critical point after general elections in which the National League for Democracy achieved a landslide victory. The change in government has raised the possibility of increasingly open and transparent media and communication channels. Under this new found freedom of expression and with the support of WACC, the establishment of a community radio station in Hakha – the capital city of Chin State – is becoming a reality.
WACC recognizes that community radio stations are legitimate and key components of grassroots development efforts and have the potential to empower marginalized and disenfranchised communities. The use of community radio allows community members to raise awareness and knowledge of solutions to development problems ranging from emergency preparedness, agricultural development, education, hygiene and sanitation to local governance.
Working together with the Global Chin Christian Federation (GCCF), a WACC member and project partner, the establishment of a community radio that uses Chin languages will not only strengthen ethnic voices in Myanmar but also enable isolated communities to voice their concerns.
Remote part of north-west Myanmar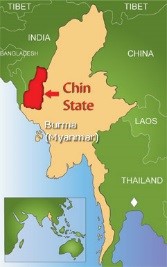 The Chin State is located in the remote, inaccessible mountainous areas of Northwestern Myanmar and shares borders with Bangladesh in the south-west and two Indian states – Manipur in the north and Mizoram in the west. It is home to approximately 500,000 Chin people with ethnic and linguistic diversity. There are at least six Chin tribal groups divided into 63 sub-tribes who collectively speak more than 20 different dialects but share a common history and a strong ethnic and religious identity.2
According to the 2014 Myanmar Population and Housing Census, the Chin people comprise only nine percent of the total population. The majority follow the Christian faith.3 While religion is a factor that isolates the Chin population, the people are also economically, socially and politically isolated resulting in limited access to basic infrastructure, education, hospitals, food, water, electricity, and transportation. As a consequence, the Chin state remains the poorest in Myanmar with the highest poverty rate and poverty gap in Myanmar.
The lack of necessary infrastructure, economic opportunities, natural resources combined with a high dependency on subsistence farming, has led to chronic unemployment and malnutrition which exacerbates poverty in the Chin State. Since Government support is very limited, basic development is inhibited and thus populations in need of assistance are difficult to reach to provide effective aid. As a result, the Chin state remains highly inaccessible, marginalized and disempowered.
Tackling isolation and lack of information
The project "Chin FM Radio Broadcasting" will start in early 2016 in cooperation with the Global Chin Christian Federation (GCCF) and will mark the first radio broadcast station in the Chin language that will address the problem of the isolation of the Chin population. It comes at a time when the country is in the middle of crucial peace negotiations and is seeking to unite ethnic minorities and ensure that "genuine democracy is firmly cemented within the foundations of a new Myanmar."4
The radio station would first and foremost allow isolated communities to communicate in local languages with people who otherwise would not be informed of ongoing developments. Alongside the need to inform and educate the Chin population about political developments, the radio will play a significant role in community building and sustainable development. The recent landslides of July-August 2015 made it clear that communication is key to ensuring survival, mitigating damage from natural catastrophes and educating the communities about preventative measures.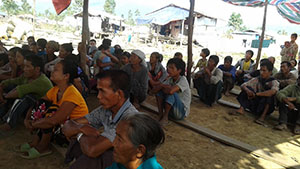 The landslides were a result of heavy rainfall that brought approximately one meter of rainfall every day for two weeks in the Chin State. Small villages were the most severely affected as their farms were completely destroyed causing mass displacement to nearby townships. Most of the villagers who fled were either farmers or fishermen and can no longer return to their homes. They must find new sources of livelihood to support their families and communities.
Temporarily, most of the villagers have been settled in makeshift camp sites with bare minimum access to basic necessities. There is limited drinking water, food is scarce and no medical assistance is available.
A conversation with a community leader described the catastrophic and terrifying flooding and landslides that occurred between June and August 2015 when community members fled to a nearby temple on top of a hill and were helpless witnesses as they lost everything in a single moment.
A simple communication outlet would have allowed ample time to prepare for the emergency. The village elder said, that "The people have never felt so helpless and vulnerable as the reality started to sink in that they could no longer return to their villages." Not only did they have no home, the landslides also washed away their sense of security and belonging.
In such circumstances, the importance of having channels of communication and being connected to the rest of the country is self-evident. The severity of the landslides are not well understood outside of Chin State mainly due to inability to reach these areas to fully assess the disaster.
Communication is also important to be able to give timely warnings to distant and scattered villages of possible natural disasters and to provide skills training through radio broadcasts in local languages on how to prepare for times of emergency. Having communication and access to information provides a fundamental sense of hope that when disaster strikes that the people have not been forgotten.
The new government with the National League for Democracy indicates that democratic reforms are underway, especially in regard to freedom of expression and information, respecting the diverse cultures and languages of ethnic minorities and strengthening communication with marginalized populations.
The community radio project in Hakha is an example of communication rights in practice and shows the way forward by enabling the free flow of information to and from the Chin State.
Notes
1. Pen America Center (2015) "Unfinished Freedom: A Blueprint for the future of Free Expression in Myanmar." pg 4.
2. Human Rights Watch Report (2009). " We are like forgotten People: The Chin People of Burma"
3. http://unstats.un.org/unsd/demographic/sources/census/2010_phc/Myanmar/MMR-2015-05.pdf
4. Pen America Center (2015) "Unfinished Freedom: A Blueprint for the future of Free Expression in Myanmar."