09 Jul 2015

Indigenous communication rights focus of WACC workshop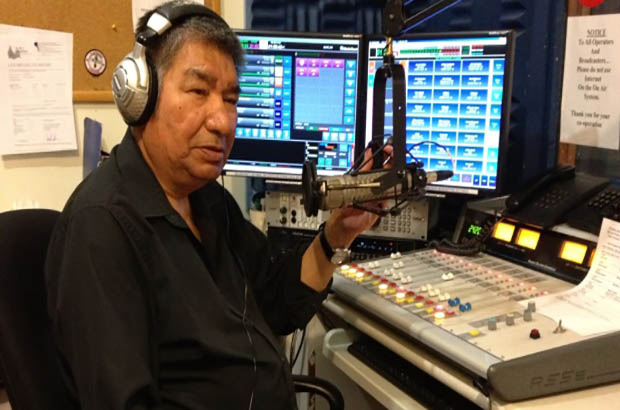 Bill Morris, Wawatay Radio Network's "Voice of the North". Photo: Wawatay.
---
A workshop exploring the communication rights of indigenous communities in Northern Ontario will take place Sunday 12 July 2015 in Montreal, Canada.
Jointly organized by the World Association for Christian Communication (WACC) and the World Association for Community Radio Broadcasters (AMARC), the workshop is part of a one-day gathering of community media broadcasters to exchange experiences in multilingual broadcasting.
Sponsored by WACC, Kenina Kakekayash and Bill Morris, representatives of Northern Ontario Wawatay Radio Network (WRN), will speak of their work and the challenges they face.
WRN provides radio programming to more than 300,000 Aboriginal people in the Nishnawbe Aski Nation (NAN) and Treaty 3 area of Northern Ontario.
Kakekayash, WRN producer, has been with the network for 36 years and is a recipient of the NAN Woman award.
Morris, who is celebrating 25 years as a broadcaster with WRN, is known as the "Voice of the North".
WRN is run by the Wawatay Native Communications Society which recently suspended its television production and newspaper, but which intends to continue its radio service while financial troubles are resolved.
WRN broadcasts in the aboriginal languages of northern Ontario – Ojibway, Oji-Cree, and Cree. It also provides an English version of its news broadcast to that portion of the aboriginal population who do not speak their ancestral languages.
Broadcasts consist of national and international news, local events, community announcements, special programs for elders, youth and women, interactive call-in shows such as question and answer panels, and dedications and greetings.
The workshop supports the UN Declaration on the Rights of Indigenous Peoples, which stresses the right of Indigenous Peoples to establish their own media in their own languages and to have access to all forms of non-indigenous media.
The workshop takes place at 10.30 am at La Maison Mondiale de la Radio Communautaire, 2, rue Sainte-Catherine Est, Montreal.