10 Jun 2015

Interreligious seminar to explore how freedom of religion and freedom of expression coexist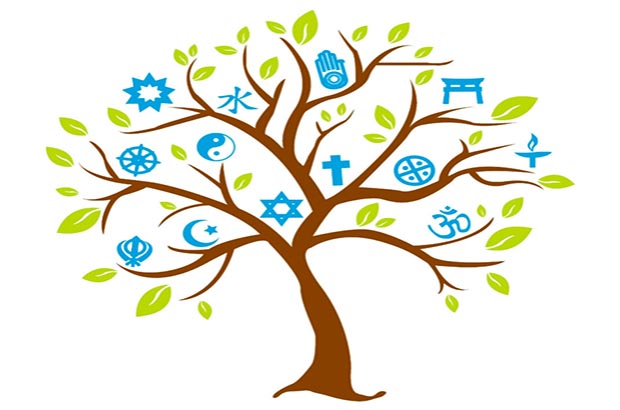 Interreligious symbols on the tree of life. Image: BeInternational.
---
WACC's General Secretary, Rev. Dr. Karin Achtelstetter is among a select number of experts invited to take part in a seminar titled "United Against Violence in the Name of Religion: How do Freedom of Religion and Freedom of Expression Coexist in Europe?"
The seminar is being organized by the King Abdullah Bin Abdulaziz International Centre for Interreligious and Intercultural Dialogue (KAICIID) and takes place in Paris 15-16 June 2015.
There is a growing concern in Europe that a tension between understandings of freedom of religion and the freedom of expression is in some part responsible for an increasing number of violent attacks committed in the name of religion. This concern is used by some to argue that freedom of religion and freedom of expression are to some extent incompatible or mutually limiting, as opposed to "interrelated, interdependent and indivisible".
KAICIID has called for an expert dialogue on how religious leaders and members of the news media, which each shape public opinion, can better understand and explain freedom of religion or belief and freedom of expression.
The aim of the seminar is to bring together European religious leaders with members of the press and media freedom experts to enhance understanding of the European experience of freedom of religion or belief and freedom of expression, and to identify areas where media and religious leaders share goals and can cooperate.
The seminar consists of introductions and remarks on the main themes of the seminar followed by discussion on areas of common interest.
Responding to the invitation, the Rev. Dr Karin Achtelstetter said, "It is an honour to take part in this seminar, which is a significant attempt to address a leading issue of our time; and which has become a major element in WACC's engagement with members and project partners. WACC is grateful for the recognition given to its long-term commitment and project work in different interfaith settings and with project partners of all faiths worldwide."
One example of WACC's interest in this important topic is a project on "Monitoring the Representation of Religion in the News Media" for which WACC is currently seeking partners. The methodology is based on WACC's long-running, successful Global Media Monitoring Project (GMMP).
KAICIID is an intergovernmental organization mandated to convene and facilitate interreligious and intercultural dialogue. Its work is overseen by a multi-religious Board of Directors, comprising nine high-level religious leaders from five major world religions (Buddhism, Christianity, Hinduism, Islam and Judaism).