17 Jun 2014

Jewish Broadcasting wins Hilversum prizes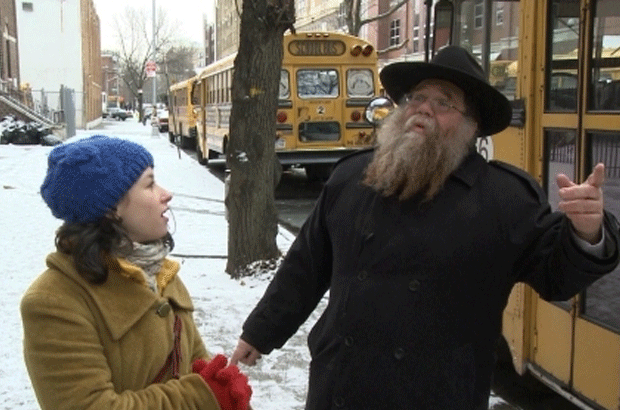 ---
The winner of the prize for best programme at the European TV Festival of Religious Programmes 2014 was the Dutch Jewish Broadcasting network (Joodse Omroep) for "Spot the Differences," which also won the audience prize.
"Spot the Differences" follows young theatre director Esther Porcelijn from Tilburg, the Netherlands, as she visits the U.S. Chabad-Lubavitch movement. She is the guest of Rabbi Chaim Dalfin and his family in Brooklyn who want to teach her about the life, customs and practices of the world of Orthodox Judaism in the largest Jewish community in the Diaspora. "Spot the Differences" is a coproduction of Jewish Broadcasting and production company Beeld.
The festival's second prize went to the RTE production "Lifers," exploring the lives of three Irish missionaries who have spent a lifetime working in some of the most challenging places on earth.
Third prize was awarded to "Feifei," a production by the Dutch broadcaster IKON, which told the story of a young undocumented immigrant in the Nethertlands and which is the first in a series of programmes based around the U.N. Convention on the Rights of the Child.
Another IKON production, "Suburban God," won the prize for the best programme related to the festival theme: "Behind the Front Door or in Plain Sight: Religion in a Pluralist Society." The programme follows a pastor as he visits people in their homes on an Amsterdam housing estate.
The ARD/RBB documentary "Holy Wrath," which follows Jesuit priest Klaus Mertes in his struggles to engage with the victims of child abuse, was highly commended.
Videos of all the winners and other programmes from the short-list can be found on NPO Spirit.
SIGNIS (the World Catholic Association for Communication) and WACC (World Association for Christian Communication) jointly sponsored the 18th edition of the festival, held in Hilversum, the Netherlands.
The festival is held every three years and provides an opportunity to present and reward the very best of European television programmes that express, explore and examine values in relation to religion, faith and ethics.
The festival also aims to encourage networking and co-production, particularly between European producers and broadcasters and promote the development of innovative and popular religious broadcasting.
The program included a seminar on the event's theme and keynote speeches from theologian Professor Manuela Kalsky, British TV producer and presenter Roger Bolton and a panel of young professionals (Monique Samuel, Roderick Vonhögen and Hassnae Bouazza) moderated by Jacobine Geel