22 Jan 2015

Latin America seeing changes in faith and media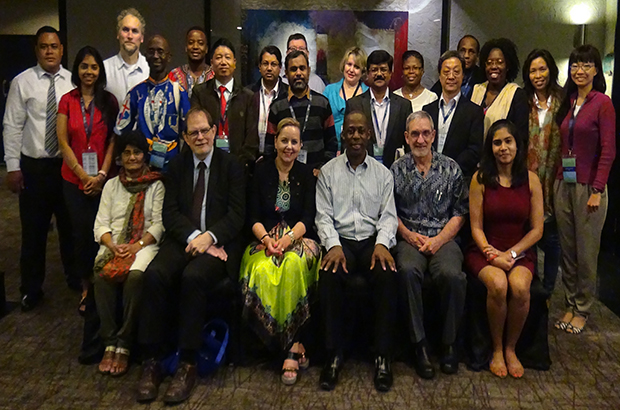 Participants attending the CWM Consultation in Singapore. Photo: CWM.
---
Once solidly Roman Catholic, Latin America is seeing tremendous shifts in its religious environment, with consequences for communications and public policy, said WACC President Dennis Smith. He spoke at the first Communication Consultation hosted from Jan. 19 to 20 by the Singapore-based Council for World Mission.
Speaking from personal experience, Smith noted he first arrived in the region in 1974 as a volunteer in Guatemala. In that decade, "rising military dictatorships were being challenged by emerging insurgencies and grassroots social movements," and media outlets were controlled by private interests or government.
Low-tech media initiatives were created that were "committed to altering the social, political and cultural status quo" as Smith researched the history and faith context of Latin America and gradually began to understand the power of the media to set the agenda for public discourse.
The rise of Protestantism and fundamentalist churches means that "in nearly every country surveyed, the Catholic Church has experienced net losses as many Latin Americans have joined evangelical Protestant churches or rejected organized religion altogether," said Smith, citing a Pew Research Center study. For example, roughly one-in-four Nicaraguans, one-in-five Brazilians and one-in-seven Venezuelans are former Catholics, according to the study.
"Neo Pentecostalism has grown so quickly and become so pervasive that Christian groups in all of Latin America have been influenced by both its style and substance," Smith noted.
"What is not yet clear, however," he continued, "is whether these new groups actually strengthen and deepen religious faith, or, on the contrary, strengthen the impulse toward individualism and secularism."
They are growing in political influence. "Peruvian communication researcher (and WACC member) Rolando Pérez observes that the emerging actors on the religious scene in Latin America no longer need to legitimize their discourse and actions through their relationship with traditional churches.
"By consolidating their presence in the media and by regularly sharing the stage with powerful politicians, a new generation of evangelical leaders has developed their own moral discourse on political power as well as carving out their own space from which to speak out on social issues," Smith commented.
He said he talked extensively about the region's history and societies because "understanding our context is the first step in developing a strategy for influencing public policy as people of faith."
Smith gave his audience several practical recommendations. "If you are seeking to influence public policy, you need to have a clear sense of what you bring to the table," such as a negotiating position, identification of allies and partners, he said.
"What are the ethical principles rooted in your lived experience as communities of faith that support your position?" Smith asked. He pointed out that this is one reason that WACC has recently updated its core statement of principles, now called Communication for All, due to ongoing conversation with its members.
"We are thankful that CWM's own statement of principles is the fruit of a conversation between WACC and CWM. Communication for All … is a statement of the moral and ethical capital that we bring to the negotiating table, but it is also an open document, an invitation to further conversation," he said.
In addition, faith groups can strengthen their voices by serving as sources for journalists on issues of public interest and educating reporters on their contexts and "religion as news."
"Gently, insistently, clearly – we must participate effectively in the debates that shape the lives of our communities, we must work to broaden the debate and open media platforms to include the voices of the silenced," Smith concluded.