02 Apr 2014

Map locates peacebuilding in Burundi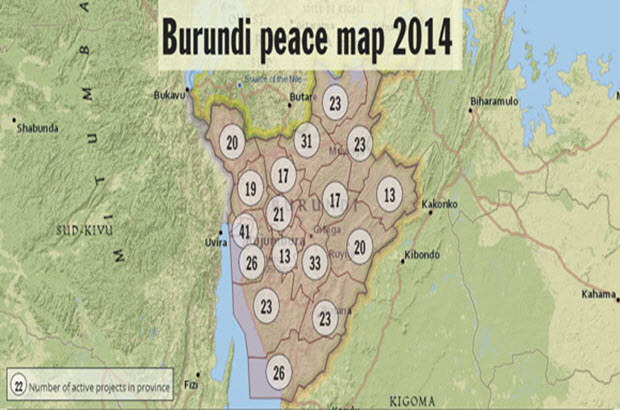 Peace Direct, an international organization that supports the voices of local peace builders, has published a unique interactive map that locates peacebuilding groups in Burundi in order to get a picture of the extensive work of local people to consolidate peace.
Posted at Peace Direct's blog, Insight on Conflict, the information is searchable across provinces and thematic areas. The map shows the work of 37 peacebuilding organizations working on 408 projects, addressing themes such as disarmament, demobilization and reintegration (DDR) and conflict prevention, and reaching over 3 million beneficiaries.
The work echoes a WACC program, Communication for Peace. Many resources were produced which have been assembled here in the interest of sharing experience and knowledge. "Being equipped to communicate for peace means knowing how to listen, see and speak in ways that contribute to conflict resolution and to creating the conditions for sustainable peace," WACC noted.
Since it achieved independence in 1962, Burundi has been riven by sporadic conflicts between Hutu and Tutsi ethnic groups.
According to Insight on Conflict, "as Burundi gears up for national elections due next year, there is considerable anxiety about what this means for the country's fragile peace."
The idea for the map came from a Peace Exchange conference held for peacebuilding organizations in Burundi in September 2013, funded by the United States Institute of Peace.
At the Peace Exchange, local peacebuilders had the opportunity to share their work and start devising collaborative projects, according to Insight on Conflict. Although a relatively small country, it was clear that many groups were not aware of the range of other active groups, even in the same provinces. An interactive map was suggested as a way to help make information on groups more accessible.
All groups featured provided their information to Landry Ninteretse, Burundi Local Correspondent for Insight on Conflict. Landry has continued to communicate with local groups to help us design and develop the map to showcase the reach and range of their work across all provinces of Burundi.
According to Landry, "This map is a very useful tool for local peacebuilders. It will help us understand each other's work better and plan stronger conflict prevention activities."
Based in New York, Peace Direct has affiliate offices in the United Kingdom, U.S. and Germany; nine partner programs in eight countries; and correspondents in 22 countries reporting through Insight on Conflict.