18 May 2022

MD 2022/2 Editorial

It is indisputable – from archaeological evidence but also from mitochondrial DNA – that people had already crossed into what we now call North America some 22,000 to 25,000 years ago. That's at least 21,000 years before Norse explorers set foot on the continent and before the Italian trader John Cabot sighted Canada's east coast.

Respecting this history, and in keeping with its rights-based approach to social justice, WACC acknowledges that its offices in Canada stand on land inhabited by Indigenous peoples for thousands of years. As newcomers and settlers, we are grateful for the opportunity to work here and we are thankful to the First Nations, Metis, and Inuit people who have taken care of this land. We recognize and deeply appreciate their historic connection to the country and their many contributions to shaping and strengthening it as a whole.

In Canada, the term First Nations refers to one of three distinct groups recognized as Aboriginal in the Constitution Act of 1982. The other two are the Métis and the Inuit. There are 634 First Nation communities (also known as reserves) in Canada, with First Nation governments. They form part of larger linguistic and cultural groups that vary across the country. 

First Nations have a special relationship with the Crown and the people of Canada as set out in the Royal Proclamation of 1763 and manifested in Treaties, the Constitution Acts of 1867 and 1982, Canadian common law, International law, and as outlined in the United Nations Declaration on the Rights of Indigenous Peoples (UNDRIP).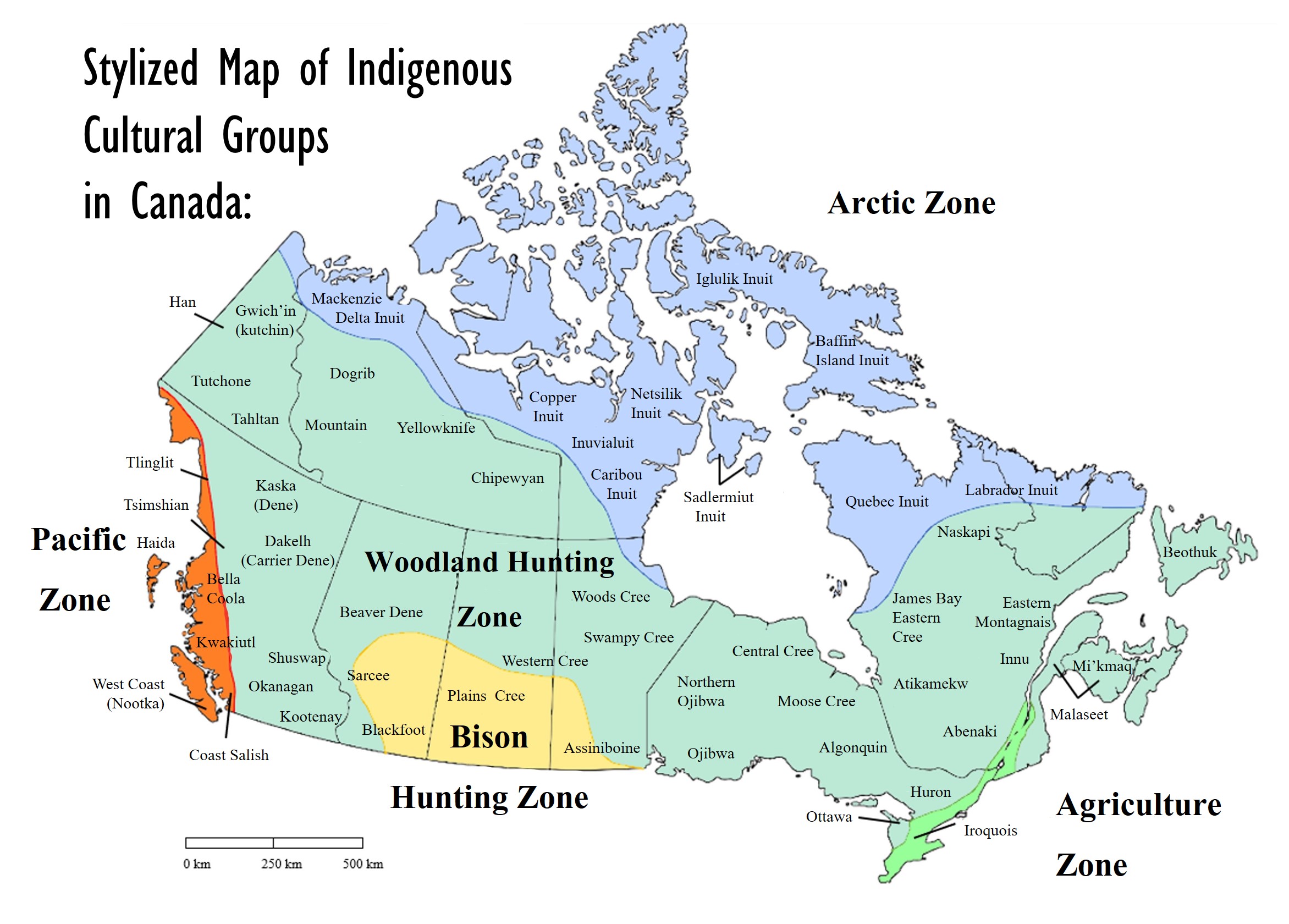 Historians have tended to group First Nations in Canada according to the six main geographic areas of the country:
Woodland First Nations, who lived in dense boreal forest in the eastern part of the country;
Iroquoian First Nations, who inhabited the southernmost area, a fertile land suitable for planting corn, beans, and squash;
Plains First Nations, who lived on the grasslands of the Prairies;
Plateau First Nations, whose geography ranged from semi-desert conditions in the south to high mountains and dense forest in the north;
Pacific Coast First Nations, who had access to abundant salmon and shellfish and the gigantic red cedar for building huge houses; and
The First Nations of the Mackenzie and Yukon River Basins, whose harsh environment consisted of dark forests, barren lands, and the swampy terrain known as muskeg.
Many Inuit live in 53 communities across the northern regions of Canada in Nunangat, which means "the place where Inuit live". Approximately 64,235 Inuit live in Canada. Inuktut is spoken throughout Nunangat, and each region has its own dialects. There are two written styles of Inuktut: syllabics and roman orthography. Syllabics use symbols to represent sounds rather than letters. Roman orthography uses the English alphabet to sound out the words in Inuktut.
The Métis people originated in the 1700s when French and Scottish fur traders married Aboriginal women, such as the Cree, and Anishinabe (Ojibway). Their descendants formed a distinct culture, collective consciousness, and nationhood in the Northwest.
Distinct Métis communities developed along the fur trade routes. This Métis Nation Homeland includes the three Prairie Provinces (Manitoba, Saskatchewan, Alberta), as well as parts of Ontario, British Columbia, the Northwest Territories, and the Northern United States. Canada has the only constitution in the world that recognizes a mixed-race culture, the Métis, as a rights-bearing Aboriginal people.
In 2019, Canada passed an Act respecting Indigenous languages. Its key provisions are to:
Support and promote the use of Indigenous languages, including Indigenous sign languages.
Support the efforts of Indigenous peoples to reclaim, revitalize, maintain and strengthen Indigenous languages.
Establish a framework to facilitate the effective exercise of the rights of Indigenous peoples that relate to Indigenous languages.
Establish measures to facilitate the provision of adequate, sustainable and long-term funding for the reclamation, revitalization, maintenance and strengthening of Indigenous languages.
Support innovative projects and the use of new technologies in Indigenous language education and revitalization.
Important as linguistic rights are, this is not the whole story. Mass, social, and traditional media need to be able to play a similar role to meet the aspirations expressed by Ry Moran, director of the National Centre for Truth and Reconciliation:
"As a nation, the opportunity for Canada now is to celebrate and acknowledge the critical role of ongoing resistance. It is through this resistance and the enhancement and rekindling of traditional practices, knowledges and Indigenous rights frameworks that Canada has the opportunity to become the nation that it has always been – a nation of many rich traditions, identities and systems coming together to find solutions to many of the deep-seated social tensions and challenges we face as a collective society. Reconciliation in this regard means arresting the attacks on Indigenous ways of knowing and being, and working from this day forward in a spirit of mutual respect and understanding."2
However, as lamented by Cree Elder Doreen Spence in this issue of Media Development:
"Communication rights have not been respected for Indigenous Peoples. In most cases, the media have not advocated for First Peoples. We hardly ever see, hear, or read anything in the media about ourselves in a positive manner. There are thousands of murdered and missing Indigenous women and girls across Canada. If the same happened to non-Indigenous women and girls, it would be all over the media. Ongoing discoveries of residential school burial sites have already attracted less media. It is evident that media continue to perpetuate stereotypes and myths, while ignoring and overlooking Indigenous issues; therefore, infringing our fundamental human rights. Indigenous People need responsibility and accountability from the media to create a just, equitable world for all nations."
Marites Sison's article in this same issue challenges Canadian journalists to do better, while noting that Indigenous journalists are taking it upon themselves to address gaps in mainstream news media by producing their own Indigenous content as well as podcasts. Another vibrant sector today seems to be film, which has seen a renaissance in recent years.
Recognising and implementing communication rights is a crucial first step towards bringing about mutual respect, greater understanding, and the possibility of reconciliation vis-à-vis the Indigenous peoples of Canada.
The map on page 5 is a Stylized Map of Indigenous Cultural Groups in Canada, created for the Open Text "Economic Aspect of the Indigenous Experience in Canada" by Dr. Anya Hageman 2020. Map graphic by Pauline Galoustian. Creative Commons Attribution 4.0 International License.
Notes
1. From the "Introduction" to Truth and Reconciliation Indigenous Peoples Atlas of Canada. 
2. https://indigenouspeoplesatlasofcanada.ca/section/truth-and-reconciliation/