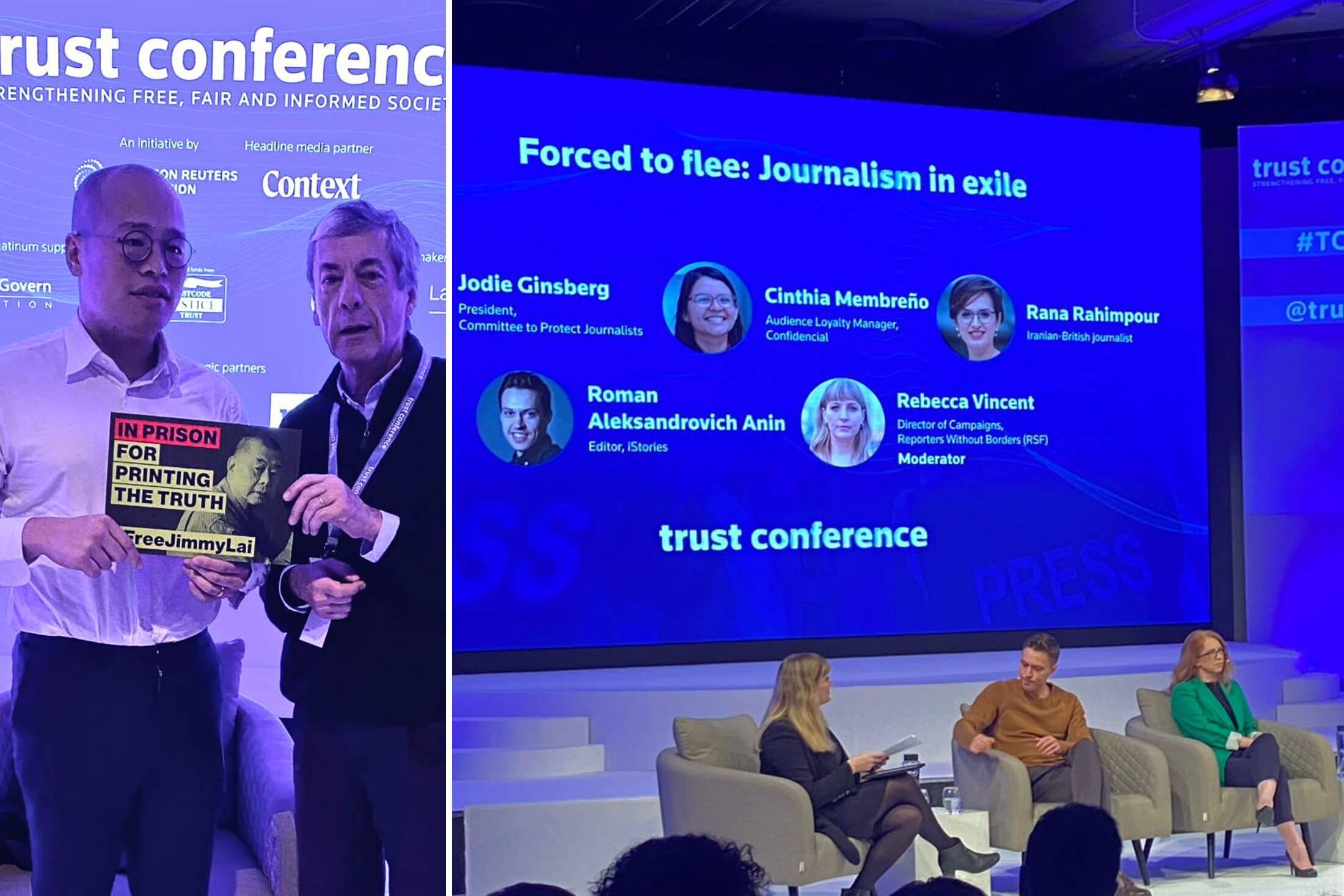 20 Oct 2023

Media freedom and independent journalism are vital to democracy

The Trust Conference 2023 proved to be not just an eye-opener but also a much-needed critique of both the lack of and need for media freedom worldwide.

WACC was an invited participant at the event organised by the Thomson Reuters Foundation and held in London on 19–20 October 2023. Some 300 people attended in person — many young — with many more online.

Trust Conference is the Foundation's flagship annual event and a leading human rights forum, hosting insightful discussions on media freedom, digital rights, climate change, socio-economic inclusion, and responsible and sustainable business models.
The need to restore trust in journalism
The theme for this year's event was "Strengthening Free, Fair, and Informed Societies." This was no academic gathering, but one focused on real-life situations and experiences, underlining the threats to independent journalism, journalists, and media freedom worldwide.
Introducing the conference, Antonio Zappulla, Thomson Reuters Foundation CEO, noted that it was "not just an event on democracy and media freedom, human rights, and governance but on the synergies between these critical issues which are too often treated in isolation."
"There has been an erosion of trust on such a massive scale that the most cynical might argue that trust no longer matters… Lack of trust is a time bomb for our democracy… Free and independent media enable people to make better decisions for themselves and for their communities… We need to restore trust," he said.
Turkish academic, Hatice Cengiz, who gained international prominence for her association with murdered Saudi journalist Jamal Khashoggi, spoke of the centrality of media freedom to democracy. Cengiz has become a powerful advocate for justice, press freedom, and human rights, tirelessly shining a light on the dangers that journalists and dissidents face in the pursuit of truth.
Legal attacks on journalists as a new threat to media freedom
Carolina Henriquez-Schmitz, Director of TrustLaw, Thomson Reuters Foundation, detailed how the law is being weaponised in a new war on media freedom.
"Among the many and wide-ranging threats to media freedom that have proliferated in recent years is the mounting number of legal attacks on journalists and journalism, often used to silence public interest reporting and exert control," she said, citing the report Weaponizing the Law: Attacks on Media Freedom [PDF].
"An array of sweeping and repressive legislative, regulatory, and other legal threats to journalists are stifling their ability to operate freely and independently, with grave repercussions for the journalists themselves and for the audiences they serve," she continued, referencing the report.
Caoilfhionn Gallagher KC, Barrister, Doughty Street Chambers, spoke about "lawfare" on a panel alongside Sebastien Lai, son of Hong Kong dissident and pro-democracy campaigner Jimmy Lai. Titled "Fighting back: Protecting journalists against lawfare," the panel exmained the question of how to mount a strong, co-ordinated defence to the surge in legal attacks against journalists.
Threats are forcing journalists into exile
A second powerful panel discussion explored the theme "Forced to flee: Journalism in exile." Scores of journalists around the world are forced to flee their homes each year under the threat of harassment, imprisonment, violence or even death.
Five journalists discussed the criminalization of journalism and their personal experiences of being driven into exile and what kind of support needs to be put in place. The panelists included Aleksandrovich Anin, Editor, iStories (Russia); Rana Rahimpour, Iranian-British journalist; Jodie Ginsberg, President, Committee to Protect Journalists; Cinthia Membreño, Confidencial (Nicaragua); and Rebecca Vincent, Reporters Without Borders.
Inevitably, the controversial theme "Generative AI: How will the new era of machine learning affect information systems?" attracted a lot of attention. An expert panel tackled issues such as how — or whether — we can trust technology when it is able to use information in a way that is indistinguishable from humans and what happens when we place our most valuable currency – information – in the hands of machines.
Informing the public from the frontlines
The session "Reporting from the frontlines" featured this year's winners of the Kurt Schork Awards, which recognise excellence in courageous reporting of conflict, corruption, and injustice. The journalists discussed their award-winning stories, as well as their motivations for putting themselves at risk to keep the world informed.
Moderated by Niall Paterson of Sky News, the conversation introduced participants to the work of Syrian Kurdish journalist Hisham Arafat, who received this year's News Fixer Award. Since 2011, Arafat has been actively covering the conflicts in Syria and Iraq, collaborating with both local and international news agencies and media outlets.
Léa Polverini, a French freelance journalist and editor covering international news and human rights abuses, won the 2023 Kurt Schork Freelance Award for her series looking at Muslim minorities subject to persecution in China's Xinjiang territories.
For one of the stories, Polverini travelled across the Southwest of Kazakhstan, meeting with survivors of re-education camps and collaborating with activists, NGOs, researchers, and lawyers to build trust with interviewees and ensure their safety.
Asami Terajima won the 2023 Local Reporter Award. Terajima is a journalist at the Kyiv Independent, Ukraine's leading English-language online newspaper. Reporting from Ukraine's eastern Donbas region, Terajima shines a light on the brutal realities of war through the eyes of Ukrainian soldiers.
Photos: Sebastien Lai, son of the imprisoned Hong Kong pro-democracy activist and media mogul Jimmy Lai, with WACC General Secretary Philip Lee; Trust Conference 2023 panel with journalists in exile.