04 May 2015

Nepal's communications networks shattered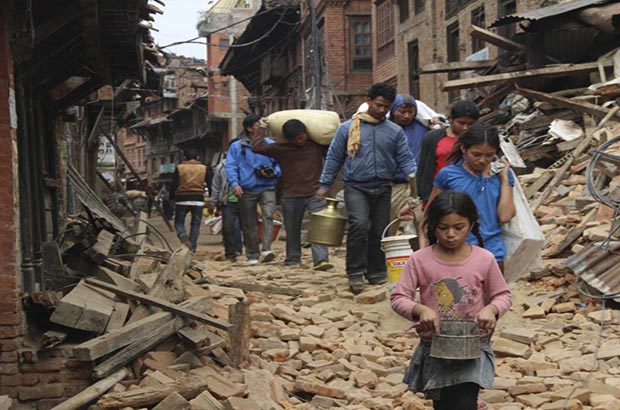 Life begins to return to normal for earthquake survivors in Kathmandu. Photo: ACT Alliance.
---
As Nepal seeks to recover from the devastating 7.8-magnitude earthquake of April 29 that killed at least 6,100 people, its communications networks are also in ruins, according to accounts from the country.
International search and rescue teams are helping Nepalese workers look for survivors as aid gradually reaches the Himalayan nation. However, tens of thousands of people are living in tents in parks and fairgrounds as aftershocks continue, and frustration is building at the pace of aid, according to news reports.
"It seems that all the time [the] earth is shaking … We have no good communication as well. Telephone service is not working," wrote Sarita Shrestha in an e-mail to the WACC Global office in Toronto. Shrestha is a volunteer media monitor for the WACC-supported Global Media Monitoring Project (GMMP) and coordinated the work with ASMITA, a women's media organization in Nepal whose name means "dignity" and "identity."
According to a 2008 story on Women News Network, ASMITA "acts as a print magazine, a media campaign for women's rights, a research group, a media watchdog, a TV and radio producer and a publisher of educational literature. Most important, it is a primary advocate for women's rights in Nepal."
In another message to the WACC office, Shrestha said she is currently staying in a tent as emergency shelter, but that others are worse off.
Communications networks such as community radio stations are essential in a disaster, relaying urgent requests for rescue, food, water and shelter as well as maintaining links with other communities.
The World Association of Community Radio Broadcasters (AMARC) said in a statement that it is mobilizing its network to help the Nepalese.
"Our staff from the Asia Pacific office are on the ground and hard at work, in collaboration with the Association of Community Radio Broadcasters Nepal (ACORAB), assessing the status of community radios that have been damaged by the earthquake. Most radios have suffered and are in need of help. AMARC will take concrete action to support the network of community radios in Nepal as soon as the assessment phase is completed," the statement said.
"Let's recall that community radios are a powerful tool in disaster relief situations. They are an indispensable way to provide reliable information to vulnerable population, help the humanitarian relief and ease the fear of the population in tense situations," AMARC said.
AMARC said it is urging all community radio experts to provide help with technical skills, technology and funds. AMARC International said it is setting up a campaign to collect funds for the Nepalese community radio stations.
AMARC brings together more than 4,000 community radios, federations and community radio partners in more than 150 countries.
In a 2012 article, IRIN Asia, a humanitarian news and analysis website, said that radio stations in Nepal are ill-prepared to withstand or operate in the event of an earthquake, experts warn.
"If there is an earthquake now, radio broadcasters would be vulnerable given that they are stationed in earthquake-vulnerable buildings," Man Thapa, programme manager of the UN Development Programme's comprehensive disaster risk management programme, told IRIN.
According to ACORAB, in 2012 there were 350 radio stations across the Himalayan nation, with 36 in the capital Kathmandu alone, a city located in one of the most seismically active zones in the world.
The majority of buildings are not earthquake resistant, said the IRIN article. Although there have been no specific studies on radio stations' structural vulnerabilities, most experts agree that the situation is fragile.
With over 44 percent of the population illiterate, according to government's Nepali Living Standards Survey (2010-2011), radio remains the most powerful information medium for the majority of Nepal's 29 million inhabitants, IRIN wrote.
"The role of radio becomes crucial because during an earthquake, people want information first more than anything, and they look to the radio as the best means of communication," said Ganesh Kumar Jimee, programe manager of disaster preparedness and response for the National Society for Earthquake Technology-Nepal (NSET), a local NGO, quoted by IRIN.
More than 90 percent of the population owns a radio set and tunes into stations across the country, according to a 2012 study (not available online) by Ujyaalo 90 Network (UNN). The Network is working to restore communication between the country and thousands of overseas migrant workers.