14 Jan 2014

No rights without communication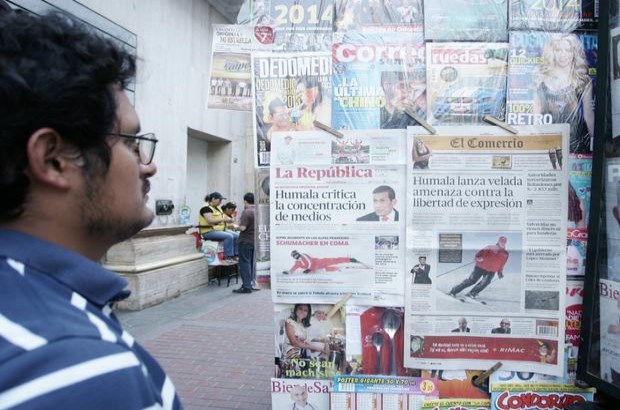 Newspaper stand in Lima. Photo: elpopular.pe
---
Many countries in Latin America are challenging media monopolies that have long been entrenched in the region. Argentina and Ecuador are two countries where civil society organizations have been at the forefront of change.
Now a new statement has been issued in the context of recent debates over the new violation of communication rights in Peru. According to WACC member Rolando Pérez, a media enterprise "sold 54% of its newspaper shares to the El Comercio Group, the oldest and most influential (economically and politically) media conglomerate in Peru."
By doing so, the written press has become highly concentrated and the El Comercio Group has taken a dominant position in the market by concentrating 77% of advertising and the sale of copies of the written press in Peru, thus damaging rights protected by the country's Constitution. The statement follows.
"In the context of the public debate generated by high levels of media concentration in Peru, which not only affect freedom of expression and opinion but also harm the right to information and the right to communication of every Peruvian man and woman living in a country characterized by pluriculturalism, diversity and multilingualism, and which is hugely divided by unfairness, inequality of opportunities and poverty, we who sign below:
Reaffirm that this is a legal matter that must be regulated with fairness and justice, because otherwise it harms the basic rights of human beings in relation to their political, social and economic coexistence. These rights are protected constitutionally and subject to international conventions and declarations to which Peru is a signatory. As such, this is not a question of a simple negotiation between private enterprises or something that must be resolved just by those media conglomerates involved.
Note that the present oligopolist media scene, at the level of the printed press, radio and television – based on private interests – creates a hegemony of ideas and one-way thinking, limits plurality of opinions, and imposes on citizens a national public agenda that does not correspond with the country's reality, seriously affecting democracy and governability.
Recall that, in the 1990s, various national newspapers, television channels and radio stations were complicit with the Fujimori government, supporting its authoritarianism and corruption in exchange for money that came from our taxes and was given behind the backs of the people. We do not want this situation to happen again. Therefore, we think it important to have a public debate and to find points of agreement between the Legislative Power, civil society and local, regional and national media in order to regulate those aspects that are necessary.
Confirm that the right to information, freedom of expression and communication are basic to defending and demanding other rights such as those to health, education, housing, decent work, justice, food, etc.
The communication and media institutions signing this statement are: Artesanos de la Comunicación; Asociación Nacional de Canales Locales de Televisión (Red TV) (National Association of Local Television Channels); Asociación Nacional de Periodistas del Perú (ANP) (National Association of Peruvian Journalists); Asociación Mundial de Radios Comunitarias para América Latina y Caribe (AMARC-ALC) (World Association of Community Radio Stations in Latin America and the Caribbean); Asociación Mundial para la Comunicación Cristiana (WACC-América Latina) (WACC-Latin America); Calandria. Comunicación Estratégica & Desarrollo; Coordinadora Nacional de Radio (CNR) (National Radio Coordinator)."