03 Feb 2014

Peace song re-released in South Pacific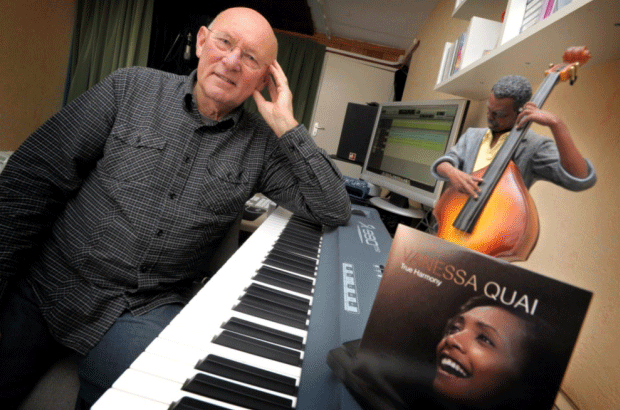 Mike Croft, co-author of "True Harmony," in his studio in Heysham, England.
---
"True Harmony," a Christian song of peace, has acquired a new life in the South Pacific, to communicate its message to the world. The anthem came from a prayer composed in 1996 by Matt Wilson of Fiji, as that Pacific nation struggled to overcome tensions and bitterness caused by a military coup in the ethnically divided nation.
Wilson circulated the prayer to the nation's leaders who were engaged in building a consensus in complex and delicate negotiations for a new constitution and the restoration of democracy. He asked his lifelong friend, Mike Croft, a United Kingdom musician who was visiting Fiji, to transform his verses into a song. Croft came up with the lyrics and musical score, and "True Harmony" was born. It was recorded in 1997 by Danny Rae Costello, a leading Pacific singer, and went on to become a chart topper in Fiji and several other nations.
During a reunion in 2012, Wilson and Croft decided to resurrect "True Harmony." Its lyrics were timeless for a world full of strife — and Fiji was still scarred by coups.
This time, the friends approached Vanessa Quai of Vanuatu to be their ambassador of peace through music. Quai, who has been described as the Pacific's first superstar, has legions of fans throughout the region. A committed Christian, she embraced "True Harmony" with a passion.
According to Wilson and Croft, her rendition is stunning and Quai gets to the heart and soul of the song. Says Quai: "I love the lyrics, the melody and the tune; everything about it. I relate so much to the song. It's just so powerful. It touched me very much. I believe it is in the heart of every person to live in true harmony. It would be just awesome for it to be sung throughout the world."
Quai and "True Harmony" are receiving widespread media coverage in the Pacific. She will be singing the song in the United Kingdom at Blackburn Cathedral on Feb. 9 after receiving an invitation from the Anglican Diocese of Blackburn. The diocese is assisting a local diocese in Vanuatu with its Christian education program.
Quai's interpretation of "True Harmony" has already been played in the U.K. on BBC Radio 2, which reaches an audience of about five million. Vanessa will sing live and be interviewed at Christian radio stations. She will meet school groups to talk about her homeland, the Pacific, and perform "True Harmony."