18 Oct 2015

People of faith tackle freedom of expression and religion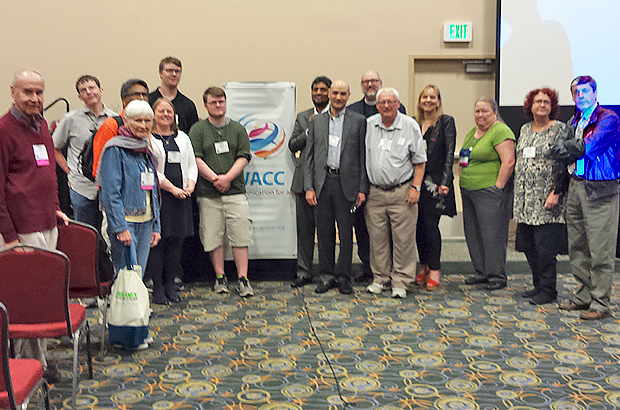 Participants in the conference of the Parliament of the World's Religions discuss communication rights and interfaith dialogue.

---
A workshop organized by WACC in partnership with the Toronto-based International Development and Relief Foundation (IDRF) formed part of an extensive programme of interactive events taking place in Salt Lake City, 15-19 October 2015.
The workshop was introduced and moderated by WACC's General Secretary, Rev. Dr Karin Achtelstetter, who situated it in the context of recent debates about freedom of expression, hate speech, and the urgent need for interfaith dialogue.
"This is a wonderful opportunity for WACC to be involved in the vital work of the Parliament and to explore common ground between religious freedom and communication freedom," she said.
Shaikh Habeeb Alli of the International Development and Relief Foundation (IDRF) gave a short presentation titled "Freedom of Expression: Reflections from a Guyanese-Canadian Imam."
Describing some of the tensions created when freedom of expression collides with freedom of religion, he illustrated how the Qu'ran supports pluralism and non-discrimination.
He told the story of how Ali the Blessed Caliph of Islam refused to punish the Kharijites who were speaking against him: "As long as they do not rebel or harm us, we will not stop them from praying and enjoying the benefits of the State nor will we imprison them."
Philip Lee, WACC Deputy-Director of Programs, spoke about communication rights and outlined the potential for peace journalism to offer alternative, more balanced opinions in the face of biased or sensationalist news coverage.
Participants in the workshop were invited to express their views and took part in a lively discussion.
Action points raised included rights vs. responsibilities, the need for safe spaces in which to practice faith, and the need to discourage incitement to violence and to encourage opportunities for public dialogue.
The theme of the conference of the Parliament of the World's Religions is "Reclaiming the Heart of Our Humanity. Working Together for a World of Compassion, Peace, Justice, and Sustainability."
At the opening ceremony, Imam Abdul Malik Mujahid, Chair of the Parliament's Board of Trustees, told thousands of participants, "This is our time – the world is coming closer in the global village."