23 Nov 2015

Progress for women in news media grinds to a halt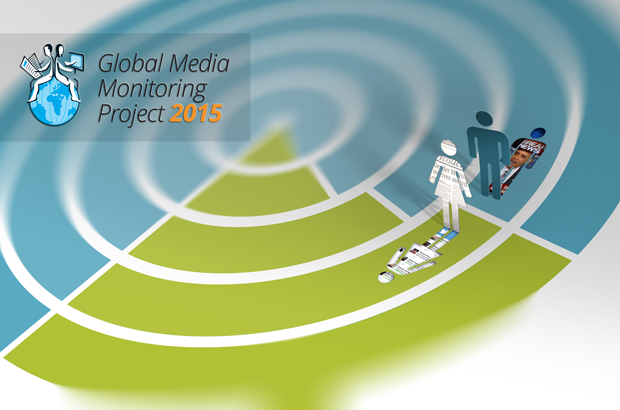 GMMP 2015 results published. Graphic: Brad Collicott.
---
After 20 years, research in 114 countries reveals continued severe disparity between representation of women and men in news media.
Results of the fifth and largest study on the portrayal and representation of women in the news media were released on 23 November 2015. The report and accompanying material are available at www.whomakesthenews.org
Progress towards equality of men and women in the news media has virtually ground to a halt according to the fifth and largest study on the portrayal and representation of women in the news media.
The Rev. Dr Karin Achtelstetter, WACC general secretary, stated: "News and news media are powerful forces that help shape the way people view their society and themselves, and contribute to how people act – at home, schools, work, through to the political choices they may make."
She continued. "The fact is, the portrayal of women in day-to-day journalism does not reflect their contribution to society. We need focused commitment and efforts from media houses, regulatory agencies, training institutions and civil society to raise professional standards and truly provide leadership about what constitutes ethical freedom of expression."
Extensive results of the Global Media Monitoring Project (GMMP) show that, worldwide, women make up about 50% of the general population but only 24% of the persons heard, read about or seen in newspaper, television and radio news, exactly the same level found in the 2010 report.
Women's relative invisibility in traditional news media has also crossed over into digital news delivery platforms. Only 26% of the people in Internet news stories and media news Tweets combined are women.
The GMMP is a project of the communications advocacy agency WACC, with support from UN Women. The first such survey of gender portrayal in news media was conducted in 1995, and at five year intervals after that. GMMP 2015 is the largest research and advocacy initiative in the world on gender equality in and through the news. UN Women has supported the survey twice consecutively.
"The media have the potential to be an enabler of faster, more substantive gender equality and women's empowerment, or a barrier to it. This report is a wake-up call to media houses and newsrooms. Gender discrimination deprives media coverage of the balance and authority that diverse perspectives bring," said UN Under-Secretary-General and UN Women Executive Director Phumzile Mlambo-Ngcuka.
The publication of the results of the survey point to the urgent need for an end to sexism in media by 2020.
"Many detailed findings from the 2015 GMMP paint a picture in which unequal gender power relations are entrenched and validated, and in which gender stereotypes are replicated and reinforced by the world's news media," says media and gender scholar Margaret Gallagher in the foreword to the report.
The full report as well as highlights in English, French and Spanish and national and regional reports are available at http://whomakesthenews.org/gmmp/gmmp-reports/gmmp-2015-reports