14 Sep 2015

Raising the voices of the unheard and silenced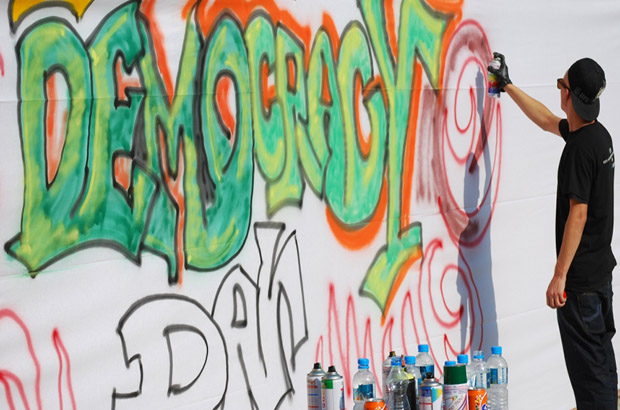 An artist creates a graffiti work at an event organized by the OSCE Mission in Kosovo to mark International Democracy Day in 2010. Photo: OSCE/Besfort Oruci.
---
On International Day of Democracy, the Rev. Dr Samuel W. Meshack and the Rev. Dr Karin Achtelstetter, respectively President and General Secretary of the World Association for Christian Communication (WACC) are calling on members and partners to uphold freedom of the press and to create new spaces for civil society to amplify the voices of marginalized people.
The theme of this year's International Day of Democracy 2015 is "Space for civil society". Choosing it, the United Nations argued that, "Democracy is a universal value based on people's freely expressed will to determine their own political, economic, social and cultural systems and their full participation in all aspects of their lives."
A cornerstone of democratic societies is freedom of expression, opinion and information. In turn, this requires an independent press unrestrained in its ability to provide people with balanced and truthful news and information, without fear of government retaliation or censorship.
For this reason, freedom of the press is a key component of democratic governance and of long-term stability and prosperity, because it contributes to transparent, accountable governance, including anti-corruption efforts.
A free civil society plays a similar role. Yet space is shrinking for civil society activists and organizations in a range of countries all over the world.
A free press and a civil society fully capable of listening and amplifying the voices of marginalized people and communities are essential in democratic societies. But there are major obstacles to the positive contributions of the press and civil society around the world:
Conflict situations in many parts of the world encourage warring parties to use the media for propaganda or to starve people of information.

Journalists are the subject of attack or murder.

Non-state groups follow no laws and disregard basic rights in pursuit of their own ends. From Boko Haram to Islamic State, Latin American drug traffickers and Mafioso groups, a common denominator is the use of fear and reprisals to silence journalists and bloggers who dare to investigate them or refuse to act as their mouthpieces.

In countries where religion shapes the law, stretching sacrilege prohibitions in order to protect a political system is another effective way of censuring criticism of the government.
Democracies also take liberties with their values in the name of national security. Faced with real or spurious threats, governments arm themselves with an arsenal of laws aimed at muzzling independent voices.
In a world of turmoil, there are still signs of hope. Many civil society organizations are turning the tables on censorship by communicating, networking, listening to the voices of ordinary people and building a democratic consensus around issues of justice and equality.
In Colombia a civil society organisation based in Barranquilla has established a network of citizen journalists who created their own web platform that carries a 90-minute program of street radio – live programming from different quarters in the city. This WACC-supported project resulted in increased production of digital content – including the use of social media – and increased capacities in using new technologies.
In Uganda, New Hope Foundation, a WACC partner, is working with the isolated Bamba-Bakonjo people in their own language with a focus on local agricultural development and public debate of issues affecting the local community.
WACC's members and partners are urged to discover new ways of hearing the voices of people and communities – especially those marginalized by poverty or violence – in order to help bring about positive change in their lives.