01 Apr 2016

Reporters see social media changing coverage of religion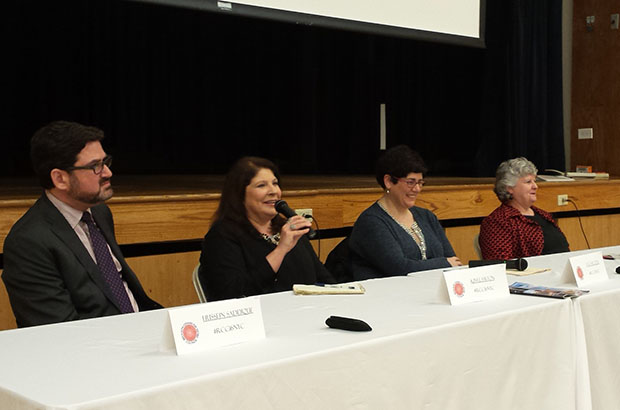 A panel discussion on media coverage of religion at the Religion Communicators Council convention included (from left) Hussein Saddique, a senior news producer at Al Jazeera America; Kim Lawton, managing editor of Religion & Ethics NewsWeekly on PBS; Rachel Zoll, AP national religion correspondent; Debra Mason, director of the Religion Newswriters Association. Photo: Solange De Santis.
---
The most significant change today in the way news organizations cover religion is the rise of social media, according to a panel of journalists at the Religion Communicators Council annual convention meeting in New York from March 31 to April 2.
Immediate posts to platforms such as Facebook, Twitter and Instagram have "allowed us a greater view into the discussions in churches and denominations. We can see in real time discussions on policy decisions. It gets more voices into the story," said Rachel Zoll, Associated Press national religion correspondent.
Entitled "Media Panel: Re-imagining the Religion Beat," the panel was moderated by Debra Mason, director of the Religion Newswriters Association. The other panelists were Hussein Saddique, senior news producer at Al Jazeera America; Kim Lawton, managing editor of Religion & Ethics NewsWeekly on PBS.
With apologies to Zoll, Lawton said that "Twitter is now my AP news feed," but the proliferation of social media channels makes a journalist's life more frantic since "it is a beast that needs to be fed."
Another major change is that newsroom budgets are thinner, Saddique said. "When I started, you used to go out with a full team – reporter, sound man, cameraperson, sometimes two. Now the reporter is expected to do the same thing. There is not the specialization in religion reporting in TV newsrooms," he said.
Among the media's current challenges in covering religion is that faith is now often covered just as part of a larger story – the presidential election campaign, or terrorism, for instance, said Saddique. Lawton and Zoll said that time and resources are factors, each saying they can't get to all the stories they would like to do. At the AP, "I have to cover the biggest breaking stories," such a statement from Pope Francis, said Zoll. In addition, the presidential election and upcoming summer Olympics are drawing resources at the wire service, she said.
Responding to the question of whether the media should play a role in increasing religious literacy among the general public, Lawton noted that public television's mandate is educational. However, when the media play a role in stereotyping faith groups, "we need to be better on that," she said.
Online media is now providing a useful feature in "explainers," often in mobile applications, Zoll said. After the recent Easter bombing in Pakistan, the AP correspondent wrote an "explainer" about the relationships between Christians and Muslims in the country.
On a lighter note, correspondents were asked which stories they would rather not cover again. Lawton cited "holiday" coverage, i.e., the annual stories on Christmas, Easter, Passover, etc. For Saddique, the story was the so-called "Ground Zero" mosque proposed for lower Manhattan near the site of the 9/11 terrorist attacks. "There was no way to cover that without talking about stereotypes and biases. I was just sick of it," he said. Zoll said that sometimes stories feature a protester or outlier on a particular issue that "doesn't help anyone understand it, but gives the impression something is happening when it actually isn't."
Not all media coverage of faith focuses on conflict, the panel agreed. "Some of the most popular stories I write, from the number of clicks, are inspirational stories," Zoll said. Although the news cycle today is 24/7 and more freelancers are covering conflict zones, "the light-hearted stories, the non-conflict stuff, get play. You don't have to rely on conflict," said Saddique.