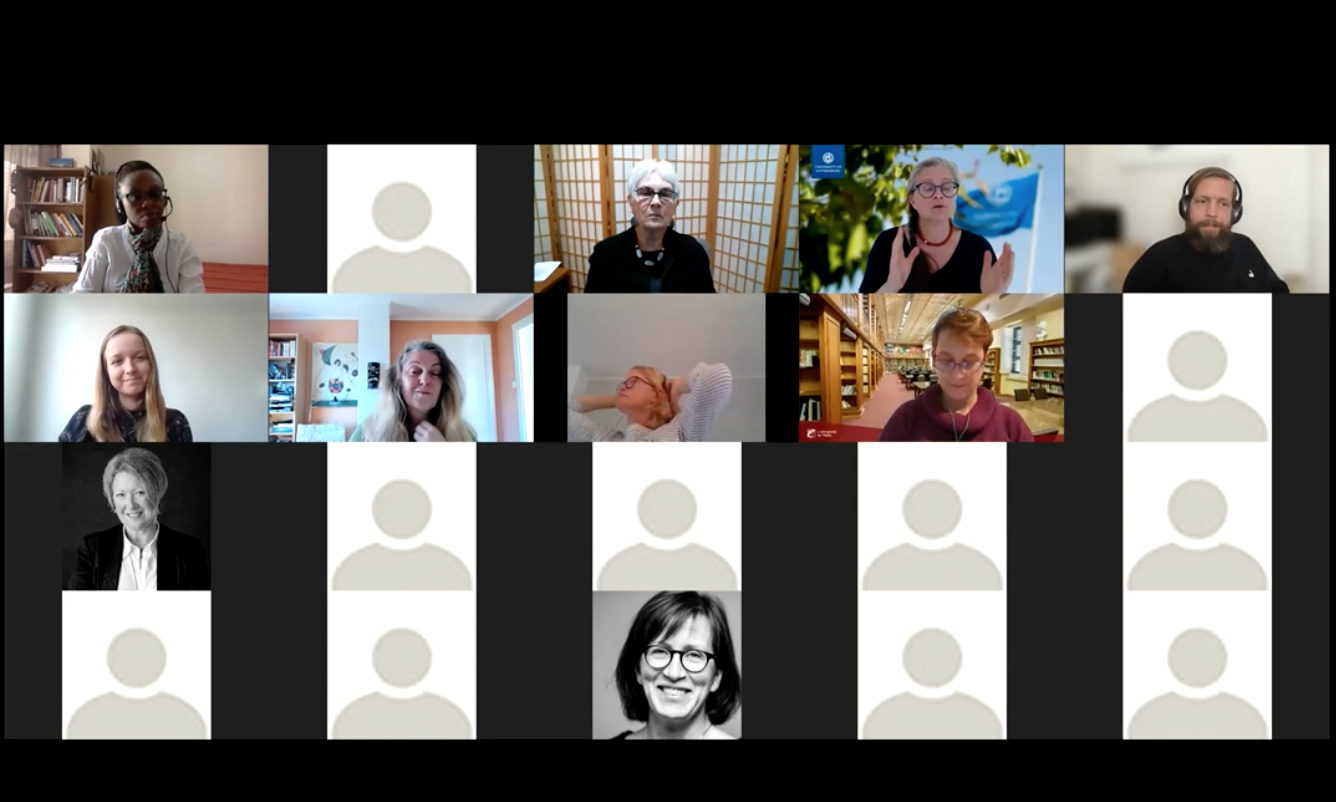 05 May 2021

Research on gender equality in the news is critical and it needs more funding

Sarah Macharia, co-ordinator of WACC's Global Media Monitoring Project (GMMP) has underscored the importance of funding gender data building initiatives such as the GMMP and the recently launched Comparing Gender and Media Equality Across the Globe (GEM) report and dataset saying, "there's a real risk to sustainability for this kind of work over the long term."

There has been "a tendency to take for granted that the GMMP will happen whether the resources are present or not," said Macharia during a webinar organized April 28 by Nordicom, and the University of Gothenburg's Department of Journalism, Media and Communication, during which the GEM project was discussed.

University of Gothenburg Prof. Monika Djerf-Pierre, principal investigator and GEM project leader, explained that the project, is accessible and open to anyone around the world. It includes an open access book which presents the results of the research, Comparing Gender and Media Across the Globe, a Gender Equality in the News Media Index (GEM-I), and the GEM Dataset, which pools datasets from the GMMP, The Global Report on the Status of Women in the News Media by the International Women's Foundation and the Women in Media in Europe by the European Institute for Gender Equality. The GMMP is the single largest contributor of statistics to the collection.

Quite often, some stakeholders are "simply interested in the results, without considering how we get there," or what funds are needed to  keep the work going, said Macharia. Since its inception in 1995, the GMMP – which is held every five years and relies on a network of volunteers– has been organized by WACC; since 2010, it has received small grants from various funders to cover basic expenses incurred by the volunteer media monitors in more than 100 countries.

Funding all components of the GMMP research is important, including constructing the database, fact-checking data, data analysis, consultations, writing and publication of the global, regional and country reports. Funding the critical follow-up is equally important, including dissemination and discussion of the results, media professional training based on the results, and various evidence-based advocacy initiatives.

Macharia stressed the importance of the GMMP not only as tool for gathering important data on gender representation in the news, but as "a broad process of participation that brings critical media literacy and solidarity on a global scale, building bridges across various stakeholders."

GMMP findings have been used by gender,  communication and other advocacy groups in research, lobbying work, training for media practitioners, media literacy for a wide swath of audiences, and more. It has been an important tool in gender advocacy work, with notable successes in many countries, and its findings have  been widely referenced around the world, including by UN bodies.

Macharia noted the move in recent years towards automation of media monitoring on simple indicators in some newsrooms and cautioned that "it is not an answer to the challenge posed by transnational, transcultural, multilingual global content."

When it began, the GMMP had "a relatively uncomplicated but important focus on the presence of women and men in the news media, counting who was heard, who was spoken of, or seen, to determine empirically whether the arguments on mis or under representation of women can be supported by evidence," said Macharia. The 2020 GMMP, whose final results will be released this summer,  has gone beyond this, by showing that "it is indeed possible to collect more nuanced data beyond the binary treatment of gender and integrating intersectional concerns," she said. The latest research includes a special focus on the representation of Indigenous peoples, racialized groups, people with disabilities, and the elderly in stories published on global monitoring day.

Macharia, who took part in the GEM project as an independent researcher and GMMP global coordinator, also shared the results of her study, on gender and economic journalism, which looked at gender equality in business news and in lived experience.  Data has shown that while women constitute 40% of the economically active population worldwide on average, they are present as subjects and sources in only 20% of economic news stories, she said. There was a substantial gap between real world economic activity and representation in the news media. genre of news journalism," she said. "What appears instead is a relative erasure, an invisibilization and silencing of women."

Mathias A. Fardigh, senior lecturer at  the University of Gothenburg and developer of the GEM dataset, talked about the significance of the project, saying there was a need to collect and merge existing data about gender equality in the news media.. "If we are to understand how gender equality in the media stimulates reform and contributes to other positive outcomes in society, we must carry out more systematic and comprehensive analysis of gender and journalism," he said.

GEM project contributors Maria Edström, Associate Professor, Department of Journalism, Media & Communication (JMG), University of Gothenburg, and GMMP Sweden national co-ordinator and Carolyn Byerly, Professor, Department of Communication, Culture & Media Studies, School of Communications, Howard University also discussed their chapters.

Meanwhile, Elisa Lees Muñoz,  IWMF Executive Director, called for a reframing of equal representation in the news media as a press freedom issue rather than a gender issue.  "The need to have equal representation in the news media is directly tied to press freedom," she said. "What are the issues that are keeping women's issues out of the news media?… For the last 30 years, framing that as a gender equity issue hasn't resulted in much movement of the needle."

Other speakers were Agneta Söderberg Jacobson, Senior Advisor and Gender Expert, Fojo Media Institute, Linnaeus University;  Tarisai Nyamweda, Communications for Social Change Manager, Gender Links, organising the Southern Africa Gender and Media Progress Study (GMPS); and Luba Kassova, Director and Co-Founder, Addy Kassova Audience Strategy Ltd (AKAS), author of The Missing Perspectives of Women in News and The Missing Perspectives of Women in COVID-19 News.