29 Jun 2015

Setting a media agenda in the Sustainable Development Goals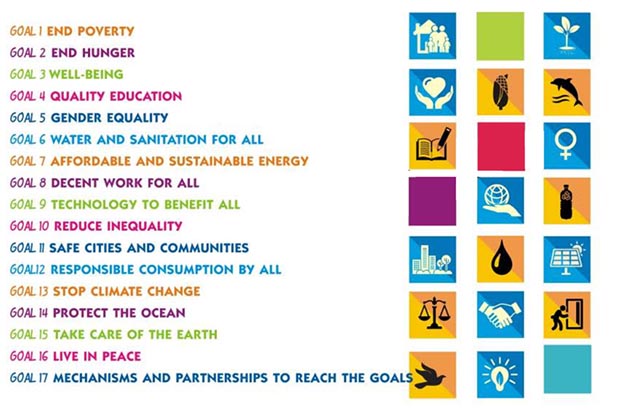 The latest set of Sustainable Development Goals. Image: whygreeneconomy?
---
In the latest issue of WACC's Media Development quarterly, Fackson Banda, a program specialist in UNESCO's Communication and Information Sector, analyzes one of the goals and targets related to media in the U.N.'s Sustainable Development Goals (SDGs).
The SDGs are a development of the Millennium Development Goals (MDGs), which have come under review in 2015. A working group has proposed a series of 17 goals and associated targets for economic and social development.
"Of particular concern to UNESCO is proposed Goal 16 and its associated Target 10. The goal is to 'promote peaceful and inclusive societies for sustainable development, provide access to justice for all and build effective, accountable and inclusive institutions at all levels,'" Banda writes.
Target 16.10 aims to "ensure public access to information and protect fundamental freedoms, in accordance with national legislation and international agreements."
Conceptually, says Banda, there are two intertwined aspects to this target – both of which are linked to broader questions of how citizens' freedom to access information, largely facilitated by free, independent and pluralistic media, is an integral part of governance that in turn is a prerequisite for sustainable development. These two intertwined elements are the "right to information" and "fundamental freedoms."
More importantly, Target 16.10 includes a contextualized implementation of these rights, namely that national legislation relating to public access to information and the enjoyment of fundamental freedoms should be in line with "international agreements."
In terms of national legislation, there is evidence, as UNESCO's report on World Trends in Freedom of Expression and Media Development reminds us, of a "predominant trend towards the adoption of freedom of and/or access to information laws" over the last decade.
However, even as the vast majority of countries around the world have constitutional guarantees for freedom of expression, the media and journalists, including their online and citizen journalist counterparts, are facing growing legal constraints in many parts of the world, which include defamation, slander, insult and other laws which do not meet "international standards for legitimate limitations on freedom of expression," Banda writes.
This poses a danger to the actual and possible realization of the "fundamental freedoms" envisaged in target 16.10. What must be underscored, then, is that "national legislation," under this target, must be consistent with "international agreements," Banda emphasizes.
To access the rest of the article, including Banda's analysis of a particular role for UNESCO, subscribe here to Media Development.