25 Feb 2014

SIGNIS Congress focuses on youth and new media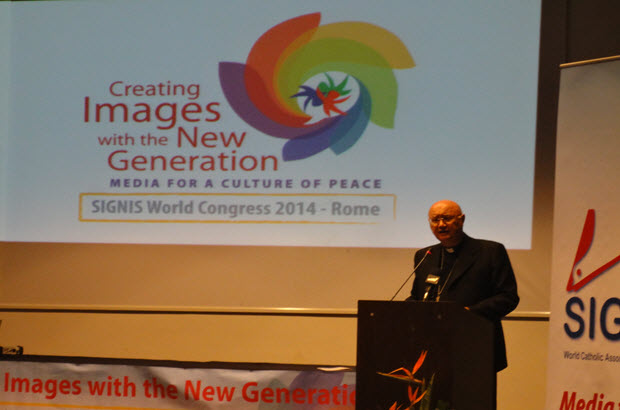 Mons. Claudio Maria Celli, President of the Pontifical Council for Social Communications, addresses the Congress.

---
"Media for a culture of peace: Creating images with the new generation" is the theme of the SIGNIS World Congress 2014 taking place 25-27 February in Rome, Italy.
The Congress theme underlines the continuing commitment of SIGNIS to work with children and young people to promote their rights in and through the media.
SIGNIS is the World Catholic Association for Communication, whose mission is to bring together professionals in radio, television, cinema, video, media education, the Internet and new technologies.
WACC has been a long-standing partner of SIGNIS in communication activities around the world, notably audiovisual training and cinema.
The Congress 2014 programme is an attempt to look ahead to see how the media and different social environments will change over the next decade. It includes a critique of the emerging cultural scene and dialogue with the new generation on the challenges they face.
SIGNIS President Augustine Loorthusamy, a former director of WACC, welcomed approximately 300 participants from all over the world.
"By sharing and listening to one another across generations, we can start to co-create a new and effective communications network that is ready to respond creatively and positively to the challenges of a fast-changing multimedia and digital world," he said.
The opening session included a keynote presentation on "The emerging digital culture: Ethical and spiritual perspectives". It was given by Fr. Antonio Spadaro SJ, editor-in-chief of La Civiltà Cattolica and author of a book on cybertheology.
In a speech to Congress participants, Mons. Claudio Maria Celli, president of the Pontifical Council for Social Communications, recalled the words of Pope Francis in his first Message for World Social Communications Day.
"The revolution taking place in communication media and in information technologies represents a great and thrilling challenge; may we respond to that challenge with fresh energy and imagination."
The SIGNIS Congress 2014 continues with plenaries and workshops, special sessions on the future of SIGNIS and an Assembly of Delegates.