26 Mar 2013

State "Enemies of the Internet" monitor journalists, activists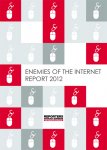 IFEX, a Toronto-based network of organisations committed to defending and promoting freedom of expression as a fundamental human right, reports on a study that looks at the way governments are increasingly using technology that monitors online activity. It allows them to intercept electronic communication in order to arrest journalists, citizen-journalists and dissidents.
On 12 March 2013, the World Day Against Cyber-Censorship, Reporters Without Borders released a special report on Internet surveillance, identifying "Five State Enemies of the Internet" — "spy" states that conduct systematic online surveillance that results in serious human rights violations.
They are Syria, China, Iran, Bahrain and Vietnam. Surveillance in these countries targets dissidents and has grown in recent months. Cyber-attacks and intrusions, including the use of malware against dissidents and their networks, are on the increase, according to the IFEX article.
Read the rest of the article here.
The report is available at surveillance.rsf.org.