23 Jan 2013

Stigma and discrimination in South India – the struggle continues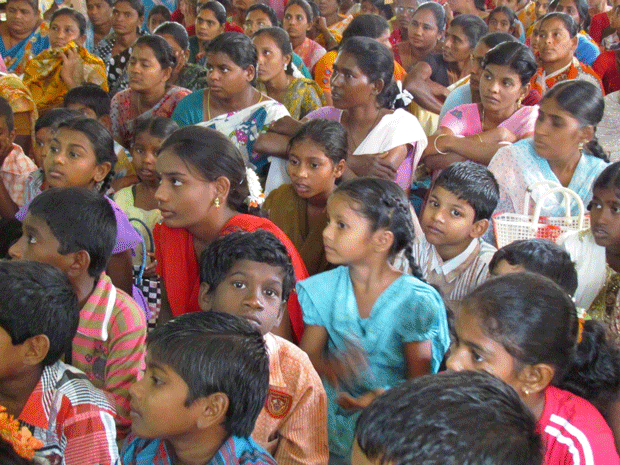 Healthcare centre restores dignity to mothers and orphans living with HIV and AIDS.
---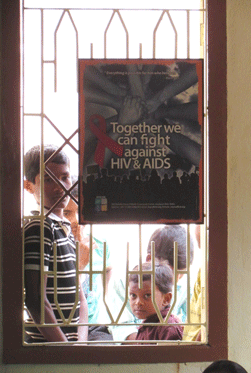 More than 100 women and children living with or affected by HIV and AIDS pour into a healthcare centre in Guntur, Andhra Pradesh, for monthly counselling. They are greeted by insensitive and aggressive remarks by the centre's landlord that provide a glimpse of the continued stigmatization and discrimination PLHIV face in this South Indian State.
In Guntur most of those vulnerable to HIV and AIDS are poor and marginalized. Ignorance and prejudice continue to blight the lives of women widowed by AIDS and orphans struggling to meet basic needs, while migration, caste oppression, gender discrimination, sexual violence and patriarchal values make the situation worse.
Guntur, a small city with a population of 11.5 million, has a relatively high prevalence rate of 3.75% and is one of the highest affected districts in Andhra Pradesh. Here the Lutheran Counselling and Healthcare Centre (LCHC) – part of a network supervised by the National Lutheran Health & Medical Board – regularly provides medical and supportive services to some 200 people.
Grandmothers, mothers and children attend a monthly "camp" for follow up and medicines. It was they who were the target of abuse by the landlord. In addition to medicines, they are given ragi powder and jaggery by the centre's dedicated supervisor Dr C. Lalitha. Millet or ragi is the staple diet in many villages across South India. Jaggery is a traditional unrefined whole cane sugar combined with the sap of the date or coconut palm. Sometimes this is the only nourishment the children of PLHIV get – many of whom are orphans.
Nutritional intervention studies have shown that early improvements in the energy and protein intake of PLHIV help to build up their reserves and reduce their vulnerability to opportunistic infections. Apart from basic healthcare and nutritional advice, LCHC provides training to enhance the income-generating capacity of women who, after the death of their husbands, are left without any means of support.
Dr K.M. Shyamprasad is Executive Director of the National Lutheran Health & Medical Board and also Chancellor of the Academy of Ecumenical Indian Theology and Church Administration, both based in Chennai, Tamil Nadu. The Board is well aware that stigma and discrimination impede the effective implementation of HIV/AIDS programmes despite two decades of interventions by international and governmental organizations and faith-based communities.
Commenting on the critical role mass media can play in challenging stigma and discrimination, Dr Shyamprasad said, "Such attitudes come from some wrong perceptions and myths about the disease which should be dispelled through good stories in the media. Myths such as spread of disease by touching a HIV victim and that the disease is because of the sinful life of the victim should be corrected in the minds of the people. Hundreds of HIV victims have got the disease for no fault of theirs. Media can also play a role in making information about 'stigma free services' available for the victims."
Media coverage of the Board's work could stimulate greater awareness by demystifying the illness and its treatment. Real-life stories such as those told by women and children at the monthly camp in Guntur go a long way towards restoring the dignity and self-belief of PLHIV.
At 26 years old, one mother of three children only discovered she was seropositive when she went to hospital for a tubectomy. She had acquired the virus from her husband who tested positive two years earlier but did not tell her. With ever dwindling resources, LCHC's Dr Lalitha is doing what she can to help the woman. "Now that she has come here," she said, "We will prolong her life." Experience shows that access to anti retroviral treatment increases life expectancy and reduces the incidence of opportunistic infections.
The mass media in India can be counted on to cover World Aids Day, but what about the other 364 days of the year? Fear, misinformation, stigma, and discrimination continue to undermine efforts to provide services to prevent, diagnose, and treat HIV/AIDS. The mass media could address the social and cultural barriers to care that obstruct many vulnerable populations. Gender inequality and gender-based abuse and violence should be high on the list.
Communication that challenges discrimination and stigmatization
Under a long-running programme, WACC has been partnering with national organizations in Ghana and Nigeria carrying out intensive, multi-year projects funded through UKaid from the Department for International Development.
In Accra in 2008, the Christian Council of Ghana (CCG) embarked on an ambitious project to address HIV-related stigma and discrimination in three districts by persuading local leaders to become advocates for the rights and dignity of PLHIV. Over 1700 religious, community, traditional, women and youth leaders, along with teachers, health workers and media practitioners, have been trained and supported to undertake rights-based advocacy and communication.
The project demonstrated the effectiveness of promoting and supporting local leadership and networking, developing education and campaign materials in local languages appropriate to the context, and including and empowering people living with HIV. The stories and testimonies of those involved show that reducing HIV-related stigma allows space for people living with HIV to identify and promote life-changing practices.
In Lagos, Nigeria, in partnership with Hope for HIV/AIDS International (HFA) WACC is assisting Christian and Muslim religious and community leaders to overcome stigma and discrimination and to empower PLHIV to advocate for their rights. The project, begun in July 2011, anticipates training 2000 people so that they can educate and support their own communities and lead advocacy and lobbying campaigns to promote and implement anti-stigma initiatives.
In the words of Irina Bokova, Director-General of UNESCO, on the occasion of World AIDS Day 1 December 2012, "AIDS remains one of the world's most grave health challenges, tragically affecting families and weakening communities and societies. We must not relent in our efforts to achieve zero new HIV infections, zero discrimination and zero AIDS-related deaths."
The landlord of Guntur's Lutheran Counselling and Healthcare Centre (LCHC) should take note.